South Carolina: Police shooting suspect is Vietnam war veteran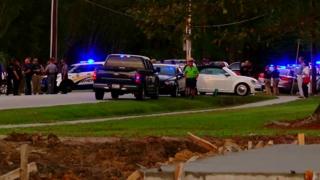 A man suspected of shooting seven US police officers during a stand-off on Wednesday has been identified as a disabled military veteran.
Frederick Hopkins is alleged to have killed one police officer and injured six more in Florence, South Carolina.
The 74-year-old was injured during the Vietnam War and was also a disbarred lawyer, the Associated Press reports.
He was arrested at the scene but is being treated for head injuries in hospital after reportedly falling.
Police say the two-hour confrontation happened after police tried to serve a search warrant at Mr Hopkins' home at about 16:00 local time (20:00 GMT).
Florence County Chief Deputy Glenn Kirby said police were trying to investigate an accusation that a 27-year-old had sexually assaulted a foster child in the house when the suspect opened fire at about 16:30 local (20:30 GMT).
"Officers went there unknowing the firepower the suspect had," Florence County Sheriff Kenney Boone said at a news conference.
"Fire was being shot all over. The way this suspect was positioned, his view of fire was several hundred yards. So he had an advantage. The officers couldn't get to the ones who were down."
Children were among those held inside during the stand-off, according to officials.
A 20-year-old was also found shot and injured inside, local CBS affiliate WBTW-TV reports.
The officers shot at the scene had to be rescued from the area in an operation using an armoured personnel carrier.
'The bravest'
The Florence police officer who died has been named as 52-year-old Terrence Carraway, who was recently honoured for 30 years of police service.
Local police chief Allen Heidler described the fallen officer as "the bravest police officer that I have ever known" and asked people pray for the six who were injured.
The suspect's Facebook posts suggest he has competed in shooting events as a marksman since 1984, local media report.
He has been charged a number of times in recent years, including with disorderly conduct, the Associated Press reports.
President Donald Trump tweeted about the shooting on Wednesday evening, saying his "thoughts and prayers" were with the local Sherriff's office and police department.
The Officer Down Memorial Page lists the names of 23,409 US police officers killed in the line of duty - 113 so far this year.
Over 11,000 people have been killed by guns in the United States so far in 2018, according to a list compiled by tracking website Gun Violence Archive.
That figure does not take into account suicides using firearms - which amount to an estimated 22,000 every year.