Why a US national park is holding a 'Fat Bear Week' contest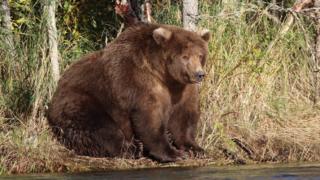 We have all gained a little extra weight from time to time, but for brown bears, piling on the extra pounds means the difference between life and death.
They can hibernate for six months of the year - meaning they have to gorge from July to September in order get through Winter and into the Spring mating season.
Katmai National Park - a sprawling eight million acre reserve in Alaska - is poking fun at the process by again hosting their annual "Fat Bear Week".
The week-long event, which encourages fans to vote on social media for their favourite animals, pits gorged bears against each other in heats, until one ultimately will take the 2018 crown for their stocky stature.
The competition started in 2014 and has grown in popularity since.
The new-found attention online is a strange phenomenon for park staff to understand - but they're embracing it, eagerly announcing the start of "jiggly season" earlier this week.
"Fat bear week started as a way to engage the public with our bears, if people are interested in the bears, they tend to want to help protect them," Ranger Russ Taylor says.
The park is home to the Brooks River - a major salmon run which provides an abundance of food for some of the park's estimated 2,200 bears.
Ranger Taylor explains that like us, bears usually have a "switch" that tells them to stop eating when they're full. But that gets turned off in Autumn during a phase known as hyperphagia where they feel the need to eat continuously.
For adult males this can mean packing on an eye-watering 400-500lb (180-225kg) in a couple of months by indulging in hundreds of pounds of fatty salmon.
By the time hibernation starts, some will top the scales at well over 1000lb-1200lb (450-550kg), in preparation of losing up to a third of their bodyweight as temperatures drop to up to -37C (-35F) in the park.
It's not just Fat Bear Week that gives the Katmai bears their celebrity - some also star on an online webcam stream that has amassed thousands of fans in countries all around the world.
"People who have never been to the park and may never get to the park can watch the webcams so quasi-religiously that they get to know the bears really really well," Ranger Taylor says.
Rangers and keen-eyed viewers notice get to know the individual bears by personality, appearance and even their habits.
"You begin to notice how wide their ears are apart, what kind of snout do they have... some like to dive for salmon, some like to wait for the salmon to come to them."
So what makes a Fat Bear Week champion? Sheer bulk can help bears become a fan favourite, but the before and after shots posted by park staff helps showcase the most impressive gains too.
A few days in, fans this year are already getting really into it - but they also get defensive with their favoured bears.
"They say - oh you dated that bear on September 30 and others on September 20 so that bear has an unfair advantage!" Ranger Taylor says.
"We have so much fun with it - it's really funny to watch human behaviour."
On Facebook, one user delighted in Bear 32/Chunk's size and progress on Thursday - labelling him an "absolute champion unit" and a "round boy" - common internet phrases for rotund animals.
Another agreed, declaring his competitor 812 "didn't stand a chance".
While the competition is a bit of silliness, it comes with an important message too, helping to generate new-found interest in conservation in the age of social media.
"When we have conservation issues come up you can count on those people to speak up on the parks behalf when you want to make sure the whole region is protected," Ranger Taylor says.
"They're majestic creatures and they give you a sense of awe and wonder just watching them doing their thing."
"It's so important to the human spirit that we have animals like this...and I want future generations to have that same ability to be inspired that way."
More stories like this: