Your US mid-term elections daily digest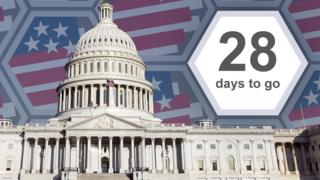 There are exactly four weeks until the US elections that will help define the rest of Donald Trump's presidency.
The mid-term elections will see people vote for members of both houses of Congress, as well as for governors in 36 out of 50 states.
Between now and then, we'll bring you updates and all the best analysis every weekday in this round-up.
One big number
If you read yesterday's digest, you will have seen that Taylor Swift broke her long-standing silence on political issues and urged people to register to vote in the mid-terms.
We wondered aloud what effect this would have - and we now appear to have the answer.
In Tennessee, where Tay Tay is registered to vote, 2,144 people have signed up to vote in the past 36 hours, advocacy group vote.org told Buzzfeed.
That's compared with 2,811 new registrations in Tennessee in the whole of September.
Call it what you want but that looks like a Swift spike. Yet will those new voters back Democratic candidates in the Senate and House of Representatives races, as Swift urged them to?
(Here's another quick statistic: Donald Trump says he likes Swift's music "about 25% less" after her endorsement of Democrats.)
One reminder
On the subject of voter registration, Tuesday marks an important date - there are deadlines to register in 17 states, the New York Times notes.
Some of those deadlines (whether it's for online or in-person voting) are in states that feature tight Senate races, including Arizona, Florida and Texas.
In Texas, where Republican incumbent Ted Cruz is facing a scrap to hold on to his seat thanks to his Democratic challenger Beto O'Rourke, the record for the number of registered voters was broken two weeks ago (15,624,871 registered voters, in case you were wondering).
It's a sign that these mid-terms may be different from others: turnout may be much higher than in 2014, when only 37% of people nationwide cast their votes.
But the registration drive in Texas has not been without controversy - vote.org say 2,400 people's registrations were unfairly rejected because they had used electronic signatures.
One question
Could we see a blue wave in this mid-term elections?
A wave wouldn't be unprecedented - it's what happens where one party picks up a combination of more than 20 seats in the House and Senate.
That's happened eight times in the past 70 years, and there are grounds to think Democrats could make gains in a similar way this year.
Our Anthony Zurcher has been crunching the numbers to see how likely this is.
In the Democrats' favour: polling, money that's been raised and the huge number of retirements that have led to unpredictable races.
But then, in the Republicans' favour, there's the fact the economy is in very good health...
One picture
Women dressed as suffragettes turned out to vote in Des Moines, Iowa - early absentee voting started across the state on Monday.
There are no Senate races in Iowa this year but the state will see three House contests and local elections, as well as picking a governor (polls suggest Republican incumbent Kim Reynolds will cede the governorship to Democratic rival Fred Hubbell).
The state will also get a visitor later on Tuesday - one Donald J Trump, who is holding a rally in the city of Council Bluffs.
Iowa, one of those useful states that can help decide who will next be president, had another visitor last weekend: Cory Booker, the junior senator for New Jersey (whose seat isn't up for election this year).
It was the best sign yet that Mr Booker is considering a run for president in 2020.
Yes, the mid-terms haven't happened yet and we're already talking about the presidential campaign.