The women sending postcards to Kavanaugh's accuser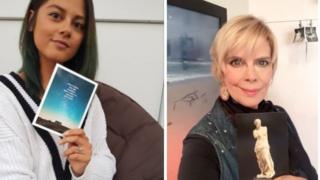 After lawyer Anita Hill accused Supreme Court justice Clarence Thomas of sexual harassment in 1991, she received 25,000 letters from women expressing their support.
Mrs Hill suffered a gruelling questioning and the judge was confirmed to the court.
But the messages, she wrote in Time Magazine later, "wound up impacting my life in a way I could never have foreseen."
Now as the US digests a similar episode of a judge accused of sexual assault taking his place on the bench of the top court in the country, women are once again taking up their pens.
On Saturday, when Brett Kavanaugh's position on the Supreme Court was confirmed by the Senate, an idea spread on social media - postcards for Professor Christine Blasey Ford, the woman who accused him.
Prof Ford has been unable to return to her home due to "unending" death threats and on Monday President Donald Trump said the professor's claims were "all made up."
Mr Kavanaugh has strenuously denied the allegations made by Prof Ford and two other women.
On Instagram and Twitter, women replied to the call to write to Prof Ford at her publicly-available work address, sending cards from the US, Canada, Germany, the UK, and as far as Australia.
I thanked her for her brave heart
Mathaya Winter, aged 27, lives in Karlsruhe, Germany, where she works in a bakery.
"Hearing the story of Prof Ford made me think a lot. I was never political active but her telling her story changed me. I'm so shocked about what's going on," she told the BBC.
She felt "helpless" so she decided to do something.
"I thanked her for her brave heart and I told her: 'We will fight for you. We believe you.'"
Mathaya has a three-year-old daughter, and says that concern for her future as a woman also inspired her to send a card.
One more supporter
Amanda (she asked the BBC not to reveal her full identity), from New York, wrote to Prof Ford on Tuesday.
"I have been sexually assaulted in a relationship. I can't imagine being in Prof Ford's position and having to see this person in such an official, powerful place.
"I think her courage of coming forward is extremely commendable," the 22-year-old explained.
"I wanted to tell her she has one more supporter, and to share my story, and say any words of encouragement and comfort."
Healing
Ann Loonam, 53, lives in Washington state and says she rarely takes political actions but thought the postcards were a "great idea".
"I felt helpless after the confirmation hearings and the way Dr Ford was portrayed in the media. She is woman who had nothing to gain, but was receiving death threats.
You might also like:
"I felt that by sending a post card, in some small way it may help her heal from this whole traumatic experience. She said she was 'terrified' at the hearing and I can only imagine."
Substituting for a hug
Business owner Kimberly Dotseth sent her card to Prof Ford on Tuesday from California.
"My reason for sending the postcard is that it's a tactile effort for me to send to her something she can touch and feel from someone who believes her," Kimberly explained.
She hopes the card will substitute for a hug she would offer to Dr Ford if she met her.
"I hope with our messaging to her, since I know others have written, we can also convey that this fight is not over."
"We have a lot of fight left in us."
By Georgina Rannard, UGC & Social news
More on the Kavanaugh story