Skincare brand Deciem shuts stores following online post by founder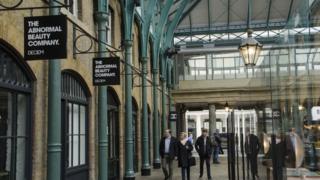 Toronto-based beauty brand Deciem has temporarily shut its stores following a shock announcement by its founder.
Brandon Truaxe said in a video on Instagram that they were closing until further notice citing "major criminal activity". He did not give details.
The company produces The Ordinary brand, which has become a global cult hit for its ingredients-focused and affordable skincare options.
It has stores in Canada, the US, the UK, and Australia.
The company website shows many of the stores were closed on Tuesday following Mr Truaxe's rambling post on the brand's Instagram account about alleged "financial crimes and much other".
The company was founded in Canada in 2013, launching a number of brands including The Ordinary.
In 2017, beauty giant Estée Lauder acquired a stake in Deciem, citing its "consumer-centric focus that is already impacting the world of beauty".
In a statement to the BBC, Estée Lauder said as a minority investor, it does not control Deciem's operations, social media or personnel decisions.
"We are deeply concerned by the material that has recently been posted on social media and will defend our rights as a minority investor," it said.
Deciem has seen rapid international expansion and was projected to earn $300m (£228m) in sales in 2018.
This latest upheaval is not the first disruption for the brand.
Mr Truaxe fired his co-CEO in February, and the Instagram message announcing the temporary shutdown is the latest in a string of controversial online postings by the founder, who took over the social media account earlier this year.
He has used the social platform to publicly sever ties with collaborators, engage sometimes aggressively with online commentators, and other behaviour that has concerned clients.