Estée Lauder seeks to oust skincare brand Deciem's founder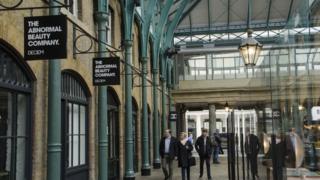 After months of erratic online behaviour and messy firings, the founder of skincare brand Deciem could be ousted from his role at the company.
Beauty giant Estée Lauder, a minority investor in the Toronto-based company, is seeking to have Brandon Truaxe removed as co-chief executive.
The legal manoeuvre comes after Mr Truaxe's shock announcement that Deciem stores would be temporarily shut.
The company is best known for its cult skincare line The Ordinary.
Estée Lauder is seeking to have Mr Truaxe replaced by Nicola Kilner, Deciem's co-CEO, on an interim basis.
It is also requesting Mr Truaxe's dismissal from Deciem's board of directors, barring him from hiring or firing employees and issuing statements on the company's social media accounts.
What is Deciem?
Deciem is a beauty and skincare company founded in Toronto in 2013.
The company, whose tagline is "the abnormal beauty company", owns multiple brands focused mainly on skin and hair care.
The most popular and well-known is The Ordinary, a skincare line which offers products most often associated with expensive creams and serums.
Most products by The Ordinary, for instance, cost only a few dollars and there are legions of fans happy with Deciem's offer.
It was considered one of the breakout skincare brands of the last couple of years.
It garnered a cult following, numerous beauty awards, and the attention of major companies in the industry like Estée Lauder, which bought a stake in 2017.
Deciem storefronts have cropped up in Canada, the US, the UK, Australia, and South Korea. It is reported to have a projected $300m (£228m) in sales this year.
Kim Kardashian West proclaimed to be a fan of the one of The Ordinary retinoid serums.
What is happening at Deciem?
Deciem's expansion was driven in part by social media buzz around its enormously popular The Ordinary line.
But trouble began when Mr Truaxe decided to take over the company's social media accounts in January. He began posting personal and sometimes concerning and bizarre messages, often accompanied by rambling captions, confusing fans of the brand.
He also used the social platform to publicly sever ties with collaborators and lash out at online commentators.
Then came the firing of Ms Kilner - whom he re-hired in July - and the resignation of the company's chief financial officer.
After months of public chaos, the situation came to a head on Monday.
Mr Truaxe posted a rambling Instagram video saying the stores would shut for the foreseeable future, claiming "almost everyone at Deciem has been involved in major criminal activity, which includes financial crimes".
He did not elaborate.
Many storefronts have been closed since and the Deciem website was also shut down.
What has been the reaction?
Mr Truaxe's behaviour has prompted concerns among fans about his mental health, speculation about whether his behaviour is in fact a publicity stunt, and worry about the future of the company.
Some clients chose to abandon the brand, though Deciem continued to prove more popular, opening new stores and expanding its product lines.
And after stores closed, some scrambled to stock up on products online or try to find so-called "dupes" of their favourite The Ordinary serums.
Estée Lauder had until recently refused to comment on any of the controversies, even when Mr Truaxe published emails to and from some of the conglomerate's executives on social media.
But earlier this week, it said in a statement it was "deeply concerned" about the material posted online and would defend its rights as a minority investor.
On Thursday, the beauty conglomerate confirmed it had taken legal action but said it would not comment further on any pending litigation "at this time".
The case is expected to be heard in an Ontario court on Friday.