US senator apologises for revealing names of 'sex crime victims'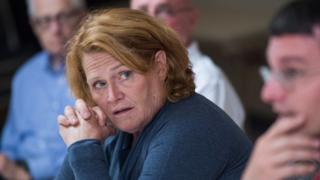 A Democratic US senator facing a tough re-election bid has apologised for disclosing the names of survivors of sex crimes in a campaign advert.
The womens' names were among 125 featured in an "open letter" Sunday newspaper advert for North Dakota Senator Heidi Heitkamp.
Some women whose names appeared on the advert have said that they never gave permission for their names to be used.
Mrs Heitkamp has admitted the mistake and pledged not to let it happen again.
In a statement on Tuesday, Mrs Heitkamp said that the mistake occurred when "our campaign worked with victim advocates to identify women who would be willing sign the letter or share their story".
"We recently discovered that several of the women's names who were provided to us did not authorise their names to be shared or were not survivors of abuse."
Neither Mrs Heitkamp nor her team have explicitly said how the mistake occurred.
In an interview on Tuesday with conservative blogger Rob Port, she said: "This was incompetent. It was wrong. It should have never happened."
"It was a very flagrant error of the campaign and I own it."
Several women have come forward to say that their names appeared in the advert without permission, and at least one has said that she is not a survivor of domestic violence.
What did the newspaper ad say?
The "open letter" was directed at Republican opponent Kevin Cramer, and accused him of being insensitive to victims of sexual assault.
"We are here to let you know that we have all suffered from domestic violence, sexual assault, or rape - and that yes, we expect somebody to believe us when we say it," the letter states.
The letter attacked him for suggesting "tough people" do not identify with the national conversation around sexual assault, and that the letter would show him "what prairie tough looks like".
After the letter's publication, several of the alleged signatories took to Facebook to state that they had not been contacted in advance.
"A lot of these people listed, including me, did not give anyone permission for our names to be posted," wrote one woman, according to North Dakota media.
"I don't even support Heidi Heitkamp and I am not a domestic abuse survivor. Should this even be legal?? Using people's names as part of your campaign??"
"I'm furious," a 24-year-old hairdresser and single mother from Bismarck told the Associated Press.
She added that she thought her name was used by Mrs Heitkamp's team because a friend who knew that she was a survivor of abuse had tagged her in a Facebook post.
"I have only shared my story with a couple of people in confidence," she said. "I didn't want it blasted for the world to see."
What did the senator say?
In a series of emotional interviews on Tuesday, Mrs Heitkamp said the information had come from a "Facebook feed" that was forwarded to the campaign.
She said that she planned to personally reach out to all of the women whose names were used in the ad.
"I think the victims deserved an explanation on how this happened," she said in one radio interview.
Her opponent told the Associated Press that the ad contributed to the "revictimisation of victims".
"This is what happens when desperate people do things for their own personal political gain," said Mr Cramer, a North Dakota congressman.
"She proved a point that her personal politics matter more than someone's personal pain."
Mrs Heitkamp's election is being closely watched and is considered a necessary victory in order for Democrats to seize control of the Senate in November.
Hers is one of 10 Democratic seats up for re-election in states that Donald Trump won in 2016.
Analysis from the scene
Jon Sopel, BBC North America Editor in North Dakota
There's no doubting the popularity of Heidi Heitkamp as a person. Even her political opponents like her. And last night when we watched her campaign in Hazen, in the north west of the state she has an easy rapport.
But her already uphill task of holding onto this traditionally 'red' state has just got a whole lot harder.
For a start she voted against Brett Kavanaugh for the Supreme Court, incurring the anger of a lot of Republican men.
But secondly - and woefully - her campaign has committed the most elementary heinous mistake. It has published a list of names of women who've been victims of sexual abuse, without gaining the consent of the women themselves.
So out of the blue, these women have found their names in the paper - their private pain to be used for Heidi's political gain.
It is rule number one in political campaigning: if you are to use 'real people' and their lives to hammer home a political point you first make sure their stories check out, and secondly you make sure they are happy that their names are made public.
That this didn't happen is just egregious. Incredible. Heidi is everywhere today saying sorry. But how do you undo what is done?
And all this in seat that is ground zero for the Democrats battle to retake political control of the Senate.
Lose North Dakota, and the task of getting back the upper house becomes virtually impossible.