South Carolina convicts 'blackmail soldiers in sexting scheme'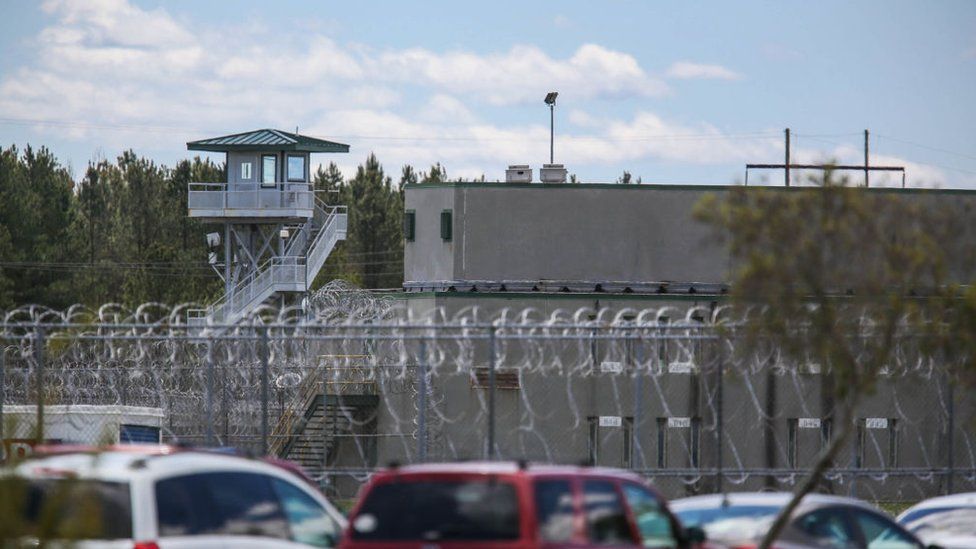 Inmates in prisons across South Carolina have been accused of extorting money from US soldiers after posing as young women on dating apps, sending nude photos and then demanding payment.
Army investigators say they were scared into paying after getting messages from someone pretending to be the girl's father claiming she was underage.
Countless prisoners have participated in the scheme since 2015, they add.
Google has been asked to share emails belonging to the alleged scammers.
A search warrant submitted by army investigators and obtained by the BBC said the prisoners met soldiers online using mobile phone dating apps, in particular one called PlentyOfFish.
After communicating through text messages, the soldiers would receive an unsolicited nude image of a girl, a detective with the US Army Criminal Investigation Command described in the warrant submitted to the Charleston federal court on 3 October.
That message would be followed by another from the prisoner, who would then pretend to be the girl's angry father, and would demand money in exchange for not going to the police.
"After several hours to several days of texting, the subject will either send unsolicited nude images of a female to the victim and/or agree to trade sexually explicit images with the victim," the warrant states.
"The 'father' then notifies the victim that the female is under the age of 18," it continues.
"The father will typically state that he will leave law enforcement out of the equation if the victim agrees to pay for various things like cell phone replacement, counselling, hospital treatments, etc."
"Often the victim will pay out of the fear that they will lose their careers (our victim sets are military service members) as there are compounding issues of conduct unbecoming and the fear that the victim truly believes they are in possession of child pornography," the warrant adds.
The US Army Criminal Investigation Command declined to comment on the warrant.
Officials have identified a woman outside of jail, who they said acted as a "money mule" and received money transfers from victims before depositing them in an inmate's prison account.
The investigation has not led to any criminal charges so far, according to the Daily Beast.
After a seven inmates died during a riot in a South Carolina prison last April, officials found that prisoners in separate wings of the facility appeared to have used mobile phones to coordinate the insurrection.