US mid-terms: How closely does Congress reflect the US population?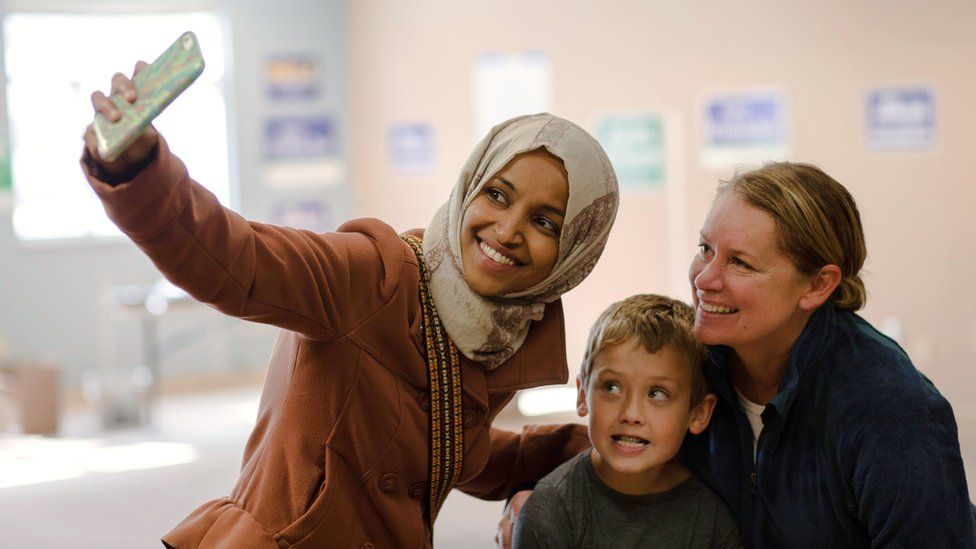 In the mid-term elections on 6 November, Americans will elect the entire House of Representatives of 435 members, and 35 of the 100 seats in the Senate.
These two bodies, the House and the Senate, make up the US Congress.
Currently 80% of these seats are occupied by white politicians, both male and female. According to census data, this group makes up just over 60% of the total US population.
Women, although half the US population, make up around 20% of those elected.
The largest minority ethnic groups - Hispanic, Asian and African Americans - are also significantly under-represented in Congress.
These figures are derived from profile data collected by the US Congressional Research Council and show the current participation of different population groups.
Changing representation over time
Looking back over the past few decades, it's clear that participation for all these groups is on the rise, with a noticeably rapid increase in the participation of women over the past two decades.
The rise in minority representation has been slower, although over the past five years there has been a significant rise in the number of Hispanic Americans elected to Congress.
For both ethnic minorities and for women, representation in elected government has often been historically associated with granting these groups the right to vote, or the changing of electoral laws to make it easier to participate.
When Barack Obama was elected to the Senate, he was only the fifth African American senator.
In 1992, there was a significant increase in participation, with 54 women elected to Congress, a 69% jump over the previous term. At 107, the total number of women serving today is far fewer than if they were fully represented as a proportion of the total population.
For the 2018 mid-term elections, an unprecedented number of women are standing, with more than 250 in the running for Congressional office following the selection of candidates in the primaries.
Barriers to participation
First brought into legislation in 1965 under President Lyndon Johnson, the Voting Rights Act and its many subsequent amendments have sought to end discriminatory voting practices across the United States, and there has been a significant increase in African American participation since then.
Prior to this, there were many examples of historical barriers to participation, restricting minority candidates from standing for election or restricting voting rights for specific minorities.
All-white primary elections were one method used in the early 20th Century by the Democratic Party in the southern US, to restrict largely African American and Hispanic candidates from participation - limitations which continued until the 1940s.
And it wasn't until 1975 that amendments to the Voting Rights Act made it a requirement that voting material be offered in a minority language if required by 5% of the voting population in an area. This was particularly important for the participation of the Spanish-speaking community, and therefore the success of Hispanic candidates in elections.
The issue of barriers to voter registration for minority groups continues to be a highly contentious issue.
For the Asian American community, voting only came with changes to the Immigration Act in 1952, which allowed Asians citizenship rights - including the right to vote - for the first time.
There are currently 16 Asians (including Indian and Pacific Islanders) in Congress.
In this year's mid-term elections there are more than 60 Asian Americans running for Congress, with many more running at governor, state and local levels.
Native Americans in Congress
The Native American community was not granted citizenship of the United States until 1924. However, even then, not all were allowed to vote, because many states made laws denying Native Americans that right. It was another 40 years before every state agreed - New Mexico being the last, in 1962.
The Congressional Research Service reports at least 14 people of Native American descent have served in Congress, including two current House representatives - Tom Cole, of the Chickasaw tribe in Oklahoma, and Markwayne Mullin, of the Cherokee tribe, also in Oklahoma.
Will 2018 break new ground?
It's certainly true that women, Hispanic, Asian and African Americans are increasingly represented in Congress. However, the make-up of the US legislature still fails to reflect America's population as a whole.
As for the increasing diversity of candidates seeking office, this is harder to measure, but there are clear indications that a greater number of women and minority groups are standing for election, even if many ultimately fail to win office.