US mid-terms latest: 'Snivelling coward' and 'maniac' team up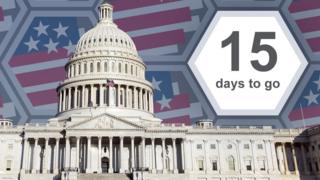 The US mid-term elections in just over two weeks' time will help define the rest of Donald Trump's presidency.
Americans will vote for members of both chambers of Congress, as well as for governors in 36 out of 50 states.
Between now and then, we'll bring you updates and all the best analysis every weekday in this round-up.
Today's round-up includes a joint appearance by formerly bitter foes and the emergence of conservative apps.
One quote
Ted Cruz, who lost a bitter war of words with Donald Trump in 2016, did not want to say whether he now saw Mr Trump as a friend or foe ahead of Monday's joint rally in Texas.
(To recap, in 2016 Mr Cruz called Mr Trump a "pathological liar" and "snivelling coward" while Mr Trump said he would "spill the beans" on "maniac" Mr Cruz's wife and suggested his father was linked to the assassination of John F Kennedy.)
Later in Sunday's interview with ABC, he admitted "personal hurt feelings". Last year, Mr Trump meanwhile reportedly described their relationship as: "Like. Dislike. Like."
So why are they getting together? After all, Mr Cruz is ahead in the polls.
The answer is Beto O'Rourke, a Democratic rising star in Texas who has adopted Mr Trump's derogatory title for Mr Cruz, "Lyin' Ted".
Significant for both candidates is the Hispanic vote - Latinos account for about 30% of the electorate. Mr O'Rourke, who is of Irish descent, speaks Spanish and his nickname Beto is a common contraction of "Roberto".
Mr Trump has riffed on this, saying Mr O'Rourke won't be allowed to "turn Texas into Venezuela".
Mr Cruz, who is Hispanic, is set to win 37% of Hispanic votes, 69% of white votes and 10% of black votes, a Quinnipiac poll from earlier this month suggests.
His rally with Mr Trump in Houston is sure to throw up some talking points.
One big number
That would be 150,000 - the number of times an app built for the National Rifle Association (NRA) has been downloaded, according to the New York Times.
It is part of a trend of conservative and right-wing organisations creating their own social media platforms because they feel Facebook, Twitter and Google are hostile to right-wing views, the newspaper says.
In August Mr Trump alleged that Google was suppressing pieces from news outlets that supported his administration - Google denied it.
The apps offer partisan news feeds where there is also less risk that comments will be reported as offensive or abusive.
"It's creating a safe space for people who share a viewpoint, who feel like the open social networks are not fun places for them," said Thomas Peters from uCampaign, which developed the NRA app and several others. The company's apps have been downloaded more than 500,000 times.
Some of the apps also offer rewards for users who take part in political activities, such as posting supportive messages on Twitter.
"The Obama campaign proved, and Democrats continue to prove, the value of continuously engaging supporters via an app like this," said Chris Wilson from WPA Intelligence, which developed Cruz Crew, the app for Ted Cruz supporters.
"It is critical Republicans keep up with tools of our own."
One video to see
Is the real divide when it comes to values and voting between rural and urban America? As part of the BBC's Ask America project, Rajini Vaidyanathan took the shortest election road trip in Tennessee to find out.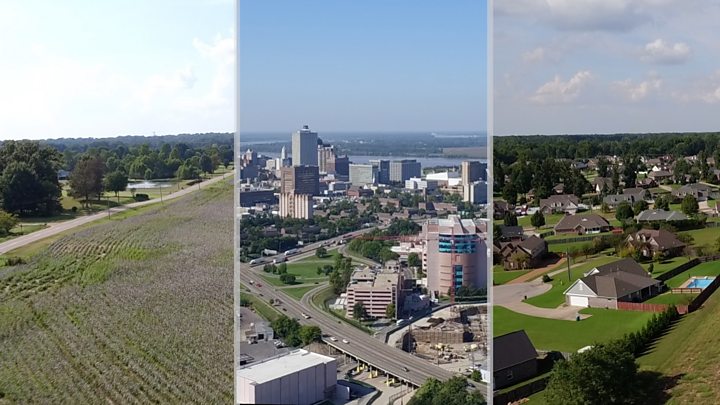 And of course, let's not forget our game explaining all the possible results - and their consequences.