Bible Museum says five of its Dead Sea Scrolls are fake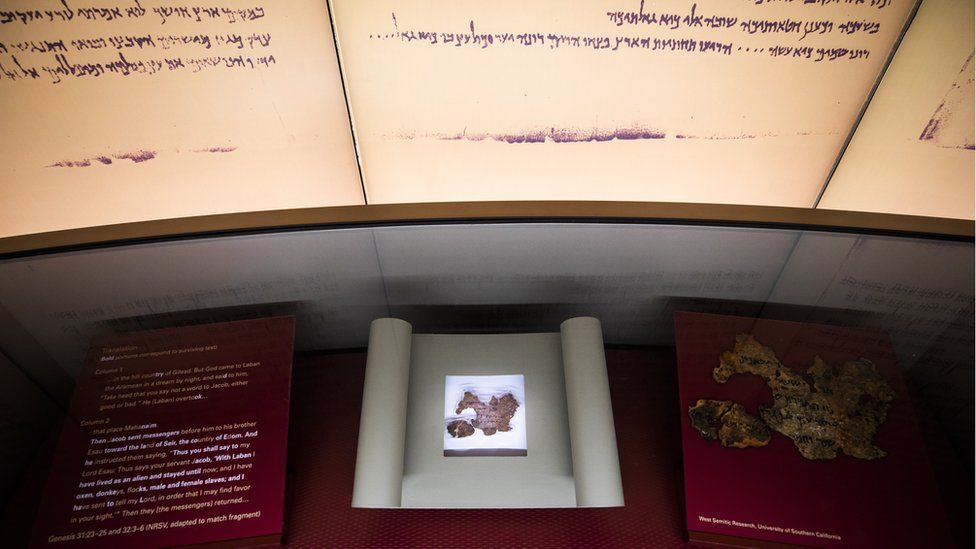 A US Bible museum has removed fragments of what it believed were part of the Dead Sea Scrolls from display, after tests suggested they were forgeries.
The Museum of the Bible, in Washington DC, sent five of its 16 fragments for analysis in Germany.
But results showed "characteristics inconsistent with ancient origin", the museum said.
Costing $500m (£386m), the museum was opened by Evangelical Christian and billionaire Steve Green in 2017.
The Dead Sea Scrolls are a set of ancient manuscripts of the Hebrew Bible.
The first of the scrolls were found in caves in Qumran on the western shore of the Dead Sea in 1947. They were reportedly first discovered by a young Bedouin shepherd searching for lost sheep.
'Commitment to transparency'
The tests were ordered after biblical scholars who examined 13 of the museum's previously unstudied fragments said there was a "high probability" that a number of them were modern forgeries.
However, he added: "This is an opportunity to educate the public on the importance of verifying the authenticity of rare biblical artefacts, the elaborate testing process undertaken and our commitment to transparency,"
It is not the first time the museum's owners have faced controversy.
Last year, Mr Green's company the Hobby Lobby paid a $3m fine (£2.3m) and returned thousands of items after the US Department of Justice accused it of smuggling artefacts from Iraq.