US watchdog: Agencies 'unaware' of child separation policy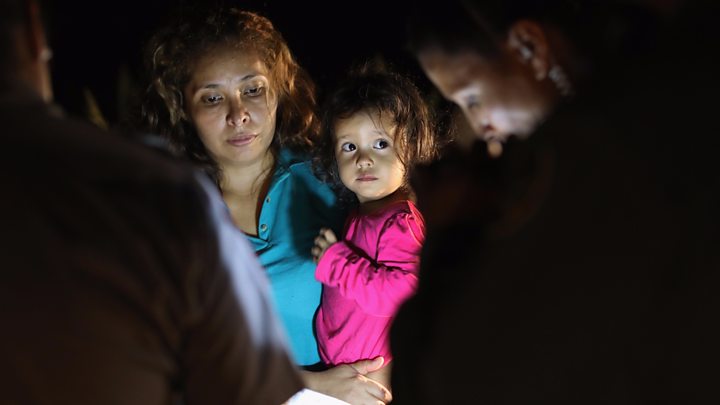 US government agencies were blindsided by the White House's policy to separate families caught illegally crossing the border, reports a government watchdog.
The Government Accountability Office discovered the agencies tasked with enforcing the policy in April "did not plan" for an influx in jailed children.
The "zero tolerance" policy saw nearly 3,000 migrant children separated from parents before it was suspended.
The report comes as a caravan of nearly 7,000 migrants seek refuge in the US.
The new findings were released to the public on 24 October, though the report had been published on 9 October.
Congressional investigators with the Government Accountability Office (GAO) interviewed officials from the Department of Homeland Security (DHS) and Department of Health and Human Services (HHS).
They found that these agencies had not planned for the increase in children separated from parents or guardians as a result of the "zero tolerance" policy, because they were unaware the policy was forthcoming.
"These officials told GAO that they were unaware of the memo in advance of its public release," the report - which was requested by House Democrats - states.
"Prior to April 2018, DHS and HHS did not have a consistent way to indicate in their data systems children and parents separated at the border."
In April and July, border officials and the Office of Refugee Resettlement (ORR) were able to update databases to mark separated children, according to the report.
However, GAO notes that it is too soon to know if those changes "will consistently indicate when children have been separated...or will help reunify families".
As of 10 September, 437 children remain in ORR custody "for various reasons, such as ineligibility for reunification", GAO reported.
Katie Waldman of DHS told the BBC in an emailed statement that both DHS and HHS "have worked tirelessly" towards reunification but did not comment on specifics in the report.
A justice department spokesperson told CBS News it was "not very credible" to say DHS was "unaware" of the policy as Attorney General Jeff Sessions announced it at a news conference alongside acting Immigration and Customs Enforcement (ICE) Director Thomas Homan.
Immigration activists have long claimed that there was no official protocol in place to track parents and their separated children, which led to major difficulties in identifying children in government custody.
Some government officials even suggested DNA tests during the thick of the separation crisis, which some critics took as proof that there had been no clear policy in place.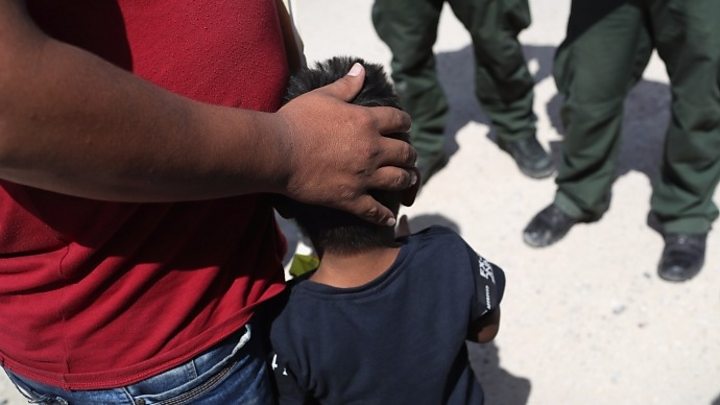 What happened in April?
The "zero-tolerance" policy meant adults illegally crossing the border, even if they were asylum-seekers, were placed in custody and faced criminal prosecution for illegal entry.
As children cannot legally be jailed with their parents, migrant children were separated and housed in detention centres, in the custody of HHS.
But activists at the border said that even families crossing through a port of entry were being targeted.
Under previous US administrations, immigrants caught crossing the border for the first time tended to be issued with court summonses and released.
In June, amid fierce criticism across the country and worldwide, President Donald Trump backed down on the policy and signed an executive order to "keep families together".
What will happen with new migrants?
Of the 1,500 migrants who arrived in the last caravan, only about 250 are legally still in the US, humanitarian organisation Pueblos sin Fronteras told CBS News.
And now, a second caravan of Central American migrants is making its way northward.
The president has lashed out against the migrants and their home countries, threatening to cut all aid and use military force to close the US border.
The migrants, mostly from Honduras, say they are fleeing poverty and violence. Most are still hoping to seek asylum in the US.
Under Mr Trump's June executive order, families caught crossing illegally can remain together in detention, but children are only allowed to be held for 20 days, according to a 21-year-old landmark court decision known as the Flores agreement.
DHS spokeswoman Ms Waldman told the BBC in a statement that the department would continue to refer illegal immigrants for prosecution.
"Unfortunately, the number of families crossing the south-west border illegally is increasing. This means that there may be a proportional increase in cases where adults are separated from children due to concerns about parentage or the adult's criminal history."
Ms Waldman said that DHS had seen a 75% increase in family apprehensions since 2016 and a 315% increase in families trying to illegally enter the US.