Trump and Putin plan Paris meeting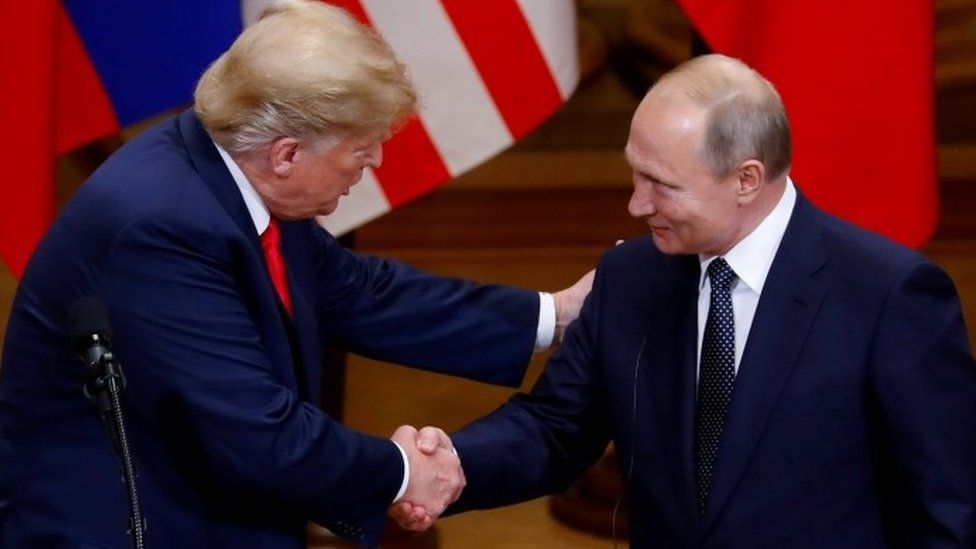 US President Donald Trump and Russian counterpart Vladimir Putin plan to meet in Paris next month, amid a continuing dispute over a key nuclear arms treaty.
The pair will meet at World War One centenary commemorations, US National Security Adviser John Bolton said.
He was in Moscow to convey US plans to withdraw from the 1987 Intermediate-Range Nuclear Forces (INF) treaty.
Russia denies US claims it has breached the treaty and warns that withdrawal is a "dangerous step".
When did Trump and Putin last meet?
In Helsinki, Finland, this July. It was most notable for Mr Trump appearing to cast doubt on his own administration's assertions that Russia had meddled in the 2016 US election.
It prompted a rare admission from Mr Trump that he misspoke.
Nevertheless, opponents still accused him of being too cosy with the Russian leader.
Later on Tuesday, Mr Trump said about meeting Mr Putin: "I think we probably will. It hasn't been set up yet, but it probably will be."
Some of the issues Mr Bolton said he had covered during his talks in Moscow will also still be around, not just the INF treaty, but the situation in Syria and, of course, alleged Russian meddling in the US election.
Mr Trump and Mr Putin have met on several other occasions on the sidelines of summits.
What did Mr Bolton have to say?
Although he said he had had "a series of very comprehensive and productive discussions", including 90 minutes with President Putin, he suggested the sides were far apart on the INF.
He said negotiations on its terms could hardly take place if Russia denied breaching the terms in the first place.
Mr Bolton said a formal notice of withdrawal had not yet been filed but would be "in due course".
He pointed out that the world was now "multipolar" and that other nations, specifically China, had taken advantage of the US-Russia Cold War-era treaty that banned medium-range missiles.
China has urged that the treaty be retained, prompting Mr Bolton to say he would also want it to be "if I were living in Beijing. But I am not".
Mr Bolton also appeared to scold Russia on its "objectionable" election meddling.
He said: "We discussed our continuing concern... and why it was particularly harmful for Russian-American relations without producing anything in return."
It was signed by US President Ronald Reagan and Mikhail Gorbachev, the last Soviet leader, in the final years of the Cold War.
It banned ground-launched medium-range missiles, with a range of between 500 and 5,500km (310-3,400 miles), both nuclear and conventional.
The US insists the Russians have, in breach of the deal, developed a new medium-range missile called the Novator 9M729 - known to Nato as the SSC-8 - which would enable Russia to launch a nuclear strike at Nato countries at very short notice. Russia denies this.