Barry and Honey Sherman: Family offers $10m reward to catch murderer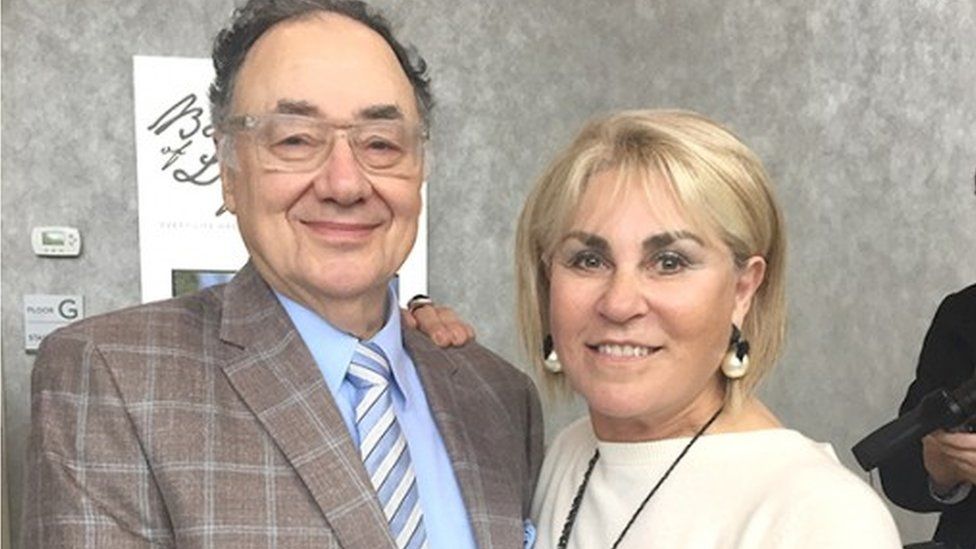 The family of a murdered Canadian billionaire and his wife are offering a C$10m ($7.6m; £6m) award for information leading to an arrest.
Barry Sherman, 75, and Honey Sherman, 70, were found strangled in their Toronto home on 15 December.
The family's lawyer announced the reward on Friday after months of silence from the family and police.
"We're trying to light the fire" to get people to come forward, said the family's counsel Brian Greenspan.
Mr Greenspan said a tip line will be monitored 24 hours a day, seven days a week, and leads will be vetted before being passed on to Toronto police.
The criminal lawyer also took the opportunity to criticise Toronto police.
Mr Greenspan said private investigators hired by the couple's four adult children found Toronto police did not follow best practices in their investigation.
In early leaks to Canadian media, anonymous police sources were quoted suggesting the couple's death could be a murder-suicide, a theory the family immediately rejected.
Police later publicly confirmed they were investigating a targeted double homicide.
Mr Greenspan alleged that in the initial hours, police failed to properly examine the crime scene and "recognise the suspicious and staged manner in which [the couple's] bodies were situated".
He also claimed that police failed to vacuum for evidence the immediate area where Mr and Mrs Sherman were found, to thoroughly examine points of entry to the home, and to collect fingerprints from all the people who had been in the home to help eliminate suspects.
Police have not been responsive to a "public-private" partnership with the private investigative team despite overtures, Mr Greenspan said.
On Friday, Toronto Police Chief Mark Saunders said police and the family's investigative team all have the same objective - to bring those responsible to justice.
He defended his homicide team's efforts and said the investigation is not being taken lightly.
As to Mr Greenspan's allegations the police were sloppy, Mr Saunders said the private investigative team did not have a complete picture of the current investigation, adding: "we don't deal with opinion, we deal with facts - that's what we bring before the courts".
The couple were found strangled in their Toronto home on 15 December, both fully clothed, hanging by belts on the pool deck.
Autopsies revealed they had both died from ligature neck compression, or strangulation with material.
Mr Sherman was found with his legs outstretched with one leg crossed over the other, his eyeglasses undisturbed, Mr Greenspan said.
Police investigators said they found no sign of forced entry on any access points to the home.
The couple were last seen alive on the evening of 13 December and had no communication with family after that point.
One of Canada's richest men, Mr Sherman was the founder and chairman of pharmaceutical giant Apotex, which sells generic medicines around the world.
A gifted student, Mr Sherman entered the trade through his uncle's Empire Laboratories, working for him while still at university before buying the company when his uncle died.
He went on to sell Empire, creating Apotex, the company that made him a billionaire and which now employs more than 10,000 people.
But he became embroiled in a family dispute, with his uncle's children seeking a stake in Apotex, arguing they had been cheated. A judge threw out their claim late last year.
Mr Sherman was posthumously awarded the Order of Canada, one of the country's highest civilian honours, in December.
Mrs Sherman was a board member for several hospitals, charities and Jewish organisations. The couple have given millions to charity.