Matthew Shepard: Hate crime victim interred in Washington DC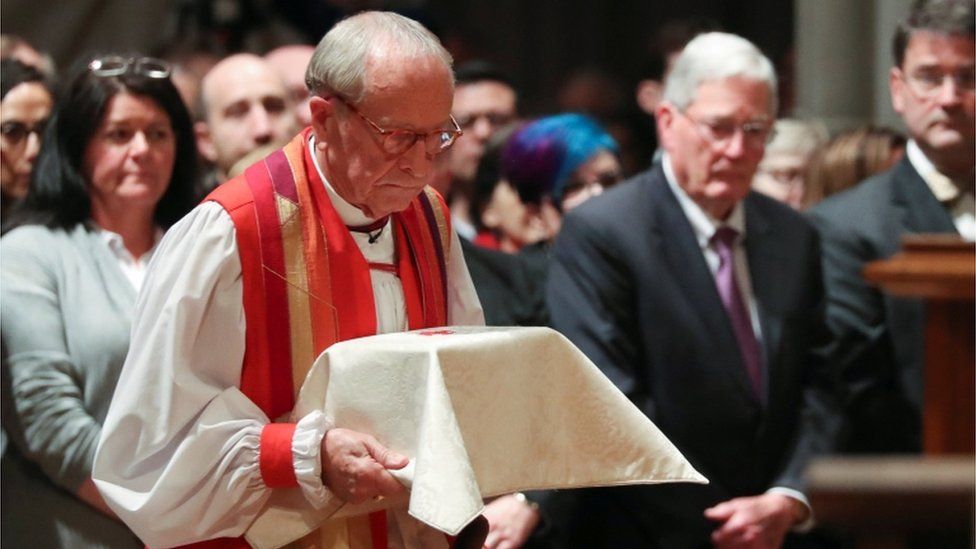 Matthew Shepard has been laid to rest at the Washington National Cathedral, 20 years after he was brutally beaten and killed because of his sexuality.
The first openly gay Episcopal bishop, Gene Robinson, presided.
The men responsible for his 1998 murder admitted targeting Shepard because he was gay. His death is remembered as one of the worst US anti-gay hate crimes.
In 2009, Congress passed the Matthew Shepard Act, expanding hate crime laws to include sexual orientation.
After the public service, attended by hundreds, Shepard's ashes were formally interred in a smaller, private ceremony.
He is one of about 220 Americans interred in the capital's cathedral, including former US President Woodrow Wilson and Helen Keller.
The Bishop of Washington, Reverend Mariann Edgar Budde, also presided over the ceremony alongside the now-retired Rev Robinson of New Hampshire.
"Let me just say I've been crying for a week now, so I'm pretty apt to cry during this sermon," Rev Robinson said in his opening remarks.
"Matt was luckier than most young gay men in 1998," he continued.
"He had parents and a brother who loved him. He loved his church, the Episcopal church, and they loved him back. And I have no doubt that Matt is in heaven."
The end of a long, torturous journey
Jude Sheerin, BBC News, Washington
It was a cathedral service both modern and traditional.
The chancel echoed to traditional hymns - and a recital of John Lennon's secular anthem Imagine.
There was the mournful toll of muffled bells - and a performance from a Broadway musical, sung by a gay men's chorus. There were Bible readings - and a homily from the first openly gay Episcopal bishop.
He openly wept, like many of the congregation. They came in their thousands to celebrate a life brutally cut short, a gay martyr whose ashes his parents have kept at home all these years for fear a memorial site would be desecrated.
On Friday, Judy and Dennis Shepard, dressed in black, held hands as they walked down the nave to take their seats.
It was just a few short steps, but it was the end of a long and torturous journey to finally lay their son to rest.
On Tuesday 6 October, 1998, in Laramie, Wyoming, two men attacked Shepard, a 21-year-old openly gay university student.
They pistol-whipped him repeatedly before tying him to a fence and leaving him for dead.
Shepard soon became an internationally known symbol of the violence LGBT people face.
His death, along with the horrific murder of James Byrd Jr, a black man killed by white supremacists that same year, eventually led to the US government addressing gaps in federal hate crime law.
President Barack Obama signed the Matthew Shepard and James Byrd Jr Hate Crimes Prevention Act into law on 28 October, 2009, expanding federal law to count crimes motivated by a victim's sexual orientation, gender or disability as hate crimes.
But some still contest whether Shepard's murder was a hate crime, and Wyoming is one of five US states that still have no criminal hate crime laws.
"The bigger picture here is what we human beings tend to do, which is to label someone different from ourselves as 'other', which is code for 'not really human'," Rev Robinson said during the service.
"People of colour know that. The LGBTQ community knows that. Every marginalised person and group in this country knows that. And we are seeing way too much of that at the moment."
Shepard's interment comes as the Trump administration is considering redefining gender as the genitalia one is born with. Doing so would affect around 1.4m transgender people in the US.