Pittsburgh synagogue gunman suspect: Who is Robert Bowers?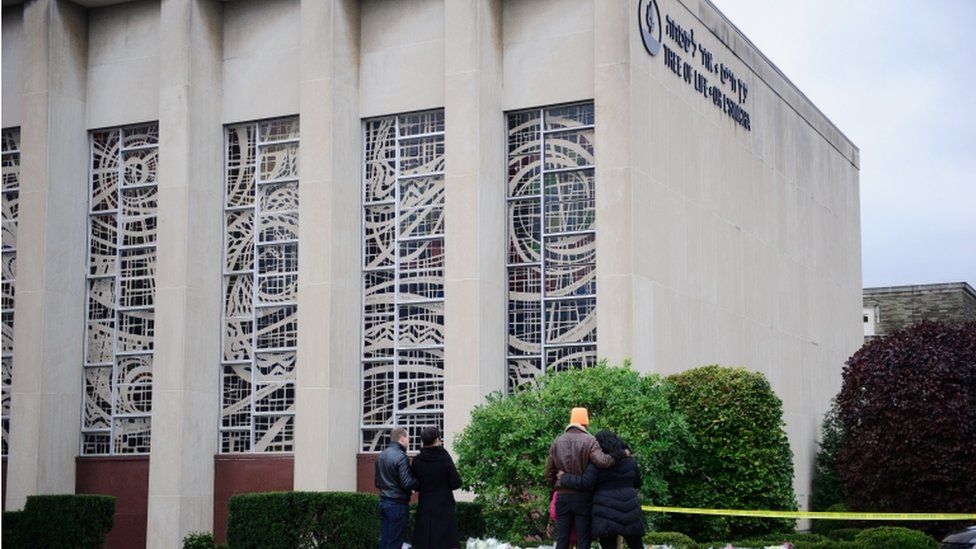 Details are slowly emerging about the man suspected of killing 11 worshippers at the Tree of Life synagogue in Pittsburgh, Pennsylvania.
Authorities identified the alleged gunman as 46-year-old Robert Bowers. Before the shooting on Saturday, he was apparently unknown to law enforcement and had no criminal record.
He was wounded in a gun battle with police and sent to hospital, but was discharged on Monday.
According to an affidavit, he told police while receiving medical treatment that "he wanted all Jews to die and also that they [Jews] were committing genocide to his people".
Here's what we know about the suspect.
Neighbours speaking to US media describe Robert Bowers as "normal".
He was reportedly a truck driver, living in a flat in Baldwin, a suburb of Pittsburgh.
He kept to himself, and neighbours never saw him with visitors.
Neighbour Chris Hall told AP: "The most terrifying thing is just how normal he seemed."
Robert Bowers had an active gun licence and owned 21 firearms, officials say.
What did he say on social media?
While there are few details about the man himself, he left a trail of anti-Semitic comments on social media.
Since January, he had had an active account on the Twitter-rival site Gab - a platform criticised as being an outlet for far-right figures and conspiracy theorists who have been banned from other social networks.
On the now-archived Gab profile that appears to be his, he called Jewish people "the children of Satan".
His feed was full of anti-Semitic and anti-immigrant posts calling Jews "an infestation", "filthy" and "evil".
Just an hour before the shooting, that account posted: "HIAS [Hebrew Immigrant Aid Society] likes to bring invaders in that kill our people. I can't sit by and watch my people get slaughtered. Screw your optics. I'm going in."
Two days earlier, the user had criticised President Donald Trump for being a "globalist, not a nationalist". He also commented that he did not vote for Mr Trump.
US media report that he is registered as an unaffiliated voter.
What charges does he face?
"The actions of Robert Bowers represent the worst of humanity," said Scott Brady, the US Attorney for the Western District of Pennsylvania. He added that justice "will be swift and it will be severe".
Mr Brady announced on Sunday he is seeking the death penalty, though the final decision on this lies with Attorney General Jeff Sessions.
Eleven counts of obstruction of exercise of religious beliefs resulting in death and 11 counts of use of a firearm to commit murder during and in relation to a crime of violence. These can carry the death penalty
Four counts of obstruction of exercise of religious beliefs resulting in bodily injury to a public safety officer
Three counts of use and discharge of a firearm during and in relation to a crime of violence