Pittsburgh shooting: Anger at Pence rally 'Jesus prayer'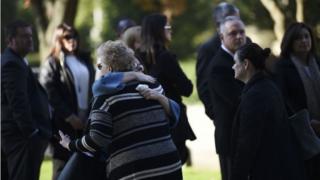 US Vice-President Mike Pence faces controversy after a cleric whose views are shunned by mainstream Jews led prayers for victims of the Pittsburgh synagogue shooting.
Rabbi Loren Jacobs appeared at a Republican rally in Michigan where he described Jesus as the Messiah and did not name the victims of the attack.
Known as Messianic Jews, the movement is shunned by mainstream Judaism.
The first funerals for the victims take place shortly.
An aide later told AP news agency Mr Pence had not invited Rabbi Jacobs to the Michigan rally.
Eleven worshippers were killed at the Tree of Life Synagogue in Pittsburgh, Pennsylvania, in what is thought to be the worst anti-Semitic attack in recent US history. Six other people were injured in the shooting.
Brothers David and Cecil Rosenthal, who were aged 54 and 59, are among the first to be buried on Tuesday morning, local time. The brothers were the youngest victims of the shooting.
Jerry Rabinowitz, 66, is also to be buried on Tuesday. He was a doctor in the Squirrel Hill community, particularly known for his work with gay men diagnosed with HIV.
On Saturday, he was able to escape from the synagogue, but chose to go back in order to save others, WTAE News reported.
Republican candidate Lena Epstein, who is herself Jewish, later said in a statement that she had invited Rabbi Jacobs to the Pence rally and she accused critics of "trying to create needless division".
However, the move was seen as an insult by many Jews.
Social media users were angered by the presence of a figure whose movement is viewed by mainstream Judaism as a branch of evangelical Christianity.
Some said the decision "erases Jewish history and agency" and described it as a "slap in the face". Others criticised the fact that Rabbi Jacobs had not named the victims but had instead read a list of Republican candidates for the forthcoming midterm elections.
Separately, more than 65,000 people signed an open letter from Pittsburgh-based Jewish leaders saying that President Donald Trump was "not welcome" in the city unless he "fully denounces white nationalism".
The president is due to visit Pennsylvania on Tuesday.
"President Trump, your words, your policies, and your Party have emboldened a growing white nationalist movement," the petition said. "The violence against Jews in Pittsburgh is the direct culmination of your influence."
The White House has rejected any blame over the attack, with Press Secretary Sarah Sanders saying it is "outrageous" to suggest a link between the administration and an anti-Semitic attack.
Pittsburgh's mayor, William Peduto, also opposed the timing of Mr Trump's visit which, he said, would distract attention from the first funerals for victims of the shooting.