US mid-terms latest: Trump vows to end birthright citizenship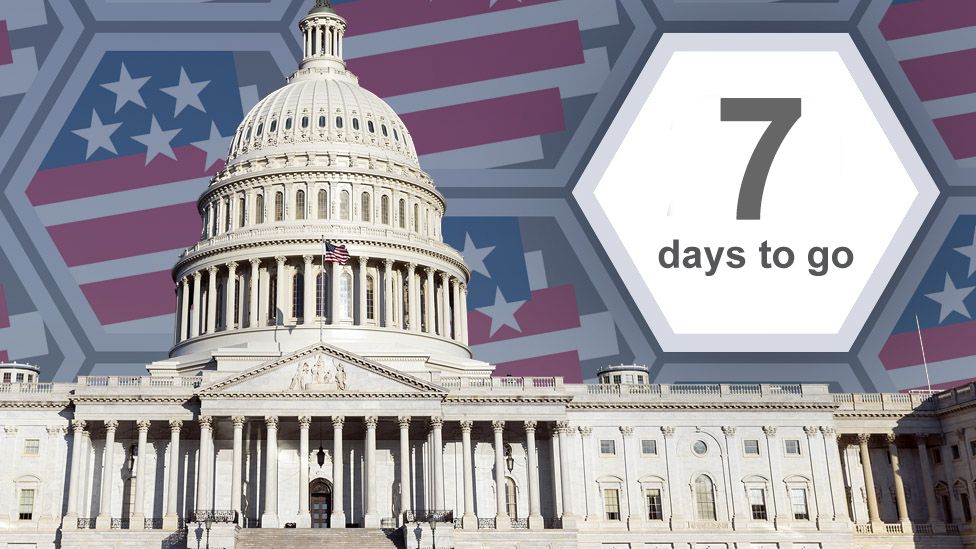 The US mid-term elections in one week's time will help define the rest of Donald Trump's presidency.
Americans will vote for members of both chambers of Congress, as well as for governors in 36 out of 50 states.
Between now and then, we'll bring you updates and all the best analysis every weekday in this round-up.
Today's edition includes a musical dispute and a deeper look at an historic race.
Curbing illegal immigration was one of the main campaign promises Mr Trump made when he ran for president.
The president vowed to end the automatic right to citizenship for children born in the US to non-citizens.
Currently, all children born in the US get citizenship under the constitution.
"We're the only country in the world where a person comes in and has a baby, and the baby is essentially a citizen of the United States," he said. "It's ridiculous. And it has to end."
In fact a number of countries, including Canada and Mexico, offer birthright citizenship.
Mr Trump said that he could enact the change by signing an executive order but there are major doubts over whether this would be possible.
The legality of such a move, without explicit authorisation from Congress, is questionable, says the BBC's North America reporter, Anthony Zurcher.
Coming just days before the mid-term elections, this could be viewed as another attempt by the president to rally his base and change focus to the immigration issue, which he views as a political winner, he adds.
But the group - known as the migrant caravan - isn't expected to arrive at the border for several weeks.
Mr Trump's critics said the move was a political statement ahead of the mid-terms.
Regardless, it is clear that immigration is an issue the president is keen to raise ahead of the crucial vote.
It's fair to say that Mr Trump has had some difficulty with finding the right walk-on music during his short political career.
The Rolling Stones hit You Can't Always Get What You Want was a particular favourite on the 2016 campaign trail but the band later asked him to stop playing it.
And earlier this month, Prince's estate warned the president about playing the star's hit Purple Rain at his rallies.
Now, Mr Trump has received a request to remove yet another track from his playlist. This time, it's Pharrell's hit Happy.
But that doesn't mean he will be struggling for options.
The pool of candidates running for office on November 6 is a diverse one. There are more women and LGBT people running than ever before, for example.
In Georgia, the race for the governor's mansion features a woman vying to become the first black American female to run a state.
Stacey Abrams, 44, has been considered a rising star among the Democratic Party's progressive wing but she faces a tough test in the deeply conservative state.