Yosemite fall: Victims identified as married bloggers from India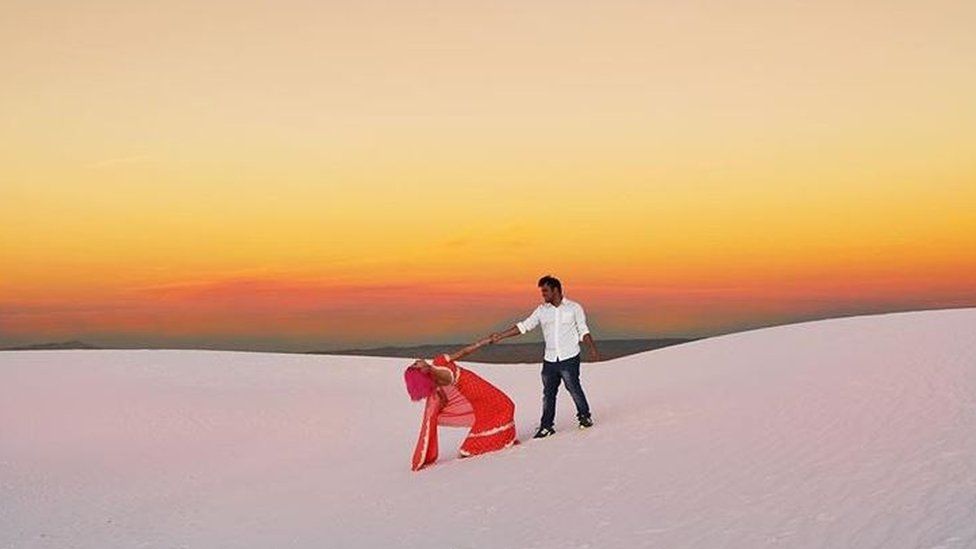 A man and woman who died after falling from a cliff in Yosemite National Park have been identified as a married couple from India.
Vishnu Viswanath, 29, and Meenakshi Moorthy, 30, were living in the US and had maintained a travel blog of photos from their trips around the country.
In a recent Instagram post, the couple pondered the "daredevilry" of taking photos from dangerous locations.
Park rangers are investigating but say the cause of death may never be known.
Viswanath and Moorthy's bodies were recovered from a steep rocky area beneath the lookout on Taft Point on Thursday, according to park spokesman Jamie Richards.
The Taft Point promontory offers views of the valley floor 3,000 ft (900m) below and has become a popular spot for romantic photos and wedding proposals.
"We're trying to understand what happened. We may never know, (but) from everything we see, this was a tragic fall."
The couple maintained a blog called Holidays and HappilyEverAfters where they described themselves as "travel obsessed".
On the blog, Moorthy called herself a "mermaid-haired wanderess who loves to waltz with words" and her husband "Captain Creative who wows me and everyone with his phantasmagoric photographic skills".
They both graduated in 2010 from the College of Engineering, Chengannur in Kerala state, which took to Facebook to mourn the "accidental demise of its two alumni".
Vishnu's brother Jishnu Viswanath told the Associated Press in India that the two apparently fell while taking a selfie after setting up their tripod near the ledge on Tuesday evening.
He said the two were married four years ago at a Hindu temple in Kerala, and that their funerals would take place in the US.
Viswanath had worked as a software engineer for Cisco and was planning to move with his wife from New York to California for the job.
On their Instagram account they posted to their 14,000 followers last March of the danger of taking selfies from dangerous locations.
"A lot of us including yours truly is a fan of daredevilry attempts of standing at the edge of cliffs and skyscrapers, but did you know that wind gusts can be FATAL???" Moorthy wrote in the caption of a post of her sitting on the edge of the Grand Canyon.
"Is our life just worth one photo?" she wrote.
Meanwhile, a photographer's viral search to identify a couple who got engaged earlier this month at Taft Point has ended, after they came forward on social media.
Photographer Matt Dippel posted an appeal online, in an effort to find the couple featured in the romantic shot.
Charlie Bear and his fiancée Melissa stumbled upon the photo of themselves on Instagram, said Mr Dippel in a follow-up Facebook post.
"Even though this was the second time around I was just as nervous as the first time, and I was even more nervous being high up on the cliff," Mr Bear told CNN.
"I have a fear of heights, and I kind of overcame that for her."
More than 10 people have died in Yosemite this year.
Last month an Israeli teenager accidentally fell to his death while taking a selfie from another part of the world-renowned park.