Pittsburgh shooting: First of 11 funerals held for victims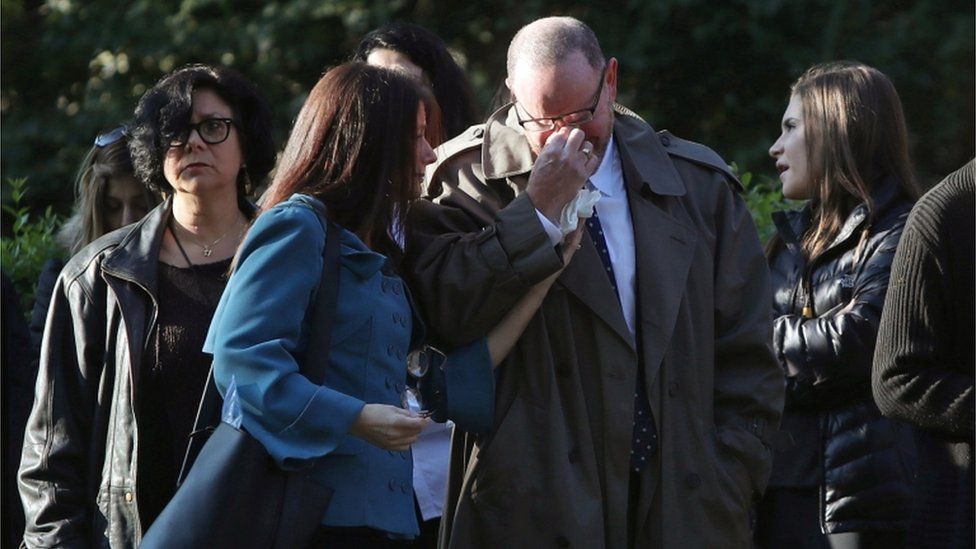 The first of the 11 victims of the US shooting at the Tree of Life synagogue in Pittsburgh have been laid to rest.
Hundreds paid their respects on Tuesday at the funerals of brothers Cecil and David Rosenthal and Jerry Rabinowitz, who were killed on Saturday.
President Donald Trump and First Lady Melania Trump visited Pittsburgh to pay their respects amid a large protest by hundreds of people.
Critics said the president's trip drew attention away from the funerals.
As President Trump arrived, demonstrators chanted: "President hate, leave our state."
"Trump, Renounce White Nationalism Now," read one sign. Another said: "Trump's lies kill."
During the president's visit to the synagogue one protester holding a baby was seen by reporters calling to Mr Trump's motorcade: "We didn't invite you here."
Mr Trump was accompanied on by his son-in-law and adviser Jared Kushner, who is Jewish, and Mr Kushner's wife, Ivanka Trump, a convert to Judaism.
Treasury Secretary Steven Mnuchin, who is also a Jew, joined the president, too.
Some Jewish figures and Pittsburgh's Democratic mayor Bill Peduto have opposed the presidential visit.
The 11 worshippers were shot and killed at the Tree of Life Synagogue in Pittsburgh, Pennsylvania, in what is thought to be the worst anti-Semitic attack in US history.
Six other people were injured.
Lines of mourners stretched for several blocks at the public services on Tuesday.
Brothers David and Cecil Rosenthal, who were aged 54 and 59, were among the first to be buried. They were the youngest victims of the shooting.
During a prayer service for the brothers, Rabbi Myers reportedly told the packed service: "They could illustrate a dictionary definition for 'pure souls.'"
Jerry Rabinowitz, 66, was also buried on Tuesday. He was a doctor in the Squirrel Hill community, particularly known for his work with gay men diagnosed with HIV.
On Saturday, he was shot and killed after he rushed to help the wounded, his nephew Avishai Ostrin said in an emotional Facebook post.
"When he heard shots he ran outside to try and see if anyone was hurt and needed a doctor," he wrote. "That was Uncle Jerry, that's just what he did."
Daniel Stein, 71, was also buried in a private service on Tuesday.
As the Pittsburgh Jewish community plans for the victims' funerals, which are scheduled all week, support has been pouring in from across the country.
A GoFundMe fundraiser created by an Iranian refugee studying in Washington DC, who has no connection to the Pittsburgh community, has already received over $839,000 (£658,000) to help rebuild the synagogue and support victims' families.
Another fund set up by Muslim-American groups to help pay for funeral costs has raised over $195,000.
The Jewish Federation of Greater Pittsburgh said people had donated over $205,000, the Pittsburgh Post-Gazette reported.
More than 70,000 people signed an open letter from Pittsburgh-based Jewish leaders saying that President Trump was "not welcome" in the city unless he "fully denounces white nationalism".
The White House has rejected any blame over the attack.
US Vice-President Mike Pence also provoked controversy after a cleric whose views are shunned by mainstream Jews led prayers for victims at a Republican rally on Monday.
Known as Messianic Jews, the movement is shunned by mainstream Judaism.
Social media users were angered by the presence of a figure whose movement is viewed by mainstream Judaism as a branch of evangelical Christianity.