Trump Russia: Bungled plot emerges to smear Robert Mueller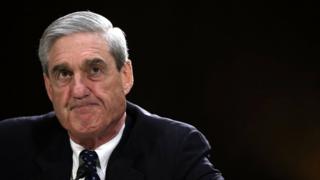 A fake spy company, faked LinkedIn profiles, a conspiracy theorist and a pro-Trump blogger are all embroiled in the latest, and strangest, story in Washington DC.
On Tuesday information came to light about what appears to be a plot to try to smear special counsel Robert Mueller's investigation into Russian meddling in the 2016 presidential election.
The details are still unclear, but centre on an apparent attempt to pay women to invent allegations of sexual misconduct against Mr Mueller in an effort to discredit his probe.
Mr Mueller's spokesperson said in a statement that his team had now asked the FBI to look into the matter. So what went on, and how did we get here?
The confusing events, in brief
US media picked apart the plan on Tuesday, one day after Jacob Wohl, a 20-year-old conservative blogger, tweeted on Monday night that a "scandalous" story about Mr Mueller was about to break.
Mr Wohl, a Fox News contributor, is best known as a right-wing Twitter provocateur and ex-hedge-fund manager who was banned by a US trading body for life earlier this year after being accused of fraud.
After his tweet, a number of US-based journalists, including Medium's Scott Stedman, began tweeting to warn people they believed Mr Wohl's referred to a plan to spread "false accusations" about Mr Mueller.
He and other US journalists said they had received an email from a woman named Lorraine Parsons earlier this month, who claimed someone working for a Republican lobbyist called Jack Burkman had contacted her.
Mr Burkman, who has a radio show, is notorious in Washington for spreading conspiracy theories and has been involved in a number of other high-profile publicity attempts around them.
In her emails, "Lorraine" said the man alleged he could help her pay off some of her family's $30,000+ credit card debt in exchange for her making accusations of sexual misconduct and workplace harassment against Mr Mueller, whom she told the journalists she worked with in the 1970s.
But the law firm she mentioned told US media outlets they have no record of anyone under her name ever working there.
Some journalists also looked into evidence of anyone of her name living in the Fort Myers, Florida area she mentioned, but were unable to verify her existence.
Around the same time the emails were apparently sent to journalists, Jack Burkman teased on Facebook a story alleging Mr Mueller was an alcoholic and had a "life-time history of harassing women". In the video, he said he was working on getting accusers to come forward.
As the narrative crumbled on Tuesday, a right-wing website that published documents featuring the allegation that Mr Wohl had teased then deleted them.
And the mystery intelligence firm?
Although it's unclear whether "Lorraine" actually exists, another woman named Jennifer Taub told the Atlantic that she had also been contacted by a man claiming to be from Surefire Intelligence called Simon Frick who fished about non-existent "past encounters" she had had with Mr Mueller, teasing payment.
Aric Toler, from the investigative website Bellingcat, pointed out that Frick and his colleagues all used fake images on their LinkedIn pages.
The catfish identities were heavily edited, using images of stock models, Israeli model Bar Refaeli and Oscar-Winning actor Christoph Waltz.
On Tuesday, Bellingcat also pointed out the company was registered using an email address that pointed back to to Jacob Wohl himself.
Further, when NBC news tried to call the website's officially-registered number, it led them to the voicemail inbox of the 20-year-old's mother.
Worse for him still, New Yorker journalist Jane Mayer then flagged that someone named as the firm's "managing partner" Matthew Cohen actually appeared to be a manipulated photograph of Jacob Wohl himself.
What have Wohl and Burkman said?
Despite the incriminating links, Jacob Wohl has denied all knowledge of involvement - tweeting that the mainstream media were spinning "FAKE NEWS" to "protect the Mueller witch hunt".
Jack Burkman posted a similar rebuff - saying the left were attacking him in "desperation" and saying the allegations about him promising to pay women were false.
Despite the Tuesday drama, Jack Burkman has promised to host a news conference on Thursday to unveil an accuser of Mr Mueller regardless.
He has held similar events before, including around the death of a Democratic Party staffer called Seth Rich, which have been disregarded and ridiculed.
The special counsel office broke its usual silence on Tuesday to confirm to US media it had been made aware of the saga.
A spokesman said in a statement: "When we learned last week of allegations that women were offered money to make false claims about the special counsel, we immediately referred the matter to the FBI for investigation."