US mid-terms latest: Republican chief attacks Steve King's 'hate'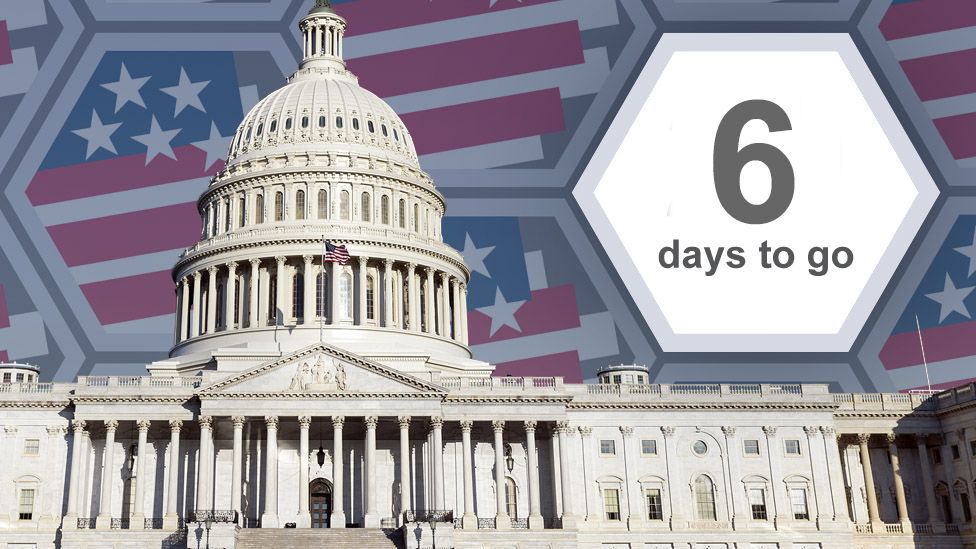 The US mid-term elections in six days' time will help define the rest of Donald Trump's presidency.
Americans will vote for members of both chambers of Congress, as well as for governors in 36 out of 50 states.
Between now and then, we'll bring you updates and all the best analysis every weekday in this round-up.
Today's edition includes fears over vote hacking and a last-minute lawsuit.
Representative Steve King of Iowa has earned sharp criticism from a colleague and prominent member of his own party just days before voters head to the polls to decide if Mr King should retain his seat.
National Republican Congressional Committee chairman and Congressman Steve Stivers of Ohio tweeted a rebuke of Mr King's long history of making racially incendiary comments.
"Congressman Steve King's recent comments, actions, and retweets are completely inappropriate," Mr Stivers wrote. "I strongly condemn this behavior."
Skip twitter post by Steve Stivers
Allow Twitter content?
This article contains content provided by Twitter. We ask for your permission before anything is loaded, as they may be using cookies and other technologies. You may want to read Twitter's cookie policy, external and privacy policy, external before accepting. To view this content choose 'accept and continue'.
The BBC is not responsible for the content of external sites.
End of twitter post by Steve Stivers
Mr Stivers did not call out a specific incident in his criticism although Mr King has a record of making disparaging and inflammatory comments, including:
"They've got calves the size of cantaloupes because they're hauling 75 pounds of marijuana across the desert" (On undocumented migrants, in 2013)
"Where did any other subgroup of people contribute more to civilization [than white people]? (2016)
"They chose to have a Congressional Black Caucus. They chose to have an abortion. I would give you even money that a vast majority of mothers who say they can't afford an abortion have an iPhone, which costs more." (2016)
This week, Mr King drew fresh condemnation over reports that he met members of a far-right Austrian party founded by a former Nazi officer on a trip funded by a Holocaust memorial group.
Corporate donors have been withdrawing financial support for the congressman this week. Nestlé-owned pet food maker Purina, technology giant Intel and dairy giant Land O' Lakes have ditched support for him.
AT&T and Tyson Foods are being urged by Mr King's critics to do likewise.
Election experts remain concerned about the risk of foreign interference and vote hacking in the mid-terms.
They claimed that one ballot machine, which is used in 23 states, carries a cybersecurity flaw that was first reported more than a decade ago.
So are officials doing all they can to protect the election process?
Possibly not. Only 21 states have requested a free federal security review of their election infrastructure, according to ABC News.
The voluntary review is provided by the Department of Homeland Security and checks for cybersecurity vulnerabilities and trains officials to protect against hacking attempts.
"The first thing that every state should be doing... is to do a threat analysis to understand what the vulnerabilities in their systems are," one expert told ABC.
Fears over election meddling have risen since the 2016 presidential election, when US officials say Russia interfered to help Donald Trump win.
The justice department is continuing to investigate the claims, which Russia strongly denies.
Much has been made of the polarisation of US politics and how divided the country is going into the mid-terms.
In recent weeks, the tumultuous confirmation of US Supreme Court justice Brett Kavanaugh and the heated debate around immigration has revealed a deeply split America.
This divide was on full display in Pittsburgh on Tuesday, where demonstrators held a protest against the visit of President Trump.
Mr Trump was joined by First Lady Melania Trump, his daughter and son-in-law at the Tree of Life temple where 11 Jewish worshippers were shot dead at the weekend.
More than 70,000 people signed an open letter from Pittsburgh-based Jewish leaders saying that the president was "not welcome" in the city.
Voter ID laws have long been controversial.
In North Dakota, people will need a provable residential address to be able to vote in next week's crucial Senate race.
This new requirement, civil rights groups say, will hit Native Americans particularly hard.
Many live on reservations and do not have a qualifying address.
"Eligible Native American voters including our clients may be denied the right to vote next week," a lawyer from the Native American Rights Fund said.
State officials argue that it is easy to get a residential address, but this is disputed within the lawsuit.
In yesterday's round-up, we reported on President Trump's pledge to end the automatic right to citizenship for children born in the US to non-citizens.
Mr Trump said that he could enact the change by signing an executive order, but there are major doubts over whether this would be possible.
But what exactly is birthright citizenship? And could Mr Trump actually scrap it?
Depending who you asked in the Conway household, the answer to that question could be quite different.
Mr Conway, a top lawyer, points out that birthright citizenship was enshrined in the 19th Century as a way to right the wrong of slavery, and to overturn attempts to deny citizenship to freed slaves.
"Our Constitution is a bipartisan document, designed to endure for ages. Its words have meaning that cannot be wished away."
It's not always about Trump.
We asked voters from a dozen states what are the key issues for them. No-one mentioned the T-word.
And there were some surprising answers.