Pittsburgh shooting: Robert Bowers pleads not guilty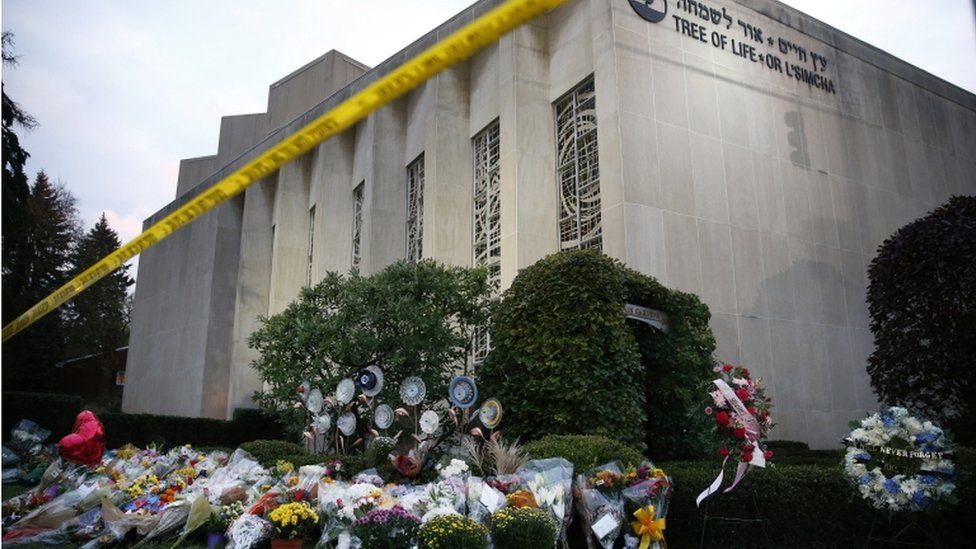 Robert Bowers, the alleged gunman accused of killing 11 Jewish worshippers at a Pittsburgh synagogue on Saturday has pleaded not guilty.
Mr Bowers, 46, has requested a jury trial.
He faces 44 counts of murder, hate crimes, obstructing religious practices and other crimes. Prosecutors are seeking the death penalty.
Authorities called the attack on the Tree of Life synagogue the worst anti-Semitic incident in US history.
In addition to those killed, six people were injured, including four police officers, before Mr Bowers surrendered to law enforcement.
What charges does he face?
US media reported Mr Bowers entered the courtroom without a wheelchair, bandaged on the arm from the injuries suffered during a shootout with police on Saturday.
With a loud "yes!" Mr Bowers confirmed he had read the indictment and understood the charges against him. He reportedly had no reaction when told he faced the death penalty.
The federal indictment alleges Mr Bowers walked into the synagogue with multiple firearms, ranted about wanting to "kill Jews" and then began gunning down worshippers, as well as firing on police when they arrived.
During his first court appearance, Mr Bowers was in a wheelchair and spoke little.
On Wednesday, US prosecutors added a further 15 charges to the 29 Mr Bowers already faces, making a total of 44.
The additional counts against Mr Bowers were for assaulting police officers and also included special findings to support the case for pursuing the death penalty, US media reported.
According to an affidavit, Mr Bowers told police immediately after his arrest that "he wanted all Jews to die".
Social media accounts purported to be Mr Bowers' also featured anti-Semitic slurs and anti-immigrant sentiments, including a post saying "I can't sit by and watch…Screw your optics, I'm going in," that was uploaded just before the shooting.
The charges Mr Bowers faces are:
11 counts of obstructing free exercise of religious beliefs, resulting in death
11 counts of using a firearm to commit murder
11 counts of use of a firearm during a crime of violence
8 counts of obstructing free exercise of religious beliefs involving an attempt to kill a public safety officer
2 counts of obstructing free exercise of religious beliefs involving an attempt to kill
1 count of obstructing free exercise of religious beliefs with a dangerous weapon resulting in injury to an officer
Funerals for the 11 victims began on Tuesday.
Vigils and memorial services continue to take place across the country.
The victims ranged in age from 54 to 97 years old.
Joyce Fienberg, 75
Richard Gottfried, 65
Rose Mallinger, 97
Jerry Rabinowitz, 66
Cecil Rosenthal, 59
David Rosenthal, 54, brother of Cecil
Bernice Simon, 84
Sylvan Simon, 86, husband of Bernice
Daniel Stein, 71
Melvin Wax, 88
Irving Younger, 69
On Thursday, funerals for the couple Bernice and Sylvan Simon and Richard Gottfried were held.