'Whitey' Bulger: Mob hitman suspected as prison killer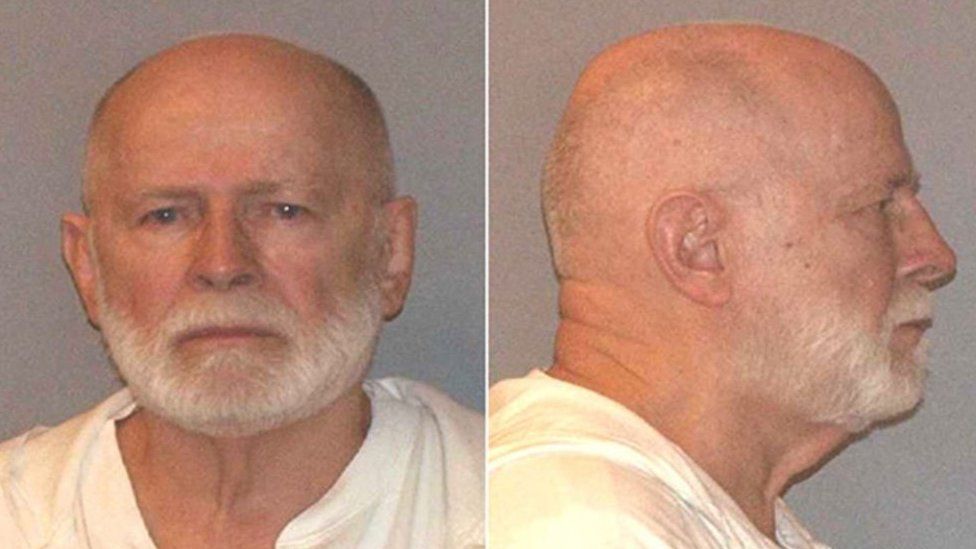 A convicted mafia hitman serving a life sentence for murder is reportedly the prime suspect in the killing of Boston gangster James "Whitey" Bulger.
Multiple law enforcement sources tell US media that Fotios "Freddy" Geas, 51, and other inmates savagely beat Bulger with a lock inside a sock on Tuesday.
The 89-year-old's death came less than 12 hours after he was transferred to a federal prison in West Virginia.
Bulger was jailed in 2011 after a 16-year international manhunt.
The FBI has launched an investigation into the suspected homicide, and several convicts at the prison have reportedly been placed in solitary confinement for their roles in the attack.
Warning: Some readers may find details disturbing
Geas's lawyer has described him as a "stand-up guy" who loathed informants such as Bulger.
Bulger had been an FBI turncoat for years, and used his position to inform on rivals while committing at least 11 murders against his enemies.
Unnamed prison officials have told US media that Bulger, who used a wheelchair, was pushed by the inmates into a corner of his cell not in the view of security cameras.
But despite their efforts to hide, CCTV cameras captured at least two inmates engaging in the attack that left Bulger bloody and "unrecognisable", according to the New York Times.
Officials say a metal padlock tucked into a sock - known in prisons as a "lock-in-the-sock" - was wielded like a mace during the attack.
According to several reports, Bulger's eyes had been gouged out, or possibly detached from his skull due to the force of the beating he received.
His tongue also may have been cut out, several US outlets have reported. The FBI has so far refused to comment on Bulger's death.
Suspect 'hated informants'
Daniel D Kelly, a lawyer who has represented Geas for years, told the Times that the convicted New England hitman "has a particular distaste for co-operators".
He added that Geas' feelings were so strong that during his trial for the 2003 murder of the leader of the Genovese crime family in Springfield, Massachusetts, he rejected a plea deal that would have allowed him to avoid a life sentence.
"That's not his type of thing to do," said Fotios Geas Sr.
On Tuesday, Bulger's attorney JW Carney Jr blamed the government for failing to protect his client, saying Bulger "was sentenced to life in prison, but as a result of decisions by the Federal Bureau of Prisons, that sentence has been changed to the death penalty".
A former Boston police official told the Times that he could not understand why prison guards had not kept Bulger "away from a convicted organised crime hit man from Massachusetts".
"I'm not surprised that he got hit; I'm surprised that they let him get hit," said Ed Davis, the former Boston police commissioner.
Bulger's victims celebrate
Meanwhile, the families of Bulger's victims have not tried to hide their celebrations.
"He died the way I hoped he always was going to die," Steven Davis, the brother of Debra Davis who Bulger is said to have strangled to death, told the Boston Globe.
Tommy Donahue, whose father was killed by Bulger, told WFXT-TV that he was "overwhelmed with joy" at the news.
His mother, Patricia Donahue, said she planned to "open up a champagne bottle and celebrate".
"The guy that did this, I would go put money in his canteen account," Mr Donahue told Boston 25 News.