US mid-terms latest: Candidate's children call him 'racist'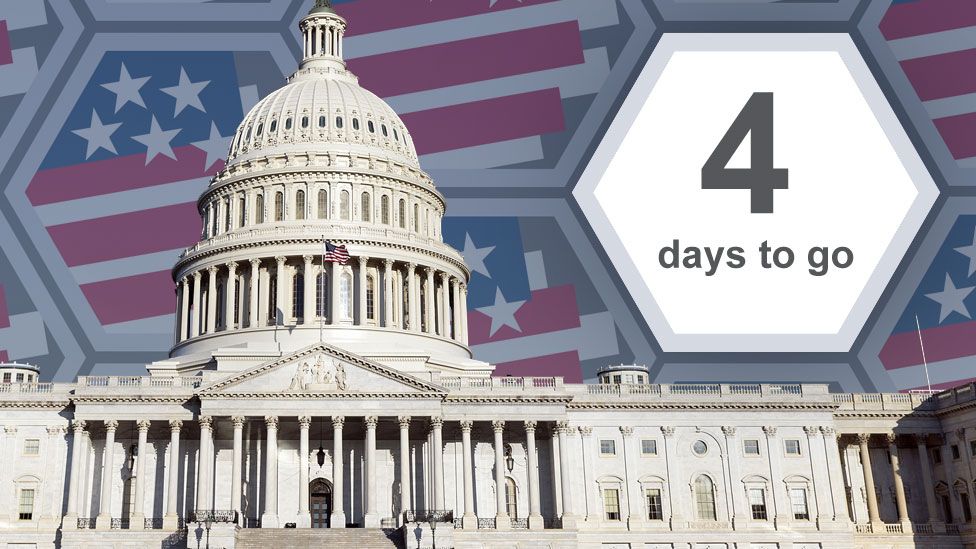 The US mid-term elections in four days' time will help define the rest of Donald Trump's presidency.
Americans will vote for members of both chambers of Congress, as well as for governors in 36 out of 50 states.
On the homestretch, we'll bring you updates and all the best analysis every weekday in this round-up.
In today's edition we feature a family feud, Oprah on the campaign trail, and a political ad that has people talking.
The adult son and daughter of a Republican candidate for the Missouri state legislature are pleading with voters to reject their father.
"His ideology is pure hatred. It's totally insane."
"A lot of his views are just very out there," his daughter Emily West added. "He's made multiple comments that are racist and homophobic and how he doesn't like the Jews."
Thanksgiving should be fun round their house.
The candidate - who hosts a right-wing radio show - has repeatedly denied anti-Semitism.
But on his radio show, he has made several inflammatory comments, including in January 2017: "Hitler was right about what was taking place in Germany. And who was behind it."
He has also said that homosexuality and paedophilia "are absolutely linked".
The Missouri Republican Party has repudiated his "abhorrent rhetoric".
Mr West is not the first candidate this election cycle to come under attack from his own flesh and blood.
What you need to know about mid-terms:
Lawyer Michael Avenatti, who is best known for representing porn actress Stormy Daniels in her lawsuit against Donald Trump, has released his first political advert.
He is not a candidate, but the clip has fuelled speculation he is considering a run for president in 2020.
The ad released on social media features several "real people" exhorting Americans to harness their anger and vote next Tuesday.
Looking directly into the camera, each person vents a political grievance, including: "Enough with the lies," and "Enough with the bigotry".
It concludes with Mr Avenatti on screen, above the words "Founder, The Fight PAC", in reference to his recently created political action committee.
In an interview with Politico, he refused to disclose the cost of the ad but called it "sizeable", and denied it was a vehicle for his own political ambitions.
Today we remember a 19th Century politician who has a lot to answer for.
Elbridge Gerry gave his name to the irregularly shaped electoral districts that are tailor-made to concentrate voting power for a particular candidate.
Watch our video to find out why his redistricting trick - named after him and a certain amphibian - is still a thing.
Celebrity phenom Oprah Winfrey spent Thursday in Georgia campaigning for Stacey Abrams, who would be the first black woman to run a state if she defeats Georgia Republican Brian Kemp next week.
"I'm here today because of the men and because of the women who were lynched, who were humiliated, who were discriminated against, who were suppressed, who were repressed and who were oppressed for the right of equality at the polls," Ms Winfrey told a crowd in the suburbs of Atlanta.
"Their blood has seeped into my DNA, and I refuse to let their sacrifices be in vain.
"For anybody here who has an ancestor who didn't have the right to vote, and you are choosing not to vote - wherever you are in this state, in this country, you are dishonouring your family."