Over 1,600 scientists condemn Trump transgender proposal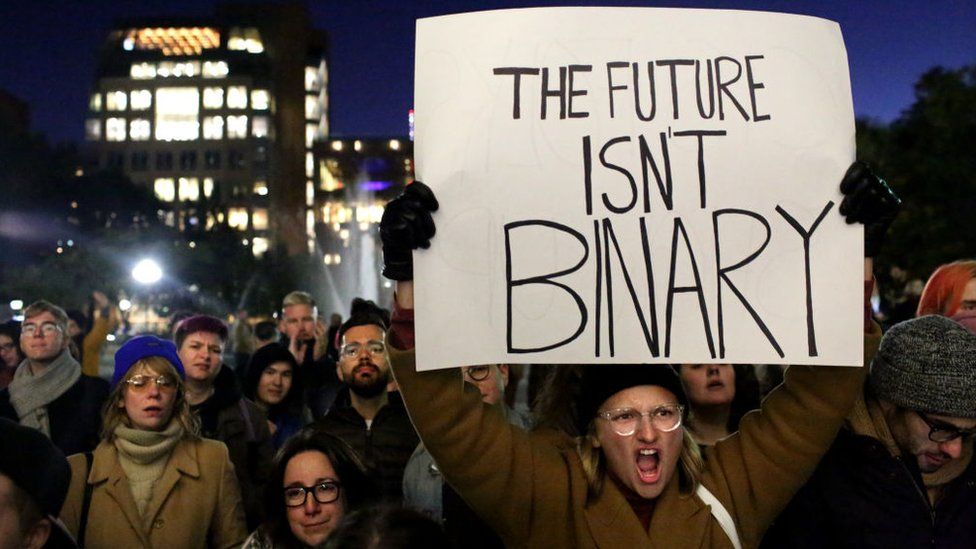 Over 1,600 scientists have signed a letter condemning a proposal by the Trump administration to define gender as biological and established at birth.
Signatories to the letter, including nine Nobel laureates, accuse the Trump government of citing "pseudoscience".
"This proposal is fundamentally inconsistent not only with science, but also with ethical practices, human rights, and basic dignity," it states.
The government proposal was leaked to the New York Times last week.
The change - as outlined in a draft memo by the Department of Health and Human Services - would rescind previous policy created under Barack Obama which adopted a broader definition of gender.
Instead, the Trump administration would reportedly define gender based solely on people's genitalia at birth.
Activists say such a move would "erase" the identities of 1.4 million Americans who identify as transgender.
The reported proposal has not been announced by the US government, and Mr Trump has not commented on the report.
What do the scientists say?
The letter, signed by over 700 biologists, over 100 geneticists, and nine Nobel Prize winners dispute the US government's proposal, saying it "is in no way 'grounded in science' as the administration claims".
"The relationship between sex chromosomes, genitalia, and gender identity is complex, and not fully understood," they write.
"Though scientists are just beginning to understand the biological basis of gender identity, it is clear that many factors, known and unknown, mediate the complex links between identity, genes, and anatomy," the authors write in the letter, which links to 10 different scientific studies.
The letter goes on to explain that no scientific test can "unambiguously determine gender, or even sex".
"Even if such tests existed, it would be unconscionable to use the pretext of science to enact policies that overrule the lived experience of people's own gender identities."
On Thursday, more than 50 companies representing $2.4tn (£1.5tn) in annual revenue also released a joint statement condemning the Trump administration's effort to strip trans Americans of legal protections.
The statement from the companies - including Apple, Google, Nike, Microsoft, Amazon and Facebook - says: "Transgender people are our beloved family members and friends, and our valued team members. What harms transgender people harms our companies."
"Diversity and inclusion are good for business," write the companies, who together employ nearly 4.8 million people, according to CNBC.
"We call for respect and transparency in policy-making, and for equality under the law for transgender people."