Pittsburgh, pipe-bomber attacks halted mid-terms momentum says Trump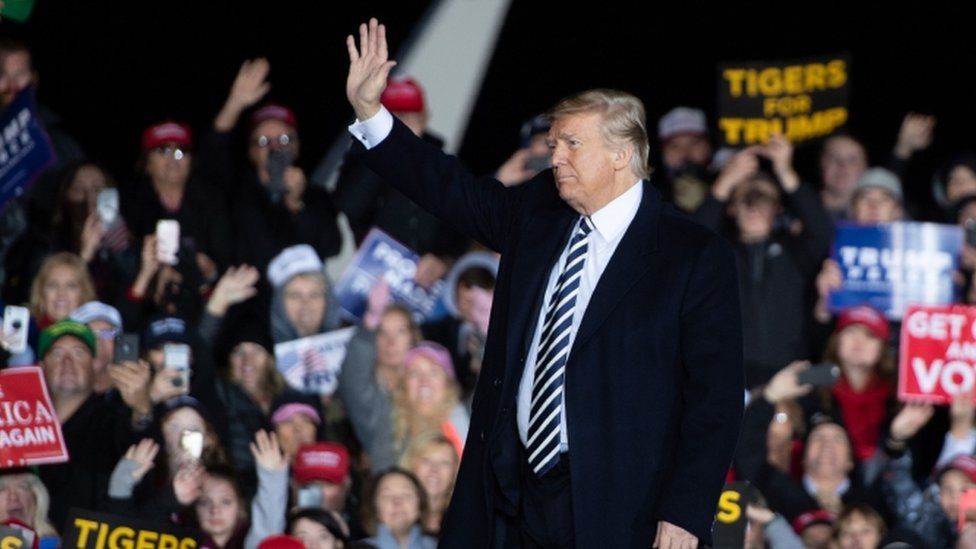 President Donald Trump has blamed two terror attacks against public figures and worshippers at a synagogue for slowing Republican political momentum.
Speaking at a rally in Missouri on Thursday, Mr Trump said "two maniacs" stopped a "tremendous momentum".
The president did note that taking care of people was more important.
Mr Trump's remarks, called callous by critics, come as the country prepares for mid-term elections next week that could shift power on Capitol Hill.
"We did have two maniacs stop a momentum that was incredible, because for seven days nobody talked about the elections," Mr Trump said during his closing remarks. "It stopped a tremendous momentum."
He added: "More importantly, we have to take care of our people, and we don't care about momentum when it comes to a disgrace like just happened to our country."
"But it did nevertheless stop a certain momentum, and now the momentum is picking up."
Critics were quick to condemn the president for appearing to care more about the elections than the victims.
Former Obama speechwriter Jon Favreau called Mr Trump's remarks "revolting" in a tweet.
Last month, the president had also referenced a slowing Republican momentum thanks to "this 'Bomb' stuff".
Republicans are doing so well in early voting, and at the polls, and now this "Bomb" stuff happens and the momentum greatly slows - news not talking politics. Very unfortunate, what is going on. Republicans, go out and vote!

— Donald J. Trump (@realDonaldTrump) October 26, 2018
Mr Trump has tried to ramp up that momentum among his base by making immigration the key issue of this year's mid-term elections.
The 6 November elections could see Republicans cede power in both chambers of Congress, as well as in governorships across the country, to Democrats.
In the last several weeks, the US has faced the worst anti-Semitic attack in the country's history as well as pipe-bombs mailed to top Democrats and public figures critical of Mr Trump.
The president did not name the "two maniacs" involved, suspected gunman Robert Bowers and alleged mail bomber Cesar Sayoc.
Last Saturday, Mr Bowers allegedly walked into the Tree of Life Synagogue in Pittsburgh, Pennsylvania, armed with multiple firearms, and began gunning down worshippers.
Eleven victims were killed and six people, including police officers, were injured in the attack. Mr Bowers told police after he was arrested that he had wanted to kill Jews.
The last of the funerals for the victims takes place on Friday.
At the end of October, Mr Sayoc was arrested following a mail bomb spree which saw 14 devices mailed to critics of Mr Trump, including former President Barack Obama and former Secretary Hillary Clinton.
Democrats have said Mr Trump's violent language towards his opponents incited Mr Sayoc to target those individuals.
A recipe for Democratic success
Analysis by Anthony Zurcher, BBC News
"Momentum" is difficult to quantify in politics.
You can feel it, but not always see it. Poll numbers can give hints, but it frequently takes time for them to accurately reflect the changing dynamics on the ground.
Donald Trump insists that the pipe-bomb attacks on Democrats and the mass shooting at a Pittsburgh synagogue have dimmed his party's political fortunes. That may very well be the case.
The two stories dominated the headlines for a week - and raised questions about whether the president's often incendiary rhetoric contributed to an acrimonious political environment.
The president is trying to focus attention on the immigration issue, believing it to be a winning play, but breaking news has largely drowned that out.
Recent polling doesn't show a marked shift away from Republicans, however.
The bottom line is that the fundamentals of these mid-term elections have been stable for some time.
Donald Trump's popularity ratings have remained underwater. Democrats have held a statistically significant advantage when the public is asked who they want to control Congress. They're vastly outpacing Republican candidates in fund-raising.
Add all this to an out-of-power party's typical advantage in first-term congressional elections, and it's a recipe for Democratic success - at least in the House of Representatives.