Child's note tells driver bus hit his parked car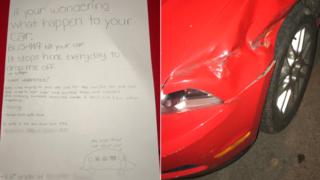 A college student's "shout-out" to a child who left a note on his damaged car, telling him a school bus driver was to blame, has been widely shared on Twitter.
Andrew Sipowicz, from Buffalo, New York, found the handwritten note on his vehicle, which read "Bus 449 hit your car", alongside a drawing.
After he shared the note on social media, its author's sixth grade teacher recognised the handwriting and got in touch with Mr Sipowicz.
"Me and my family are so grateful and we want to reward the girl somehow," the 21-year-old told the BBC, adding that the note probably saved him thousands in repair bills.
His tweet has been liked more than 500,000 times.
The accident happened on Monday when the bus collided with Mr Sipowicz's vehicle: "She [the bus driver] was trying to pull off and hit the car. She hit-and-run," the child wrote in her note.
"She tried to squeeze through but couldn't. She made a dent and I saw what happened. Sorry," she wrote next to her drawing of the bus with smiley faces peeking through its windows.
Mr Sipowicz speculates that the student probably got off the bus at the stop where the accident happened, and later went back to leave the detailed note.
After contacting the bus company, Mr Sipowicz received an apology and assurances that they would cover the cost of the damage.
He plans to visit the school student to thank her next week when Thanksgiving holidays are over.
"I just want to thank her so much for being so courageous and doing the right thing when it would have been easier to go home and forget the whole thing," he explains.
Children in sixth grade in the States are usually aged between 11 and 12 and many people picked up on the high standard of handwriting used in the letter.
One Twitter user joked that the girl could have a future in the insurance business, while others praised the detail of the child's drawing of the bus, which included passengers staring out of the windows in shock.
And an art teacher claimed that the drawing showed that art is important.
Mr Sipowicz's tweet even encouraged people to share their stories of similar things happening to them. One woman tweeted a similar note she had received from a neighbour which revealed a colleague had hit her car.
By Sarah Jenkins and Georgina Rannard, UGC and Social News Team