Sandra Parks: Anti-gun student, 13, killed by stray bullet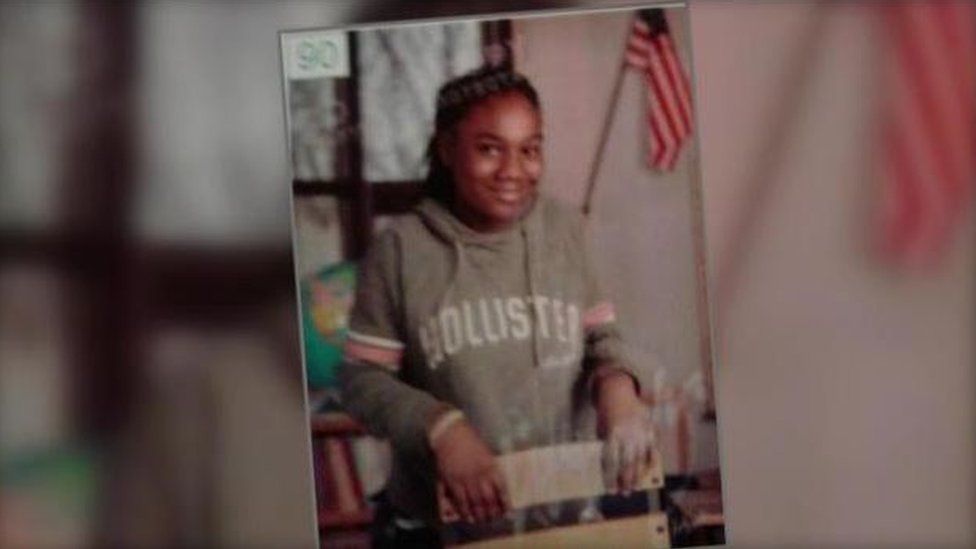 "We are in a state of chaos. In the city in which I live, I hear and see examples of chaos almost every day. Little children are victims of senseless gun violence..."
Two years ago, 11-year-old Milwaukee schoolgirl Sandra Parks wrote these words in an award-winning essay about the murders in her city.
On Monday night, aged 13, she was shot by a stray bullet fired into her home.
Her frantic family called 911, but Sandra died at the scene.
The girl's mother, Bernice Parks, told police she had gone to bed early while her children watched TV. She woke to the sound of gunshots shortly before 20:00, and found her daughter bleeding on the floor.
"She said, 'Momma, I'm shot. Call the police,'" Ms Parks told TV station WITI. "I looked at her. She didn't cry. She wasn't hollering. She was just so peaceful... She didn't deserve to leave this world like that."
Milwaukee Mayor Tom Barrett described the situation as "insanity", telling reporters: "Tragically, her death was caused by someone who just decided they were going to shoot bullets into her house, and she's dead. A 13-year-old, on Thanksgiving week, on a school night, in her bedroom, and she died."
Mr Barrett speculated that the shooter may have wanted to "settle a score, express anger, try to scare someone", saying on Tuesday: "All we know is that a 13-year-old died last night in her bedroom."
Mr Barnes' ex-girlfriend reportedly flagged his possible involvement to a police officer at the scene. She said he had approached her parked car on a nearby street carrying an assault-style rifle and wearing a mask.
She said he swore at her and told her "you lucky the kids are in the car. I was gonna fan you down."
Police found Mr Barnes in a nearby home, hiding in a closet.
'She was everything this world is not'
Sandra was a student at Keefe Avenue School, and her essay - which she called "Our Truth" - had won third place in the Milwaukee Public Schools' yearly Martin Luther King Jr. essay contest.
She spoke to Wisconsin Public Radio in January 2017, saying she yearned to "stop all the violence and... negativity that's going on".
"All you hear about is somebody dying and somebody getting shot. People do not just think about whose father or son or granddaughter or grandson was just killed," she said.
Ms Parks told the Milwaukee Journal Sentinel her daughter was "everything this world is not".
"My baby was not violent. My baby did not like violence," she said. "Everybody she knew, everybody that came past, she made them happy."
Milwaukee Public Schools said Sandra is the seventh child at a district school to be murdered in 2018.
At a vigil outside her home on Tuesday night, her grieving mother acknowledged that grim toll.
"I understand that there was a lot of kids that passed away recently and I wouldn't say that my baby was better than the rest," she said.
"But God, Jesus, Lord have mercy...
"Lord have mercy knows, she was a star that was trying to get out, but she didn't know how."
The BBC is not responsible for the content of external sites. Facebook content may contain adverts.
Thanksgiving Day violence
In Alabama on Thursday, one person was killed and two injured following a shooting at mall on the evening prior to Black Friday shopping. Police said a fight between two people, believed to be adults, led to an exchange of gunfire.
In Indiana, three people were killed and two injured in a Thursday night shooting at a private home. Police responded to a call at the home around 10:25pm local time. Two men and one woman were killed and two men were injured and are in critical condition.
In Florida, police shot and wounded an unarmed teenage boy while responding to a domestic disturbance call. Authorities say the 15-year-old was shot in the lower torso during a struggle with four police officers. The boy is reported to be in a stable condition.