Trump's environmental rollback rolls on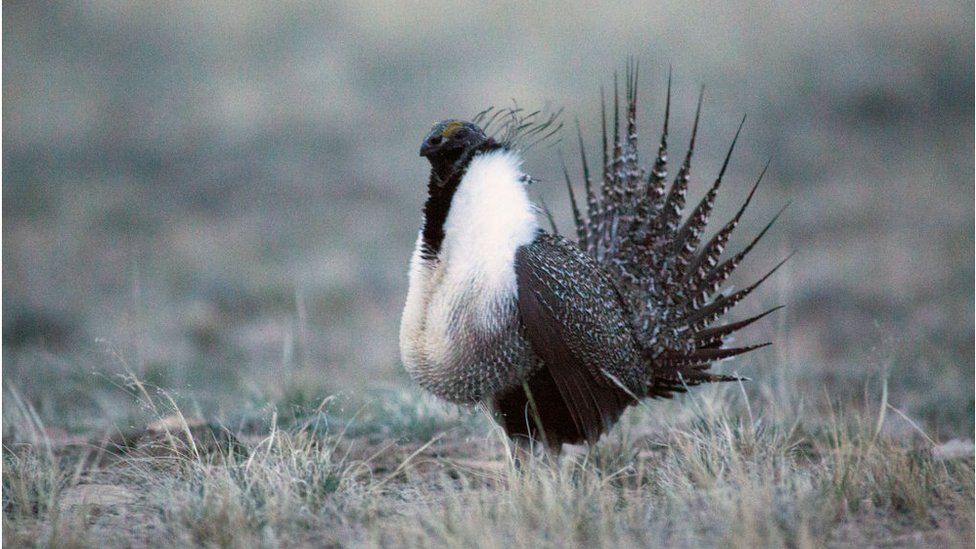 The Trump administration has dealt a double blow to Obama-era environmental policies in an ongoing rollback that has targeted scores of rules.
The Department of the Interior unveiled plans to allow oil drilling on millions of acres that have been off-limits to protect the greater sage grouse.
And the Environmental Protection Agency (EPA) said it would end rules limiting carbon emissions on new coal plants.
The rollback continues despite the US' own dire warnings about climate change.
Interior department documents said Thursday's order would protect sage grouse "while also ensuring that conservation efforts do not impede local economic opportunities".
The interior department plan is expected to be finalised in 2019.
The greater sage grouse, a chicken-like bird known for its striking plumage and mating dances, has a habitat spanning parts of 10 states from California to the Dakotas.
Nada Culver, of conservation group The Wilderness Society, said in a statement about the policy: "The sum total of these changes may well be more than the species can bear."
Meanwhile, the EPA also pressed ahead on Thursday with a plan to lift restrictions for carbon emissions from new coal plants.
Only two new plants are currently expected to open over the next four years, according to Reuters news agency, but the policy changes could spur more to be built.
The plan would allow new coal plants to emit up to 1,900lb (862kg) of carbon dioxide per megawatt-hour of electricity, replacing the current limit of 1,400lb.
The EPA is also asking for public comment on how to define the phrase "causes or contributes significantly to" air pollution.
Unveiling the policy in Washington, EPA acting administrator Andrew Wheeler said: "We are rescinding unfair burdens, levelling the playing field."
"I don't believe it," the Republican president told reporters.
Supporters of his policies welcome them as an overdue cutback of green tape that they argue is holding back businesses.
The Sabin Center for Climate Change Law at Columbia Law School is tracking the Trump administration's rollback of environmental regulations.
Its running list currently has more than 100 entries.
The Sabin Center notes repeated attempts by Department of the Interior and other agencies to expand onshore oil and gas drilling, including on public lands.
It also points to repeated proposals to weaken regulations controlling emissions of methane - a highly potent greenhouse gas.
Romany Webb, senior fellow at the Sabin Center, cited three other far-reaching measures taken by this administration so far.
The EPA and National Highway Traffic Safety Administration (NHTSA) unveiled a proposal in August this year to weaken greenhouse gas emission and fuel economy standards for light-duty vehicles. The proposal would increase vehicle emissions by approximately 713 million metric tons of carbon dioxide
Also in August, the EPA proposed to replace and water down the Clean Power Plan, a central plank of the Obama administration's Climate Action Plan, which aimed to reduce carbon dioxide emissions from existing power plants by 30%
In January this year, the Department of the Interior proposed to make over 90% of the outer continental shelf available for future oil and gas development. Some 94% of the outer continental shelf was previously off limits to drilling