Trump retreats on US government shutdown threat over wall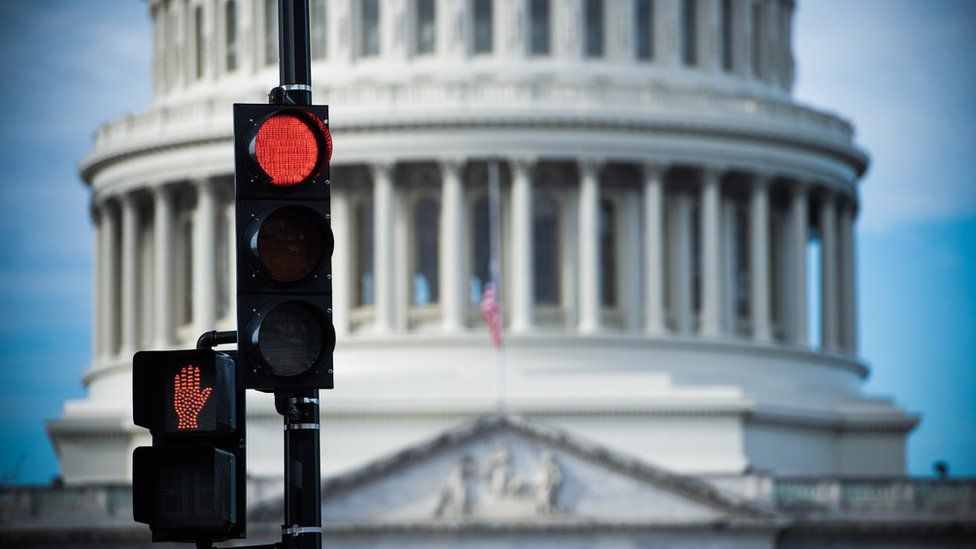 US President Donald Trump is backing down on his threat to shut down the government after Democrats refused to grant him the funding to build the wall he wants on the border with Mexico.
The White House has identified other funding sources for the project, says spokeswoman Sarah Sanders.
Mr Trump is seeking $5bn (£3.9bn) from Congress to start work on the wall.
Several federal agencies will shut down on Friday if Congress and the president fail to reach agreement on funding.
It was not immediately clear what Mrs Sanders was referring to when she mentioned potential alternative sources of funding for the wall.
During Tuesday's White House briefing, the White House spokeswoman told reporters Mr Trump had "asked every [federal] agency to look and see if they have money that can be used for that purpose".
But Democratic Senate leader Chuck Schumer said the president does not have the ability to move funds around without congressional approval.
"And they're not getting it for the wall," he added.
Top House Democrat Nancy Pelosi told reporters on Tuesday that building a wall would be "a waste of money."
When Mr Trump was asked during a school safety event later in the day if the government will still shut down, he replied: "We'll see what happens. It's too early to see."
"We need border security," he added.
THEN:
Who is going to pay for the wall? Mexico. Mexico. Mexico.

NOW:
Who is going to pay for the wall? American taxpayers.
And if I don't get $5 billion from them, I'm going to shut down the government.

President @realDonaldTrump, no temper tantrum is going to get you the wall. pic.twitter.com/pK7pXcYwzk

— Chuck Schumer (@SenSchumer) December 18, 2018
Lawmakers have said they are prepared only to grant $1.6bn for border security, but that none of that money can be used for constructing a wall.
After threatening a government shutdown over border wall funding, Donald Trump is backing down. Or, rather, he's moving sideways.
Now the line out of the White House is that money for building the president's much-promised wall can be found in the unemptied coffers of other government agencies and departments.
That avoids the inconvenient reality that there simply aren't the votes in Congress to appropriate the president's desired $5bn in new money for construction. And, of course, there's no sign that Mexico is interested in paying for it.
This latest twist is reminiscent of a scene in the 1993 film Dave, where the president - an imposter, actually - hectors his Cabinet into finding money for homeless children. It's a feel-good moment in the romantic comedy, but this episode of Trump's presidency seems unlikely to result in warm sentiments.
Democrats in Congress won't take kindly to being bypassed like this - or to White House press secretary's unusual assertion that taking money from other government agencies isn't using "taxpayer money".
A confrontation between Democrats in Congress and the president over the wall is coming, one way or another. It may not result in a shutdown this week, but it's going to be a vicious fight.
Senator Jon Tester, the top Democrat on the committee working on security spending, said Mr Trump "ought to take" the current spending bill, the New York Times reported.
He said if the administration had a "cushion" of $5bn in other funds, they should "use it to pay down the debt".
Just before Mrs Sanders' announcement, Mr Schumer had tweeted at the president, saying: "No temper tantrum is going to get you the wall."
The haggling comes as funding for the homeland security, justice, agriculture, interior and other departments is due to expire at midnight on Friday.
Republican Senate Majority Leader Mitch McConnell praised Mr Trump's decision on Tuesday saying the White House is "extremely flexible" when it comes to border wall funding.
The day earlier Senate Republicans had told US media they were unaware of a plan from the White House.
Last week, Mr Trump said he would be "proud" to shut down the government if he did not get funding for his planned wall.
That threat came as he bickered with Mr Schumer and Ms Pelosi in the Oval Office in front of reporters.
Mr Trump has previously said the wall would cost $25bn.
In March, he examined wall prototypes in California while saying some undocumented immigrants "are like professional mountain climbers".
Democrats have been firmly against Mr Trump's proposed wall, and in the new year, they will assume the majority in the House of Representatives.
As the fuss on Capitol Hill regarding the border wall continues, an NPR, PBS and Marist poll earlier this month found 50% of Americans believe the wall should not be a priority at all.
And 57% of all those polled felt Mr Trump should compromise in order to prevent a government gridlock.