Guatemalan boy detained at border dies in US custody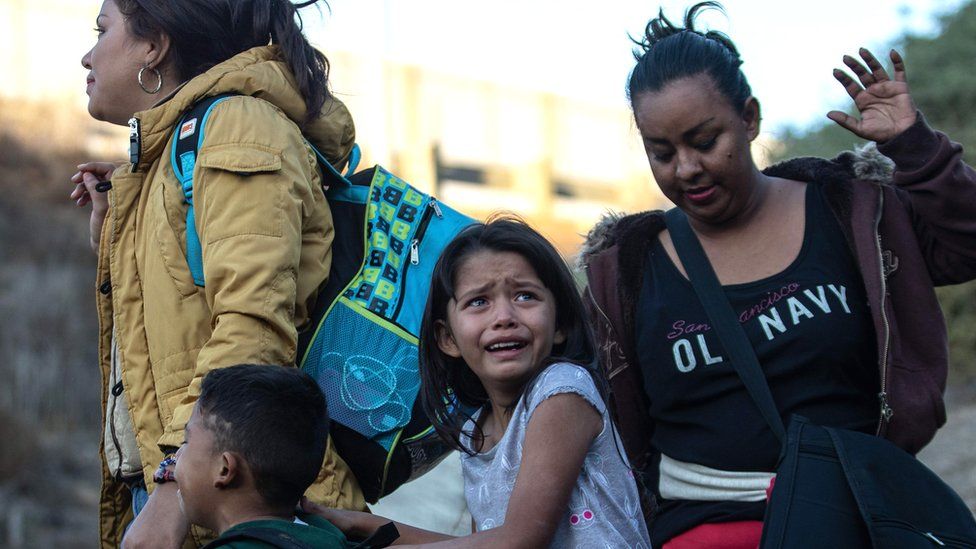 An eight-year-old boy from Guatemala has died in US government custody, officials say, the second migrant child to die in US detention this month.
The border agency says the boy died on Monday night hours after showing signs of illness. A Texas congressman named him as Felipe Alónzo-Gomez.
The child was detained with his father on 18 December after illegally crossing the US-Mexico border.
A seven-year-old girl died earlier this month just hours after being detained.
Thousands of migrants have travelled from Central America - mainly from Guatemala, Honduras and El Salvador - to the US border.
Many say they are fleeing persecution, poverty and violence in their home countries and plan to seek asylum in the US.
What do we know about the latest case?
After being detained in El Paso, Texas, he and his father were taken to a local processing centre, where they spent two days. They were then sent to El Paso Border Patrol Station, where they were held for another two days.
On 22 December, they were transferred to Alamogordo Border Patrol Station, in neighbouring New Mexico.
On Monday morning, an agent noticed that the boy "was coughing and appeared to have glossy eyes". He was taken with his father to a hospital where he was diagnosed with a common cold and given Tylenol (paracetamol).
While being evaluated for release, he was found to have a fever of 103F (39.4C) and held for more observation. He was released shortly afterwards with a prescription for an antibiotic and ibuprofen.
The boy and his father were taken to a temporary site at the Highway 70 checkpoint, where the child received the medication. Two hours later, he vomited.
His father declined further medical assistance, the CBP said, as the child had been feeling better.
The child appeared lethargic at around 22:00, when he was sent back to the hospital. While being transported, the boy vomited and lost consciousness, and doctors at the hospital were unable to revive him.
The CBP earlier said the boy died just after midnight. It did not explain why they were held for so long.
What has the reaction been?
CBP Commissioner Kevin McAleenan said the death was "tragic" and announced that the agency would conduct further medical checks on all children in custody, with a focus on those under the age of 10.
He also said the CBP would review its policies and work with Immigration and Customs Enforcement (ICE) to improve custody conditions.
Human rights groups criticised the CBP and Guatemala's foreign ministry called for an investigation.
Texas Congressman Joaquin Castro called for a congressional investigation, saying the administration's policy of turning people away at the border "is putting families and children in great danger".
What is happening at the border?
The Trump administration has tried to deter asylum seekers from crossing the border irregularly between ports of entry, warning that they could face arrest, prosecution and deportation.
But, at the same time, it is restricting access to those trying to cross through official ports of entry, creating a long wait for applicants.
Among them are thousands of Central American migrants who travelled together in so-called "caravans", and arrived at the border with California in recent weeks.
President Trump has vowed to keep each migrant on the Mexican side of the border until courts have decided their cases.