21 Savage: Atlanta rapper really from UK, say US immigration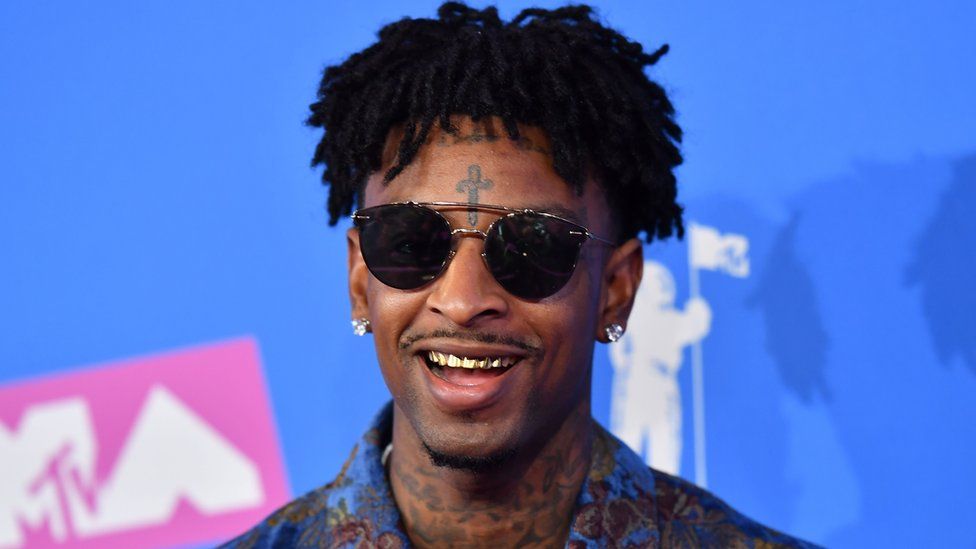 Atlanta rapper 21 Savage has been arrested by US immigration officials who say he is actually from the UK.
The rapper, Shayaa Bin Abraham-Joseph, came to the US in July 2005 aged 12 and failed to leave when his visa expired a year later, officials said.
An Immigration and Customs Enforcement (ICE) spokesman said he was in the country illegally and a convicted felon.
In previous interviews, Abraham-Joseph has described a childhood in Atlanta.
The 26-year-old is also quoted as saying he was expelled from school in Atlanta aged about 12 or 13 for taking a gun to class.
BREAKING- @ICEgov spokesman tells me @21savage was taken into custody by ICE. "His whole public persona is false. He actually came to the U.S. from the U.K. as a teen and overstayed his visa." MORE COMING

— Nick Valencia (@CNNValencia) February 3, 2019
The ICE spokesman said Abraham-Joseph was convicted of drugs charges in 2014 and arrested on Sunday in a "targeted operation".
He clarified that when the rapper was first arrested, ICE was not aware of his immigration status.
The UK Foreign Office told BBC News: "Our staff are in contact with the lawyer of a British man following his detention in the USA."
Abraham-Joseph's lawyer, Dina LaPolt said: "We are working diligently to get Mr Abraham-Joseph out of detention while we work with authorities to clear up any misunderstanding."
She said he was a "role model" due to his work on financial literacy programs with underprivileged youth.
By Kameron Virk, BBC Radio 1 Newsbeat reporter in Atlanta
Having just released a hugely popular album that's been praised for its introspection, storytelling, and maturity, 21 Savage is at the peak of his career.
Atlanta is arguably the centre of hip-hop in the US and, by extension, the world. He's considered one of the city's greatest - and Atlanta through and through.
The rapper is known in the city as a person who frequently donates to charitable causes. He launched his own campaign promoting financial literacy in children on the Ellen show.
His raps have mostly painted pictures of a violent upbringing in Atlanta surrounded by drugs and guns, something which up until now nobody had questioned.
But his arrest by ICE and links to the UK have definitely left people in the city confused.
A fan in Atlanta told the BBC he was treating the details of Savage 21's case with scepticism: "I find that very hard to believe that he moved from England on his own to Atlanta."
"He's an icon for here," said another fan in the state of Georgia's capital. "He's making great music. We're losing someone big."
How many people overstay visas in the US?
There are 10.6 million undocumented immigrants in the US, according to the Center for Migration Studies. That represents 3.25% of the US population.
Although President Donald Trump has blamed the southern border for illegal immigration, most actually arises because people overstay their visas (tourist or other temporary permits).
More than 700,000 people who entered the US legally overstayed their expected departure date in 2018, according to the Department of Homeland Security.
In the same year, some 396,000 people were held in immigration detention, and some 256,000 people were deported by authorities.
Saddened seeing this news on #21savage. There are many kids who are brought to this country that assume they are legal. I am American but when I left my island in the middle of the night after a hurricane I don't remember asking my Mom if she had all my legal documents!

— Rashida Petersen (@1847Philanthrop) February 4, 2019
In December the rapper released his second album, I am > I was, which went to the top of the Billboard 200 albums charts.
The same month he apologised for a lyric in one of his songs that mentioned "Jewish money".
It followed a similar apology by NBA star LeBron James, who had shared 21 Savage's lyric on his Instagram account, where critics drew attention to it.
LeBron James said he thought it had been a compliment.
21 Savage said he was "sorry if I offended everybody".
The Jewish people I know are very wise with there money so that's why I said we been gettin Jewish money I never thought anyone would take offense I'm sorry if I offended everybody never my intention I love all people

— Saint Laurent Don (@21savage) December 25, 2018
The rapper, who has collaborated with the likes of Cardi B, Drake and Offset has enjoyed more success in the US than the UK, but is probably best known for the song Rockstar, in which he features with Post Malone.
The song reached number one on both the Billboard Hot 100 and the UK Top 40 and has been streamed on Spotify more than 1.4 billion times.
It is also currently nominated for record of the year and best rap/sung performance at the Grammy Awards.
His latest album peaked at 33 in the UK, whilst his only other UK Top 40 hit is with Cardi B, for the song Bartier Cardi.
Fans expressed concerns over 21 Savage's situation on social media, while others were quick to make memes and poke fun at the revelation.
But singer Demi Lovato was in hot water after she said in a now-deleted Tweet: "So far 21 savage memes have been my favourite part of the Super Bowl."
Other rappers called out Lovato's reaction as insensitive.
American rapper Wale asked how a person's freedom could be funny, tweeting, "I don't get the joke." He added that when Lovato was going through a rough time, people were supportive of her, not mocking.
A lot of people were sending you love light , prayers etc . When people were making jokes about u at a rough time. A lot of people .Bless up https://t.co/9sxe1rJuA2

— Wale (@Wale) February 4, 2019
Offset, a member of the group Migos, also criticised the reaction, saying: "All the memes and [expletive] ain't funny when somebody going through some."
Lovato appeared to delete her Twitter account following the row, and in an Instagram story said people began attacking her over her own struggle with drug addiction.
"I wasn't making fun on anything having to do with deportation or even anything against him," she wrote. "Sorry if I offended anyone. But it's no excuse to laugh at someone's addiction."
Conservative commentator Tomi Lahren also faced condemnation from 21 Savage fans after mocking his situation with a reference to his single Bank Account, saying she had "ICE agents ready to deport ya".
Rapper Cardi B hit back at the Fox Nation host, tweeting: "Don't make me get my leash."