US Coast Guard officer hoped to 'kill every person on the earth'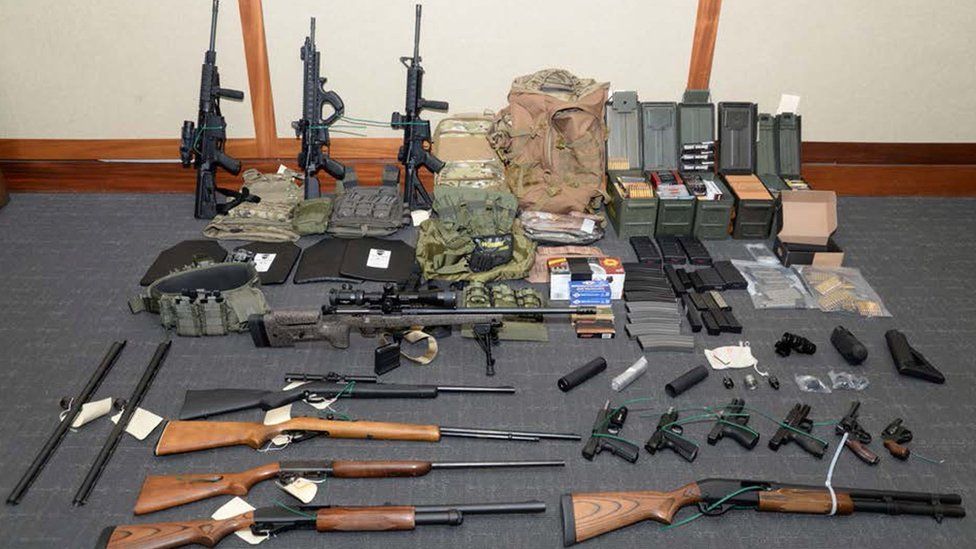 A US Coast Guard officer has been arrested on suspicion of planning a terror attack, court documents show.
Police found a cache of weapons and ammunition at the Maryland home of Christopher Paul Hasson.
The self-proclaimed white nationalist had drawn up a list of targets including prominent Democratic politicians, according to prosecutors.
He is said to have drawn inspiration from the Norwegian mass murderer Anders Breivik.
"The defendant intends to murder innocent civilians on a scale rarely seen in this country," US District Attorney Robert Hur said in the court documents, requesting that he be held in detention pending trial.
What has he been accused of?
Mr Hasson is charged with unlawful possession of a firearm and controlled substances, but prosecutors say these "current charges, however, are the proverbial tip of the iceberg".
"The defendant is a domestic terrorist, bent on committing acts dangerous to human life that are intended to affect governmental conduct."
The 49-year-old is a lieutenant at Coast Guard headquarters in Washington and lives in the Maryland suburb of Silver Spring.
The Coast Guard confirmed that a member of the service had been arrested, and said he was no longer employed at the agency's headquarters.
Fifteen guns and more than 1,000 rounds of ammunition were found in Mr Hasson's basement flat along with illegal drugs, the attorney's office said.
When agents raided his home, they discovered a locked case with more than 30 vials of human growth hormone, a steroid that prosecutors say he took thinking that it would "increase his ability to conduct attacks".
Officials say he also had ordered more than 4,200 pills of the narcotic Tramadol since 2016, as well as synthetic urine in order to pass random drug tests at work.
What evidence do prosecutors have?
Prosecutors said that in a draft email from June 2017 Mr Hasson wrote: "I am dreaming of a way to kill almost every last person on the earth. I think a plague would be most successful but how do I acquire the needed Spanish flu, botulism, anthrax, not sure yet but will find something."
A list of possible targets included Democratic House speaker Nancy Pelosi and Democratic Senate minority leader Chuck Schumer as well as media personalities including MSNBC's Chris Hayes and Joe Scarborough.
Since 2017 Mr Hasson had studied parts of a manifesto by Anders Breivik on how to amass firearms and compile a list of targets, prosecutors allege.
Breivik murdered 77 people in 2011 in two terror attacks. He killed eight people with a car bomb in central Oslo and then shot dead 69 others, many of them teenagers, at a Labour Party camp.
Mr Hanson was inspired to create his list by Breivik, prosecutors say.
"During unrest target both sides to increase tension," Mr Hasson wrote in one draft email.
"In other words provoke gov/police to over react which should help to escalate violence. BLM [Black Lives Matter] protests or other left crap would be ideal to incite to violence."
In another email to a white supremacist almost two months after a rally in Charlottesville which led to the death of a counter-protester, he wrote of his hope for a "white homeland".
"I never saw a reason for mass protest or wearing uniforms marching around provoking people with swastikas etc.," Hasson said in the letter, according to court filings.
"I was and am a man of action you cannot change minds protesting like that. However you can make change with a little focused violence."
His internet search records showed he searched for the home addresses of members of Congress, including Democratic Congresswoman Alexandria Ocasio-Cortez.
The New York City congresswoman on Wednesday criticised journalists for reporting on her new Washington DC apartment as Mr Hasson was allegedly plotting his attack against her and other lawmakers.
Journalists are sharing stories about where I live the same day it's shared that myself + others were targeted by a mass shooter.

All this paired w/ amplifying unvetted conspiracy theories. It's reckless, irresponsible & puts people directly in danger.

This isn't a game. https://t.co/gcJWcKinxI

— Alexandria Ocasio-Cortez (@AOC) February 21, 2019
During court appearance on Thursday, Federal Magistrate Judge Charles Day ordered him to be held in detention for 14 days.
After 14 days, the judge ruled, he can re-argue for his release unless more charges are filed against him.
During the hearing, Mr Hasson's defence team argued that he should be released to his wife given his career of military service on behalf of the United States.
According to CBS, his lawyers called his gun collection "modest at best" and said the charges were "histrionic and "without substance".
Defense attorney: We are not a country that criminalizes people for their darkest thoughts and web searches; it is not a crime to write about a doomsday scenario; Mr. Hasson denies government allegations #Hasson #terror #Maryland @wjz

— Mike Hellgren (@HellgrenWJZ) February 21, 2019