Trump urges inquiry into 'attempted coup' against him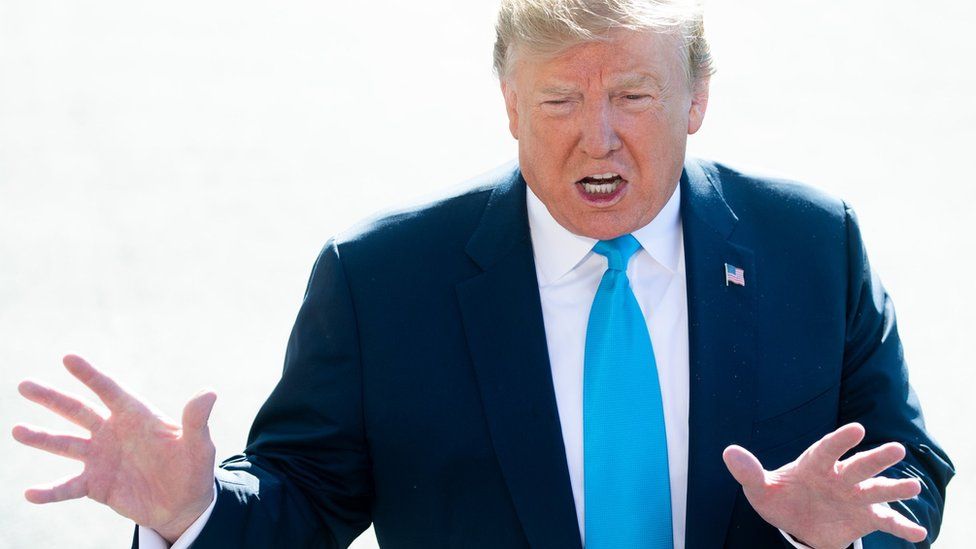 President Donald Trump says he has spoken to the US attorney general about tracing the origins of the inquiry that cleared him of colluding with Russia.
Mr Trump described the investigation by former FBI director Robert Mueller as "an attempted coup".
Attorney General William Barr meanwhile said he believes US authorities did spy on the Trump campaign.
US intelligence officials have previously said they were spying on the Russians, not the Trump campaign.
Speaking to reporters at the White House on Wednesday morning, the Republican president railed against the Department of Justice inquiry into whether the Trump campaign had conspired with the Kremlin to sway the 2016 election.
The investigation cleared him and his aides of collusion, making no determination on whether they had tried to obstruct justice.
Mr Trump said: "This was an attempted coup. This was an attempted take-down of a president. And we beat them. We beat them.
"So the Mueller report, when they talk about obstruction we fight back. And do you know why we fight back?
"Because I knew how illegal this whole thing was. It was a scam.
"What I'm most interested in is getting started, hopefully the attorney general, he mentioned it yesterday.
"He's doing a great job, getting started on going back to the origins of exactly where this all started.
"Because this was an illegal witch hunt, and everybody knew it. And they knew it too. And they got caught. And what they did was treason."
Donald Trump has long been calling for an investigation of the investigators who launched the probe of his presidential campaign. Now, with the help of his recently appointed attorney general, he will get his wish.
William Barr subsequently backed away from his assertion during Senate testimony that intelligence agencies had been "spying" on the Trump campaign, but that may end up beside the point. An inquiry has been started, and the ball is rolling.
Whether this is simply a move to placate an impetuous president or a substantive investigation remains to be seen.
There is no solid evidence, at least at this point, of misconduct in the opening of the Russia investigation or in the warrant targeting Carter Page, the low-level adviser with Russian ties who had left the Trump campaign before he became the subject of government surveillance.
The president, however, will surely cite his attorney general's decision as part of his attempt to undermine any unpleasant information that could be revealed when the redacted Mueller report is finally released in the coming days.
Even an investigation that reaches no actionable conclusions can have a damaging effect - as the president knows all too well.
What did the attorney general say?
While Mr Trump was flying off to Texas, America's top law official was appearing before the Senate Appropriations Committee.
William Barr was asked whether spying occurred on the Trump campaign during the 2016 White House race.
"I think spying did occur," said the attorney general. "The question is whether it was adequately predicated."
He later clarified: "I'm not saying improper surveillance occurred, I am looking into it."
But Mr Barr said he did not understand why intelligence officials chose not to warn the Trump campaign that it could be vulnerable to infiltration.
He added: "I also want to make clear this is not launching an investigation of the FBI.
"Frankly, to the extent that there were any issues at the FBI, I do not view it as a problem that's endemic to the FBI."
Mr Barr also told lawmakers he will release the nearly 400-page Mueller report next week after he has finished redacting sensitive material.
On Wednesday, Speaker of the House of Representatives, Nancy Pelosi, a Democrat, told the Associated Press: "I don't trust Barr, I trust Mueller."
Mrs Pelosi said that appearing to support Mr Trump's views on the alleged spying had undermined Mr Barr's role as attorney general.
Was the Trump campaign spied on?
President Trump and his conservative allies have repeatedly suggested the Obama administration snooped on his presidential campaign to undercut his candidacy.
US media reported last year that the FBI sent an informant, an unnamed US academic who teaches in the UK, to speak to two low-level Trump aides, George Papadopoulos and Carter Page, after the agency became suspicious of the pair's Russian contacts.
The FBI has previously acknowledged it received a secret warrant in October 2016 to eavesdrop on Carter Page.
CNN has also reported that the FBI obtained a warrant in 2016 to listen in on the phone calls of Paul Manafort, who briefly served as Trump campaign chairman, after his Russian contacts aroused suspicion.
In March 2017, Mr Trump made the explosive claim on Twitter that his predecessor, Barack Obama, had ordered phones at his Trump Tower office to be wiretapped during the 2016 White House race.
But the US Department of Justice later said there was no evidence to support the president's claim.
The former Director of National Intelligence James Clapper was asked during television interviews in May last year if the FBI had indeed snooped on the Trump team.
Mr Clapper told CNN: "The objective here was actually to protect the campaign by determining whether the Russians were infiltrating it and attempting to exert influence."