Keith Raniere: Trial begins for Nxivm 'sex cult' leader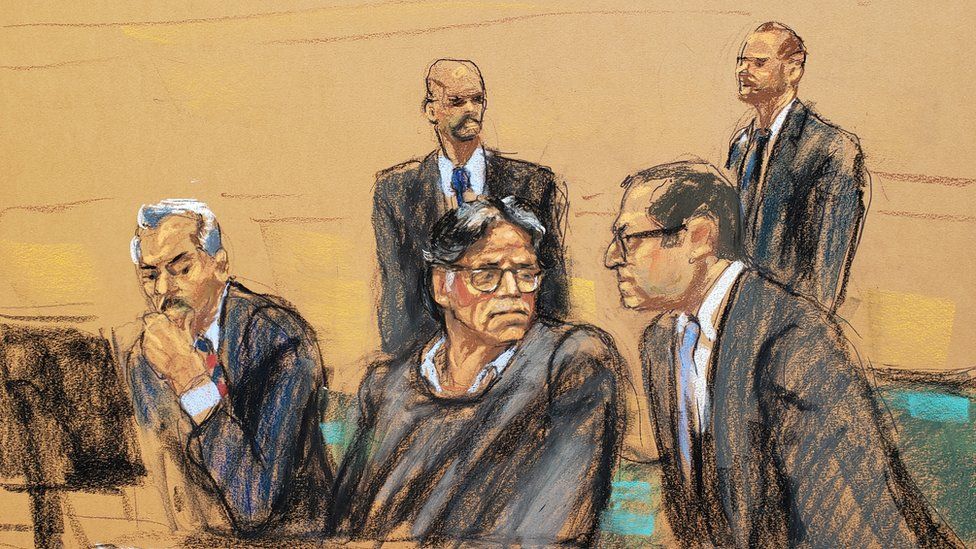 A Brooklyn courtroom has heard opening statements at the sex trafficking and conspiracy trial of Keith Raniere, the leader of a suspected sex cult.
Speaking in court on Tuesday, Assistant US Attorney Tanya Hajjar called Mr Raniere a "predator" who exploited women, including a 15-year-old girl.
Prosecutors have alleged that Mr Raniere oversaw a "slave and master" system in his group, called Nxivm.
Mr Raniere, 58, has pleaded not guilty to all charges.
If convicted, he could face life in prison.
"The defendant took advantage of them emotionally and sexually," Ms Hajjar said, according to local media. "He sold himself as the smartest, most ethical person in the world."
Ms Hajjar said on Tuesday that Raniere's victims included three Mexican sisters, one of whom was only 15 years old. According to prosecutors, another sister was confined in a room for two years.
Marc Agnifilo, one of Mr Raniere's lawyers, said his client's sexual encounters with women were consensual and he denied child pornography and sexual exploitation charges.
Speaking in court on Tuesday, Mr Agnifilo told jurors that women joined the group voluntarily, describing Mr Raniere as a strict taskmaster, not a criminal.
"This is something these people signed up for," Mr Agnifilo said, according to US media. "Control can be very bad. Control can also make Marines. Control can make gold medal winners."
Five women, including US actress Allison Mack, have already pleaded guilty to their involvement with Nxivm.
Investigators claim that women were recruited as "slaves" and were allegedly expected to perform menial chores for "masters" and have sex with Mr Raniere, who was known as "The Vanguard".
Members of the group were allegedly branded with Mr Raniere's initials using a cauterising pen, often on their pelvic areas, in ceremonies which were filmed by members.
On Tuesday, Mr Agnifilo warned jurors they may be shown video of this process, and repeated his claim that the women's participation in the group was voluntary.
Court documents say investigators have found electronic communication that suggested Mr Raniere was behind the sorority "slave" internal group, something he has denied.
Mack, known for the US television series Smallville, pleaded guilty to her involvement in the group last month, admitting she recruited women to Nxivm by telling them they were joining a female mentorship group.
Appearing in a Brooklyn federal court in April, Mack said she was instructed by Mr Raniere to collect compromising materials and images of two women within the group, threatening to make the photos public if they revealed information about the secret society.
"I believed Keith Raniere's intentions were to help people," Mack said. "I was wrong."
Mack is expected to testify against Mr Raniere, in addition to some of the young women who claim they were forced to have sex with the defendant.
The first witness, a 32-year-old woman identified as "Sylvie", testified that she had been involved with Nxivm for about 13 years, the New York Times reported.
On its website Nxivm (pronounced nexium) describes itself as a "community guided by humanitarian principles that seek to empower people and answer important questions about what it means to be human".
Based in Albany in upstate New York, the group was founded as Executive Success Programs in 1998 and says it has worked with more than 16,000 people.
Members of the group are reported to include wealthy heiresses, the son of a former Mexican president and Hollywood actresses.
After the New York Times piece was published in 2017 and women came forward, federal authorities began interviewing "witnesses and victims" associated with the group.