Arthur: Alabama Public Television bans gay wedding episode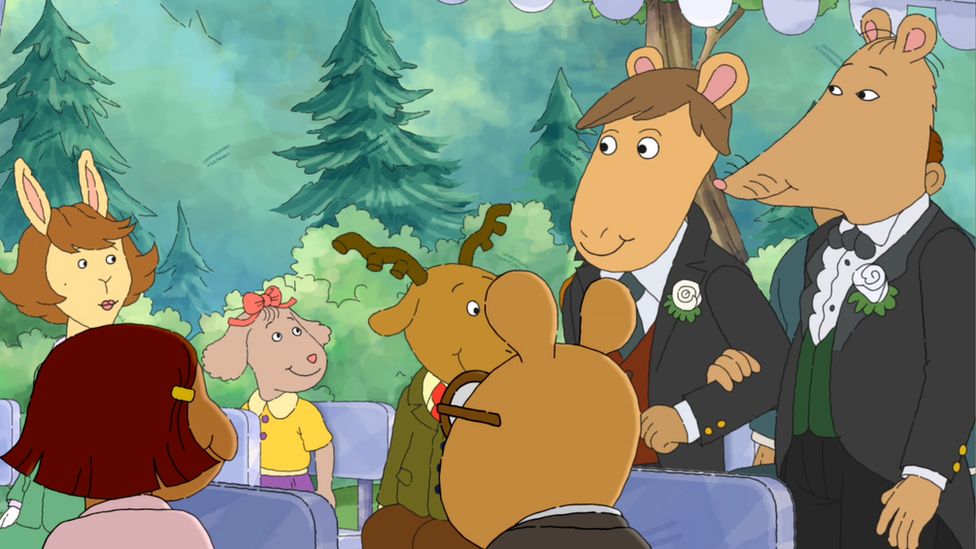 Alabama Public Television (APT) has refused to broadcast a cartoon which shows a same-sex wedding.
The first episode of the 22nd series of children's programme Arthur features the character Mr Ratburn marrying his aardvark partner, Patrick.
But APT instead ran an old episode, and announced it had no plans to show the premiere.
Programming director Mike McKenzie said broadcasting it would break parents' trust in the network.
In a statement, Mr McKenzie said "parents trust that their children can watch APT without their supervision", and that children "younger than the 'target' audience" might watch without parental knowledge.
Show creator WGBH and broadcaster PBS reportedly alerted local stations in April about the episode, and Mr McKenzie said this was when they decided not to air the show.
Arthur is a joint Canadian/American series which debuted in 1996 about an eight-year-old anthropomorphic aardvark named Arthur Read and his friends, who live in the fictional Elwood City.
APT previously refused to broadcast a 2005 episode of the series which depicted Buster, a rabbit, visiting a girl who had two mothers.
"I never thought I'd be going to battle for a gay rat wedding, but here we are," she said.
You may also be interested in: