US to send 1,500 extra troops to Middle East amid tensions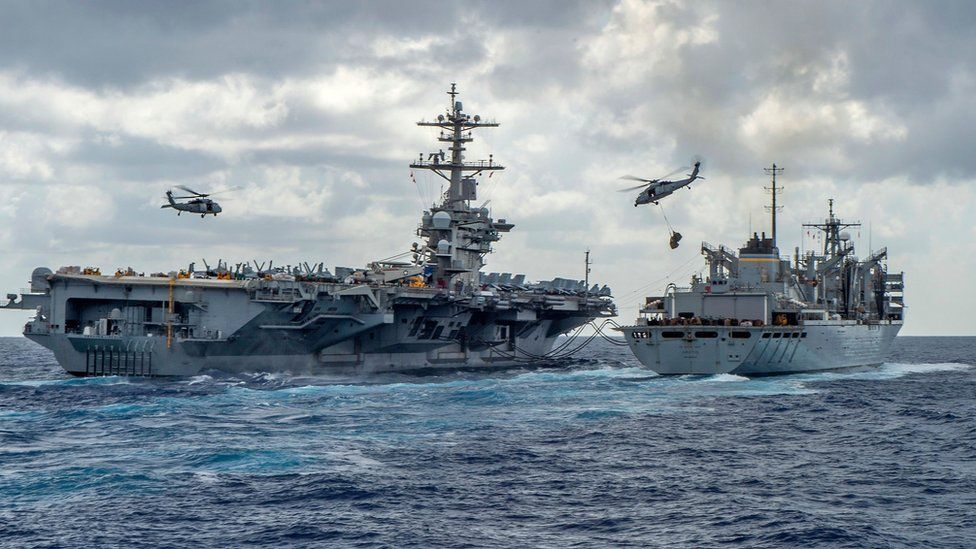 The US is to send 1,500 troops to the Middle East to counter the "ongoing threat posed by Iranian forces", the acting defence secretary says.
Congress has been notified about the plans, Patrick Shanahan said in a statement. Fighter jets, drones and other weaponry will also be deployed.
President Donald Trump announced the move earlier on Friday. He said the deployment was "relatively small".
A top US official has accused Iran directly of attacking oil tankers.
Tensions rose this month after shipping in the Gulf of Oman was damaged by a series of mystery explosions.
The US has already deployed an aircraft carrier and bomber planes.
But only on Thursday, Mr Trump said that he did not think more troops would be needed.
"I don't think we're going to need them," he told reporters. "I really don't. I would certainly send troops if we need them."
What is the latest US move?
Mr Shanahan said he had "approved a request from the combatant commander for additional resources" in the region.
He said the move was intended to "safeguard US forces given the ongoing threat posed by Iranian forces, including the IRGC [Iran's Revolutionary Guard Corps] and its proxies."
Mr Shanahan said that "additional intelligence, surveillance, and reconnaissance aircraft" would be deployed as well as a team of engineers. He said a fighter aircraft squadron and a Patriot missile-defence system would also be sent.
It is "a prudent defensive measure... intended to reduce the possibility of future hostilities," Mr Shanahan said.
Earlier on Friday, President Trump told reporters outside the White House that a "relatively small" deployment had been approved.
"We want to have protection in the Middle East," he said, adding that the extra troops would be "mostly protective."
He appeared to downplay the possibility of tensions escalating further. "Right now, I don't think Iran wants to fight and I certainly don't think they want to fight with us," he said.
Gary O'Donoghue, BBC Washington correspondent
This fresh deployment of troops and hardware has been signalled for a number of days, but it is a much more modest move than many expected. Around 1,500 service personnel are likely to be despatched, significantly down on the 5,000-10,000 that some administration sources had floated.
In addition to the USS Abraham Lincoln aircraft carrier and B-52 bombers already announced, extra Patriot missile batteries will give the US significant capabilities to counter any threat from the air, be that missiles or aircraft. And the deployment of surveillance planes, both manned and unmanned, will allow a clearer assessment of Iranian activity such as the alleged attacks on commercial tankers recently (which some have blamed on Tehran) and any troop movements along the coast.
What is still far from clear is whether there is a settled view in Washington about the nature of the increased threat from Iran and what should be done about it. Despite some tough rhetoric, the president has appeared reluctant to become overly entangled in the region, mindful no doubt of his promises to bring troops back from there and not the reverse.
What is behind the tensions?
Mr Trump reinstated the sanctions last year after abandoning the landmark nuclear deal that Iran has signed with six nations - the five permanent members of the UN Security Council and Germany.
Iran denied it was behind the incidents but Rear Admiral Michael Gilday, director of the US Joint Staff, accused the IRGC of being directly responsible.
"The attack against the shipping in Fujairah [part of the UAE], we attribute it to the IRGC," he said on Friday, explaining that limpet mines used in the attacks had been linked directly to the IRGC.