Jeffrey Epstein: US financier 'charged with sex trafficking'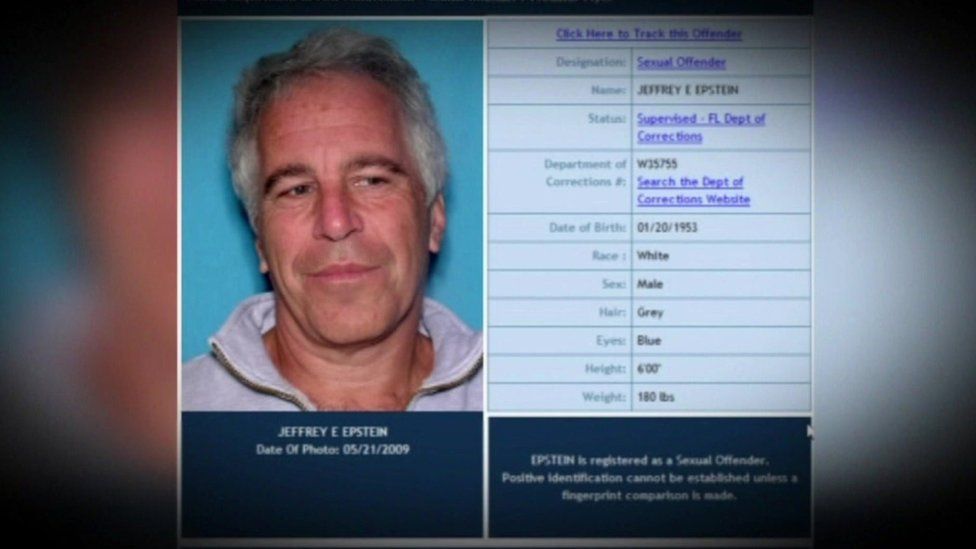 Wealthy US financier and registered sex offender Jeffrey Epstein has been arrested on new sex trafficking charges connected to allegations from the early 2000s, reports say.
Epstein was arrested in New York and will appear in court on Monday, law enforcement officials told US media.
It comes amid renewed controversy over a plea deal he once reached to end a federal investigation against him.
His lawyer told Reuters news agency he would plead not guilty to any charges.
Law enforcement officers have not been authorised to discuss the case, but several have spoken to US media outlets.
One told the Associated Press the latest charges stemmed from allegations that Epstein paid underage girls for massages and molested them at his New York and Florida homes.
Epstein, 66, was previously accused of sexually abusing dozens of teenage girls.
The wealthy financier - who was once friendly with Prince Andrew, former US President Bill Clinton and President Donald Trump - reached a plea deal to avoid federal sex trafficking charges in the case.
Instead, he pleaded guilty in 2008 to lesser state charges of soliciting and procuring a person under age 18 for prostitution
This averted a possible life sentence, and instead saw him spend 13 months in jail and register as a sex offender.
Earlier this year, a Florida judge ruled that federal prosecutors broke the law by not informing Epstein's victims of the plea deal at the time.
Judge Kenneth Marra is currently deciding whether the non-prosecution agreement that protected Epstein from the more serious charges should still stand.
Following the ruling, the White House said it was also "looking into" Labour Secretary Alexander Acosta's role in the plea deal, which he approved in his previous role as a US attorney.
Before the criminal charges, New York-born Epstein was best known as a wealthy financier with connections to the business and political elite.
As a young man, he taught mathematics and physics at Manhattan's private Dalton School.
He moved into finance in 1976, working as an options trader for investment banking company Bear Stearns. Within four years, he was made a limited partner.
He then went on to found his own financial management firm J Epstein & Co, reportedly managing the assets of clients with more than $1bn (£798m) in net worth.
In 1996, he changed his company's name to The Financial Trust Co and based it in the US Virgin Islands for tax purposes.
His lavish lifestyle, along with the secrecy surrounding his client list and other details of his business, earned Epstein a reputation as a mysterious moneyman.
He was also known for his friendships with high-profile people, including Mr Trump and Mr Clinton.
"I've known Jeff for 15 years. Terrific guy," Mr Trump said in the New York Magazine profile. "He's a lot of fun to be with. It is even said that he likes beautiful women as much as I do, and many of them are on the younger side."
Along with his wealth and high-profile friends, Epstein built a reputation as a philanthropist.
In 2003, he hit headlines for making a $30m donation to Harvard University for the founding of a mathematical biology and evolutionary dynamics programme.