Justin Trudeau: New video of Canada's PM in blackface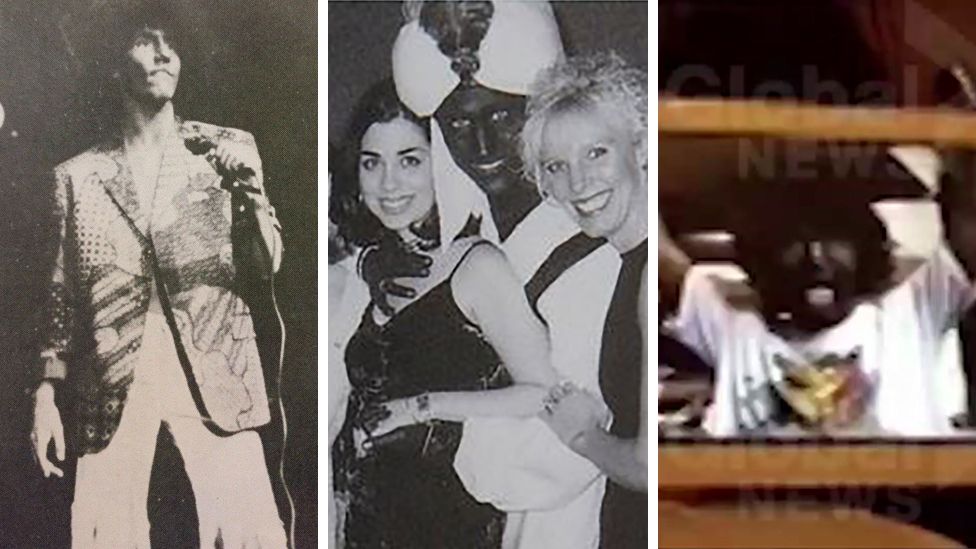 A new video has emerged of Canada's Prime Minister, Justin Trudeau, wearing blackface, a day after he admitted such behaviour was racist.
Photos of two similar episodes came to light on Wednesday - one when he was a teacher and another when a student.
In a fresh statement to reporters, he said he "deeply, deeply" regretted his behaviour.
The revelations come amid campaigning for the 21 October election, when Mr Trudeau hopes to win a second term.
The footage, first obtained by Global News, shows Mr Trudeau in a white T-shirt and torn jeans. According to his Liberal Party, it was shot in the 1990s.
His face and limbs appear to be covered in black make-up. He is seen laughing, throwing his hands in the air, sticking his tongue out and pulling faces.
Mr Trudeau would have been in his late teens or early 20s.
Blackface, which was more prevalent in the past, particularly in the entertainment industry, involves white people painting their faces darker - and is widely condemned as a racist caricature.
What about the other episodes?
On Wednesday, the embattled PM apologised for wearing brownface make-up at a gala at a private Vancouver school where he taught nearly two decades ago.
Mr Trudeau dressed up in the photo in an Aladdin costume.
The second image to emerge on Wednesday shows Mr Trudeau performing in a talent show as a student at high school.
He wore blackface and sang Day-O, a Jamaican folk song popularised by American civil rights activist Harry Belafonte.
The prime minister has given a fresh statement to reporters, building on an earlier apology on Wednesday.
The images are so embarrassing for the prime minister because he has positioned himself as a champion of social justice, inclusivity and diversity.
When the cabinet was sworn in in 2015, it was hailed as diverse - half the appointments were women; three were Sikhs and two members were from indigenous communities.
Speaking in Winnipeg, he said: "Darkening your face regardless of the context or the circumstances is always unacceptable because of the racist history of blackface.
"I should have understood that then and I never should have done it."
Mr Trudeau is reported to have been phoning Liberal candidates to apologise for his conduct.
The photos undermine perceptions of who Mr Trudeau "really is", a CBC commentator says.
"Galling hypocrisy" on the part of Mr Trudeau is another response; others write of broken trust and a debilitating blow to his election campaign.
Campaign itinerary scrapped
By Jessica Murphy, BBC News, Toronto
There is no doubt that these images will make it more difficult for Mr Trudeau's bid for re-election.
His team recognises how damaging these images could be.
They have scrapped his campaign itinerary for Thursday as they scramble to come up with a broader response than his apology on Wednesday night.
A lot will count on how Mr Trudeau addresses these images and whether he can convince Liberal voters that he truly understands why his decision to wear blackface or brownface could be so hurtful to many of the Canadians he represents.
This will also have an impact on the election campaign itself, where suddenly the issues of race and racism have been brought into the open and straight to the forefront.
What other reaction has there been?
Referring to the brownface episode, Andrew Scheer, leader of the opposition Conservatives, said the picture was racist in 2001 and was racist now.
"What Canadians saw this evening is someone with a total lack of judgement and integrity and someone who is not fit to govern this country," he said.
"Any time we hear examples of brownface or blackface, it's making a mockery of someone for what they live and what their lived experiences are," Mr Singh told journalists on the campaign trail in Toronto.
"This is about every young person mocked for the colour of their skin, the child who had the turban ripped from their head," he wrote online.
Mustafa Farooq, executive director of the National Council of Canadian Muslims, said: "Seeing the prime minister in brownface/blackface is deeply saddening. The wearing of blackface/brownface is reprehensible, and hearkens back to a history of racism and an Orientalist mythology which is unacceptable."
The image was also criticised in a tweet by Green Party leader Elizabeth May.
I am deeply shocked by the racism shown in the photograph of Justin Trudeau. He must apologize for the harm done and commit to learning and appreciating the requirement to model social justice leadership at all levels of government. In this matter he has failed.

— Elizabeth May (@ElizabethMay) September 19, 2019