Bernie Sanders cancels campaign events after chest pain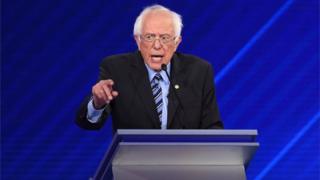 The 2020 Democratic presidential candidate Bernie Sanders, 78, has cancelled campaign events after undergoing a heart procedure.
Mr Sanders was treated in hospital for an arterial blockage after having chest pain at an event in Nevada on Tuesday.
The Vermont senator tweeted that he was "feeling good". An aide said Mr Sanders would rest over the next few days.
If Mr Sanders were to win the US presidency, he would become the oldest person to hold the office.
The presidential hopeful tweeted that he was recovering, taking the opportunity to promote his healthcare policy inspired by Britain's National Health Service.
Senior adviser Jeff Weaver said in a statement: "Following medical evaluation and testing he was found to have a blockage in one artery and two stents were successfully inserted."
Mr Weaver said Mr Sanders is "conversing and in good spirits" and will be "resting up over the next few days". He is recovering at a hospital in Las Vegas.
A stent is a small mesh tube used to help keep arteries open. Receiving stents is "a minimally invasive procedure", typically with a short recovery time, the US National Heart, Lung and Blood Institute says.
Mr Sanders' wife, Jane, released a statement on Thursday saying he was doing well.
"Yesterday, he spent much of the day talking with staff about policies, cracking jokes with the nurses and doctors, and speaking with his family on the phone," she said.
"His doctors are pleased with his progress, and there has been no need for any additional procedures. We expect Bernie will be discharged and on a plane back to Burlington before the end of the weekend."
Mrs Sanders also confirmed that he still plans to attend the 15 October Democratic debate.
Polls show Mr Sanders is third in the Democratic race behind Massachusetts Senator Elizabeth Warren and former Vice-President Joe Biden.
Mr Sanders recently announced his campaign raised over $25.3m (£20.5m) from July through September, the largest of any Democratic candidate in a quarter so far.
Ms Warren and Mr Biden have not released their most recent fundraising totals. But in the previous quarter, April through June, they each raised $19.1m and $21.5m respectively.
Mr Sanders had been in Las Vegas to participate in a gun safety forum on Wednesday, along with some other 2020 candidates.
Many of his presidential rivals wished him a "speedy recovery".
Mr Sanders on Tuesday announced a $1.3m television advertising purchase in Iowa, but US media report that on Wednesday, his campaign began cancelling the ads. It is unclear why. Iowa hosts the first voting contest in the US presidential race.
The senator's health made headlines last month as well, when he cancelled three events in South Carolina after losing his voice, taking two days to recover.
Who is Bernie Sanders?
Mr Sanders labels himself a Democratic socialist, which he has defined as someone who seeks to "create an economy that works for all, not just the very wealthy".
He is the longest-serving independent in congressional history, but competes for the Democratic nomination as he says standing as a third-party candidate would diminish his chances of winning the presidency.
When he ran for the Democratic nomination in 2016, he was Hillary Clinton's closest rival.
His 2020 platform has focused largely on his universal health coverage plan, Medicare for All. The policy has also become a key point of contention between Democrats during the last debates, with moderates like Mr Biden criticising it as unfeasible and too expensive.