Trump-Ukraine: Text messages show diplomat's alarm over plans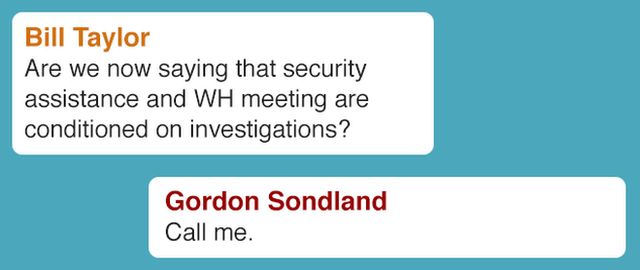 Texts show how US officials worked to prod the Ukrainian president into opening a public inquiry into President Trump's leading opponent, Joe Biden.
The messages, released by congressional Democrats, emerge as Mr Trump faces an impeachment inquiry over the matter.
The exchanges show a senior diplomat saying it would be "crazy" to withhold military aid to Ukraine for Mr Trump's political gain in the 2020 election.
US law bans soliciting foreign help for electoral purposes.
But Mr Trump denies any wrongdoing and, on Friday, said there was "no quid pro quo" in the communications.
His remarks came a day after he publicly called on Ukraine and China to investigate Mr Biden, a top Democratic White House candidate, and his son, Hunter.
The Republican president accuses his political opponents of a "witch hunt".
Impeachment in the Democratic-controlled House of Representatives would trigger a trial in the Senate.
Senators would have to vote to convict Mr Trump by a two-thirds majority to remove him from office.
But that outcome is seen as unlikely given that the president's fellow Republicans control the upper chamber.
The impeachment inquiry stems from a 25 July call in which Mr Trump asked President Volodymyr Zelensky to investigate his rival.
Sent between July and September, they involve high-ranking officials:
Kurt Volker, Mr Trump's Ukraine envoy who resigned a week ago
Gordon Sondland, the US ambassador to the European Union, and a significant donor to Mr Trump
Bill Taylor, a top US diplomat at the American embassy in Ukraine
On 19 July, the three diplomats discussed arranging a phone call between Mr Zelensky and Mr Trump.
Mr Volker told the other two he had had breakfast with Mr Trump's lawyer, Rudy Giuliani that morning - and identified the main purpose of the upcoming phone call.
"Most impt [important] is for Zelensky to say that he will help the investigation," he told the others.
But Bill Taylor, the senior US diplomat in Ukraine, warned that President Zelensky "is sensitive" about Ukraine being seen "as an instrument in Washington domestic, re-election politics".
Ahead of the call, Mr Volker texted that he had heard from the White House that Mr Zelensky would be offered a formal visit to Washington "assuming President Z convinces Trump he will investigate / 'get to the bottom of what happened in 2016'".
This is a reference to unfounded allegations that Ukraine interfered in the 2016 US presidential election and worked to help the Democrats.
In the call, Mr Trump asked Mr Zelensky to investigate Joe Biden.
But text messages show US officials discussed what the Ukrainian president should say in a statement afterwards.
By 13 August, Kurt Volker advised that Mr Zelensky's statement should address interference in US politics, "especially with the alleged involvement of some Ukrainian politicians" - and Burisma, the company Joe Biden's son was involved in.
There has been no evidence of wrongdoing by Hunter Biden.
Mr Taylor, the senior diplomat in Ukraine, seemed to voice his concerns about the motives for the delay.
"I think it's crazy to withhold security assistance for help with a political campaign," he said.
That suggestion, however, was firmly pushed back by Ambassador Gordon Sondland, who said Mr Taylor was misunderstanding the president's intentions.
What else is going on with the impeachment inquiry?
On Friday, the impeachment inquiry escalated significantly as the Democratic chairmen of the three House committees leading the investigation served their first subpoena directly to the White House.
They have demanded documents and records relating to the Ukraine investigation and Mr Trump's call with Mr Zelensky.
"The president has chosen the path of defiance, obstruction, and cover-up," wrote the heads of the intelligence, foreign affairs and oversight panels.
Earlier in the day, House Democrats also requested Ukraine-related documents from Vice-President Mike Pence, giving him a deadline of 15 October.
Mr Pence - who was reported this week to be frustrated by White House handling of the Ukraine affair - has not yet responded.
Most Republicans are standing squarely behind Mr Trump, though two Republican senators have spoken out against the president.
Mitt Romney of Utah on Friday labelled the president's actions "appalling".
When the only American citizen President Trump singles out for China's investigation is his political opponent in the midst of the Democratic nomination process, it strains credulity to suggest that it is anything other than politically motivated.

— Mitt Romney (@MittRomney) October 4, 2019
He added that if Hunter Biden "broke laws by selling his name to Beijing, that's a matter for American courts, not communist tyrants running torture camps".
Ukraine's prosecutor general announced on Friday that he would review the closed investigation into Burisma, adding that he was not aware of any evidence against Hunter Biden.
All-out political warfare
Mr Trump and his defenders have insisted there was no quid-pro-quo in his dealings with Ukrainian President Volodymyr Zelensky. Text messages between members of the US team involved in Ukrainian diplomacy, however, suggest a different story.
It was very clear to them what Mr Trump wanted: a publicly announced Ukrainian investigation of political rival Joe Biden and the 2016 election hacking.
It also was very clear what they had to offer the Ukrainians: not only US military aid, which had been put on hold by the White House, but also a meeting between the two presidents in Washington that would have been extremely valuable in bolstering the legitimacy of the newly elected Ukrainian leader.
Drawing a straight line between the offer and the ask doesn't take much imagination.
It may not be long before the White House falls back to its final line of defence - that threatening and cajoling Ukraine to investigate Mr Biden was justified by the egregiousness of Mr Biden's alleged corruption.
With Mr Trump backed into a corner, it's a recipe for all-out political warfare.
Four quick questions on Trump-Ukraine
Why is Mr Trump being investigated?
A whistleblower alleges he used "the power of his office to solicit interference from a foreign country in the US 2020 election", by asking Ukraine to investigate his main rival, Joe Biden.
If this is what he's proven to have done, then yes: it's illegal to ask foreign entities for help winning a US election. Mr Trump says it's a witch-hunt and he did nothing wrong.
If the Democrat-controlled House of Representatives voted to impeach Mr Trump, there'd be a trial in the Senate.
A Senate vote needs a two-thirds majority to convict, but Mr Trump's Republican party controls the Senate so that's unlikely. And the Mueller inquiry made clear you can't charge a sitting president with a crime.