Elijah Cummings: Veteran US Democrat dies aged 68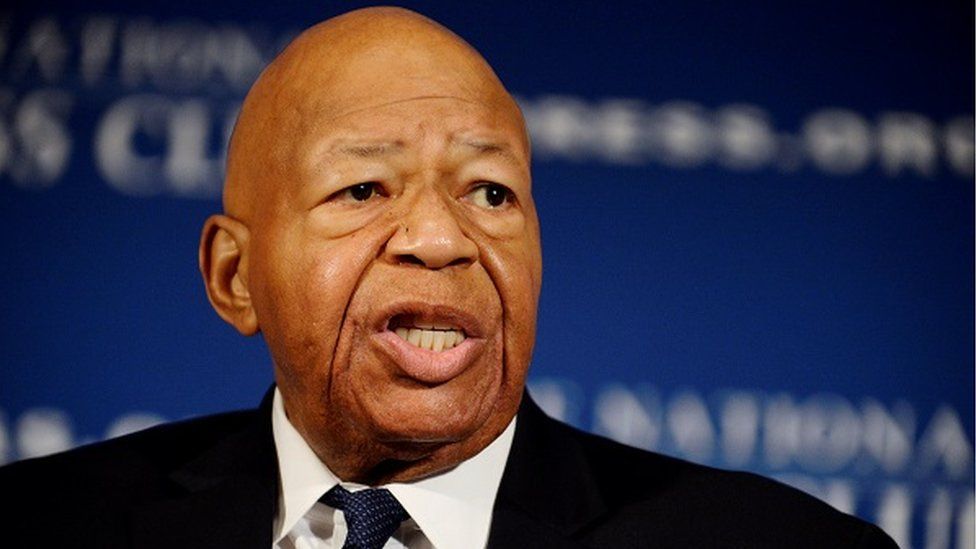 Veteran US Democratic congressman Elijah Cummings, who was heavily involved with the Trump impeachment inquiry, has died at the age of 68.
His office said he had died as a result of "longstanding health challenges".
As chairman of the House of Representatives Oversight Committee, he had instigated several investigations into the Trump administration.
He also clashed with administration officials over healthcare and immigration.
Earlier this year, during a hearing about migrant detention, Mr Cummings blasted acting Homeland Security Secretary Kevin McAleenan, asking him if the department had an "empathy deficit".
President Donald Trump responded with a week-long series of tweets and comments attacking the congressman and labelling his majority-black Baltimore district a "disgusting, rat and rodent-infested mess". Several Democratic lawmakers labelled the comment as racist.
The congressman had experienced several health problems in recent years, and received treatment for a heart condition.
Prominent Democratic lawmakers - as well as President Trump and former-president Barack Obama - have paid tribute to Mr Cummings following the news of his death.
"The city of Baltimore, our country and people throughout the world have lost a powerful voice and one of the strongest and most gifted crusaders for social justice," said Baltimore Mayor Bernard Young.
Mr Trump ordered all flags at the White House and on US government properties to be flown at half-staff "as a mark of respect for the memory and longstanding public service" of Mr Cummings.
Mr Obama said Mr Cummings "showed us all not only the importance of checks and balances within our democracy, but also the necessity of good people stewarding it".
"Chairman Cummings stood tallest and most resolute when our country needed him the most," he continued.
Michelle and I are heartbroken over the passing of our friend, Elijah Cummings. May his example inspire more Americans to pick up the baton and carry it forward in a manner worthy of his service. pic.twitter.com/lM2rES3PNV

— Barack Obama (@BarackObama) October 17, 2019
My warmest condolences to the family and many friends of Congressman Elijah Cummings. I got to see first hand the strength, passion and wisdom of this highly respected political leader. His work and voice on so many fronts will be very hard, if not impossible, to replace!

— Donald J. Trump (@realDonaldTrump) October 17, 2019
A Baltimore native, Mr Cummings was one of seven children born to parents who were the descendents of slaves.
Mr Cummings worked as a lawyer before his election to Maryland state government, where he rose to become the first black House Speaker.
He was elected to the US House of Representatives in 1996.
In local politics, Mr Cummings was a vocal advocate on social justice issues and for the introduction of needle exchange programmes to reduce the spread of Aids. Mr Cummings was also an early supporter of Mr Obama's bid for the presidency in 2008.
There are 435 members of the US House of Representatives. Very few have the ability to command the attention of a room by their very presence, regardless of partisan affiliation. Elijah Cummings was one of them.
The longtime Baltimore politician had gravitas of a judge, the spirit of a preacher and the eloquence of a poet. He turned his closing statement during the February testimony of Donald Trump's former lawyer Michael Cohen, for instance, into a sermon on repentance and responsibility.
"When we're dancing with the angels, the question we'll be asked: in 2019, what did we do to make sure we kept our democracy intact?" he thundered. "Did we stand on the sidelines and say nothing?"
Mr Cummings' absence will be a grievous loss for Democrats, who will miss the solemnity and the authority that the man named for a prophet brought to Mr Trump's impeachment inquiry.
In January, Mr Cummings was appointed chairman of the House Oversight Committee after Democrats took control of the House.
During his tenure, he engaged in a lengthy court battle with the Trump administration over subpoenas of the president's personal and financial records.
He also heard testimony from special counsel Robert Mueller about a report into alleged links between Russia and Donald Trump's election in 2016.
After the hearing, Mr Cummings hit back critics for suggesting Democrats were "just messing with the president.
"It's not about not liking the president, it's about loving democracy," said Mr Cummings. "It's about loving our country. It's about making a difference for a generation yet unborn."