US election 2020: Five charts on the Democratic race to take on Trump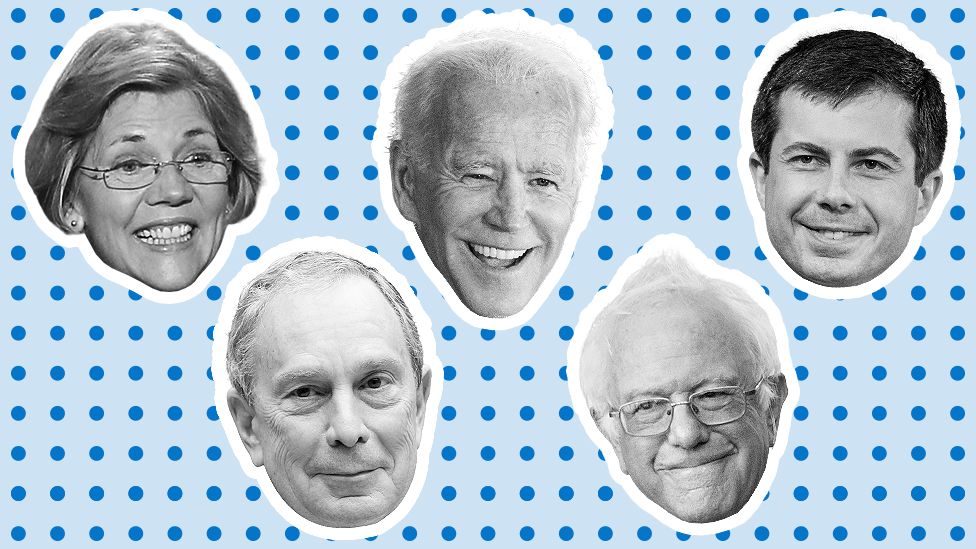 Voters have begun the process of choosing which Democratic candidate will go up against Donald Trump on 3 November. But who is leading the pack?
Bernie Sanders has become the frontrunner in recent weeks, but Joe Biden will hoping his victory in South Carolina can help him regain the initiative.
Billionaire Michael Bloomberg has also steamrolled his way into the race, splashing his cash on a huge advertising campaign despite not standing in February's contests.
We've taken an in-depth look at the polls, the fundraising numbers and a few other things that can help shed some light on the current state of play.
There were nearly 30 Democrats running just a few months ago, but the field has narrowed to just five candidates now.
Early results paint confusing picture
Only twice since 1976 has the Democrat who won the Iowa caucuses not gone on to become the party's presidential nominee. This time, however, the winner was Pete Buttigieg by just 0.1% and he's now dropped out of the race.
Sanders, who came a close second in Iowa, did top the bill in New Hampshire, but it was nowhere near the 60% he won against Hillary Clinton in 2016, albeit in a far less crowded field. He won by a bigger margin in Nevada, thanks in part to support from the Hispanic community.
Joe Biden, however, launched his comeback in South Carolina with a resounding win in the first state to vote that has a significant African American population. It was Biden's first-ever victory in a primary in what is his third attempt to become president.
The results so far mean that Sanders is ahead in the measure that matters - national delegates - but just 3.9% of the 3,979 delegates on offer have been awarded so far.
To put that into context, 34% of delegates will be awarded on Super Tuesday when 14 states hold their nominating contests on 3 March. So we'll have a much clearer picture of how the race is going after that.
Is a Biden comeback under way?
Joe Biden was the overwhelming favourite throughout 2019 but his lead crumbled in 2020, with Bernie Sanders taking over at the front of the pack.
The former vice-president had a poor showing in the early states to vote but following a huge South Carolina win he now has some momentum on his side.
Whether he can challenge Sanders again depends a lot upon how well Michael Bloomberg does on Super Tuesday.
The billionaire will be on ballots for the first time on 3 March but he too has failed to impress in debates.
Regardless of the battle beneath him, it's clear that Bernie Sanders is the one with the momentum. His numbers were on an upward trajectory even before contests began and they have continued to grow.
For a while, it looked like Elizabeth Warren had taken on the mantle of the progressive Democratic leader but her support has dwindled and her campaign appears to be on life support.
Turbulent few weeks ahead
If you look at the chart below, it shows the latest polling averages for candidates in the five Super Tuesday states with the highest number of delegates on offer - California, Texas, North Carolina, Virginia and Massachusetts.
Bernie Sanders is ahead in four of them at the moment, with Joe Biden just ahead of him in North Carolina. If the polls are correct, Sanders could have the nomination sewn up after Super Tuesday.
But Pete Buttigieg and Amy Klobuchar dropping out of the race is bad news for Sanders.
Up until now, the moderate vote has been split between Biden, Buttigieg and Klobuchar. If Biden can attract their former supporters, he will make up some ground on Sanders.
Michael Bloomberg, however, is another candidate who could end up taking delegates away from Biden.
Sanders campaign in good shape
The amount a candidate raises is no firm sign of their eventual success - Jeb Bush, for example, led the Republican money race in 2016, but was still beaten by Donald Trump.
It is, however, a useful guide to how much enthusiasm there is for their candidacy and in Bernie Sanders' case, there is still an awful lot of energy behind him.
As the chart below shows, he raised the most money from individual donors in January, with his $25.1m haul more than double the amount brought in by his nearest rival, Elizabeth Warren.
Much of Sanders' power comes from the network of supporters he built during his battle with Hillary Clinton in 2016. A detailed analysis by the New York Times found the network stretched across the US - whereas most candidates get the majority of their support from the areas they have represented.
Now we're in an election year, candidates and their campaigns have to file monthly reports on their finances to the Federal Election Commission, so we'll continue to get a detailed look at their numbers.
One other thing to note from January's numbers is that a lot of the candidates ended the month with a worryingly low bank balance.
Elizabeth Warren, for example, spent more than double what she raised and her campaign was forced to take out a $3m loan. They did, however, have their best fundraising day ever after Warren's fiery performance in the Nevada debate.
Can Bloomberg's cash change the dynamic?
One candidate who isn't struggling for money is Michael Bloomberg.
The former New York mayor is not accepting donations to his campaign - hence why he's at the bottom on $0 in the chart above - but that isn't affecting his spending power.
Along with Tom Steyer, the billionaire who was in the race until after South Carolina, he has spent huge sums of money on an advertising campaign that included a 60-second ad during the Super Bowl that reportedly cost around $10 million.
There are signs the Bloomberg campaign is having some success, most notably his climb in the national polls, but his poor debate performances may have hurt his prospects.
Even if he does well on Super Tuesday, it's hard to imagine him winning enough delegates to become the Democratic nominee.
If, however, we get to July and there is still no clear winner, there would be a "contested" convention where "superdelegates" could break the deadlock.
Many of these delegates are senior party officials past and present and may look kindly on a moderate candidate like Bloomberg who has donated millions to the Democratic Party in the past.
The party convention is a long way off yet though.