California fires: Emergency declared state-wide
Californian Governor Gavin Newsom has declared a state-wide emergency as wildfires, whipped up by fierce winds, continue to sweep through the area.
Some 180,000 people have been ordered to leave homes, with roads around Santa Rosa north of San Francisco packed with cars as people tried to flee.
Tens of thousands of homes are under threat from the wildfires.
The biggest blackouts in the state's history have already left a million people without electricity.
Power companies are trying to stop damaged cables from triggering new fires.
Another million people have been told they could lose supplies.
What area is being evacuated?
The main evacuation order encompasses a huge area of Sonoma County, including Santa Rosa.
Sonoma has been ravaged by the Kincade Fire, which ignited last Wednesday and has burned through 50,000 acres (20,200 hectares) of land, fanned by high winds that have brought gusts of more than 102mph (164km/h).
Some 3,000 people are fighting fires which have destroyed or damaged about 400 buildings.
But firefighters have lost ground against the blazes, which were 10% controlled on Sunday but are now only 5% contained.
The 150-year-old Soda Rock Winery was among the structures destroyed.
There are fears the blazes could cross the 101 highway and enter areas that have not seen wildfires since the 1940s.
Some 43 of California's 58 counties are under "red flag" warnings. The warning informs firefighting services that conditions are ideal for wildfires.
Why is the power being switched off?
Fears about the extent of the wildfires led Pacific Gas & Electric (PG&E) to initiate a precautionary blackout.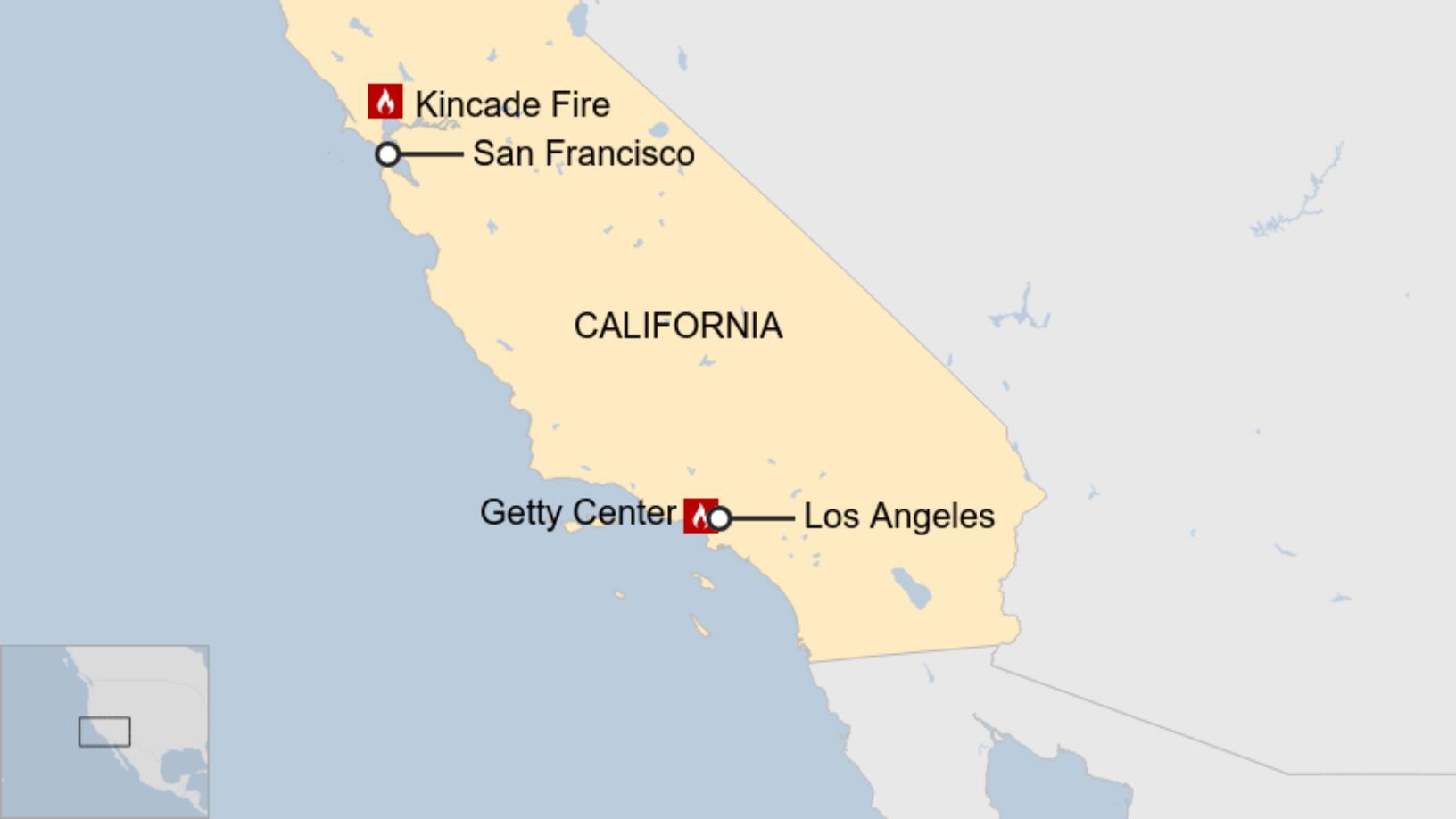 Power was shut off to 940,000 customers in northern California over the weekend.
PG&E said it would work to restore services on Monday but warned of further power cuts as soon as Tuesday if the forecast strong winds returned.
The warnings came as the company faced scrutiny over its possible role in the fires.
The Kincade Fire began seven minutes after a nearby power line was damaged, but PG&E has not yet confirmed if the power glitch started the blaze.
The company is already seeking bankruptcy protection as it faces lawsuits over last year's Camp Fire, which killed 85 people. The deadliest wildfire in the state's history was sparked by ageing equipment owned by PG&E. It spawned billions of dollars in liability claims.
In a video posted to Twitter on Saturday, Governor Newsom said the power cuts were "infuriating everyone, and rightfully so".
What's the forecast and where else is affected?
Kincade was burning in remote, steep terrain, making access difficult, the state fire department said.
The National Weather Service (NWS) spoke of a powerful windstorm creating "potentially historic fire weather conditions" in the region.
One NWS meteorologist said on Sunday: "We're at the peak of the wind event right now. We still have another 24 hours of dangerous red-flag conditions."
In suburban Los Angeles, the Tick Fire had charred 4,615 acres and was 55% contained as of Sunday morning. All residents who were told to evacuate have returned home.
Two fires briefly halted traffic on an interstate bridge in the San Francisco Bay Area.
Mexico's Baja California state is also tackling fires. Authorities on Friday said three people had died there and more than 150 homes had been destroyed.
BBC correspondent Peter Bowes lives in the Santa Clarita area north of Los Angeles, where the Tick Fire raged.
"My partner was in the house and had just seconds to get out, to pick up the dog, throw the dog in the car - gently - just get out. It happened that quickly and all our neighbours did exactly the same thing," he said on Friday.
He later tweeted photos of the devastation.
We are safe. The animals are safe and the house is still standing. But around us there are scenes of utter devastation. Some of my neighbors lost their homes. Thinking of everyone affected by the #tickfire pic.twitter.com/INaFqQO4Oq

— Peter Bowes (@peterbowes) October 25, 2019
Are you in the area? If it is safe for you to do so please get in touch by emailing haveyoursay@bbc.co.uk.
Please include a contact number if you are willing to speak to a BBC journalist. You can also contact us in the following ways: