Trump impeachment: Democrats plan first formal vote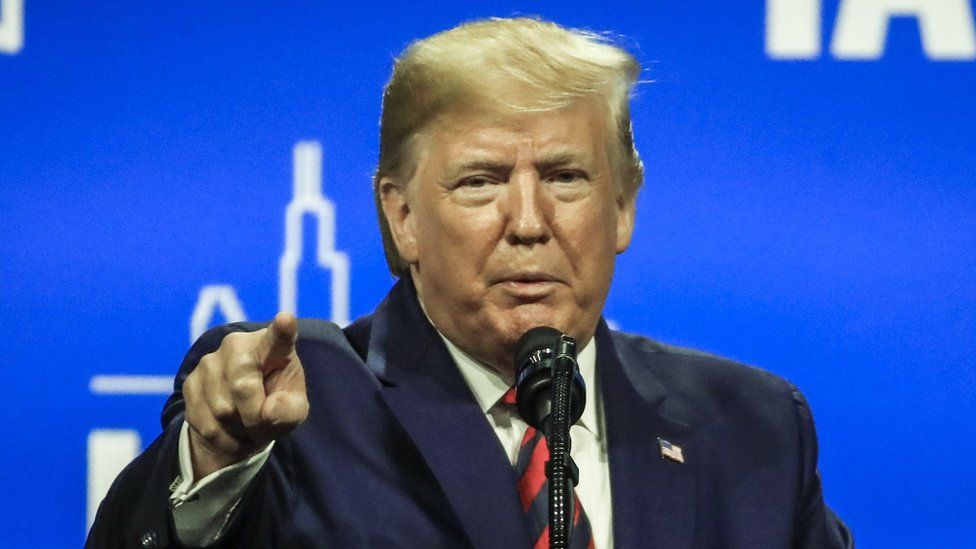 The US House of Representatives plans to take its first formal vote this week on the impeachment inquiry into President Donald Trump.
House Speaker Nancy Pelosi said the vote "sets forth due process rights for the President and his Counsel".
The president and his allies have argued the lack of a vote by the full chamber renders the inquiry invalid.
The House is investigating claims Mr Trump pressured a foreign government to investigate his political rivals.
Thursday's vote planned by Mrs Pelosi and her fellow Democrats is not to impeach Mr Trump, but to set out ground rules for their inquiry.
Mrs Pelosi, the most powerful elected Democrat, has until now rebuffed calls from Republicans to hold any such formal vote.
But in her letter to fellow Democrats on Monday, the California congresswoman pointed out the US constitution does not require such a step.
She said the move would "eliminate any doubt" as to whether the White House can withhold documents, disregard subpoenas or prevent witnesses from giving testimony. Several administration officials have failed to testify to committees involved in the inquiry.
Mrs Pelosi said the resolution in the Democratic-controlled House would also "ensure transparency and provide a clear path forward".
First to testify will be Alexander S. Vindman, a US army officer assigned to the White House who listened in on the call between President Trump and Ukrainian President Volodymyr Zelensky on 25 July.
He is expected to say that he was so alarmed by hearing President Trump's demand to President Zelensky to investigate former US Vice-President Joe Biden, as well as his son, that he reported it to a superior.
Mr Biden is the frontrunner to take on Mr Trump in next year's election.
Mr Trump has called the congressional impeachment investigation "a lynching".
White House press secretary Stephanie Grisham said the vote supported Mr Trump's contention "that Democrats were conducting an unauthorised impeachment proceeding".
She said Mrs Pelosi's party was "refusing to give the President due process, and their secret, shady, closed-door depositions are completely and irreversibly illegitimate".
Last week some Republicans - who argue there has been a lack of transparency in the proceedings - disrupted and delayed a hearing being held behind closed doors.
On Monday, Charles Kupperman, who was a deputy to former national security adviser John Bolton, failed to appear before a House panel involved in the inquiry.
Democrats want to hear Mr Kupperman's testimony on the phone call with President Zelensky.
Quick facts on impeachment
Impeachment is the first part - the charges - of a two-stage political process by which Congress can remove a president from office.
If the House of Representatives votes to pass articles of impeachment, the Senate is forced to hold a trial.
A Senate vote requires a two-thirds majority to convict - unlikely in this case, given that Mr Trump's party controls the chamber.
Only two US presidents in history - Bill Clinton and Andrew Johnson - have been impeached, but neither was convicted and removed.
President Richard Nixon resigned before he could be impeached.