California fires: Reagan Presidential Library threatened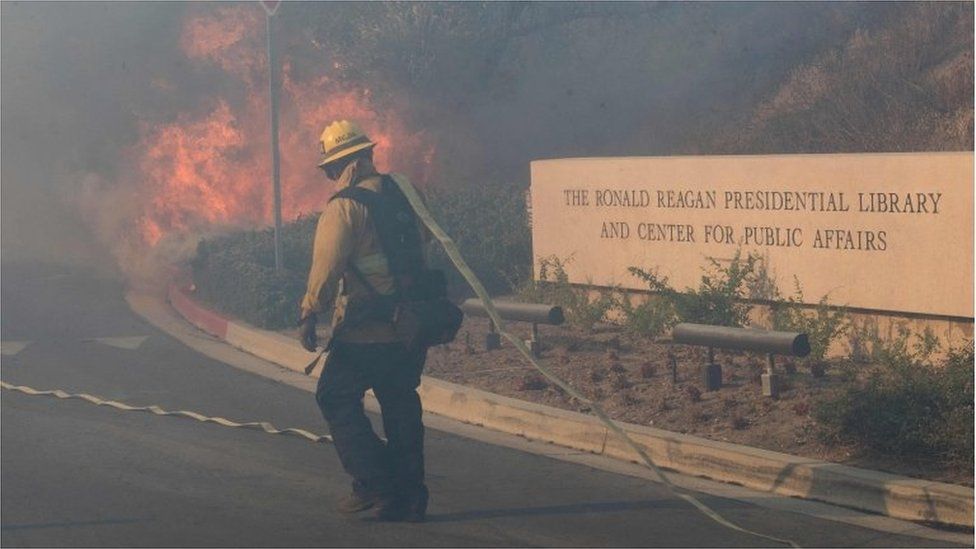 As several wildfires rage across California, the Ronald Reagan Presidential Library is under threat from a new blaze near Los Angeles.
The region is under a rare "extreme red-flag warning" from weather officials as gusts approach hurricane-level speeds, over 74mph (119km/h).
There is concern that the winds will also fan the nearby Getty Fire, which has scorched 745 acres.
Wildfires across California have led to mass evacuations and power cuts.
The latest fire broke out near the Ronald Reagan Presidential Library in Simi Valley, about 40 miles north-west of Los Angeles. The blaze, dubbed the Easy Fire, has burned 1,300 acres so far.
Some library staff, including the executive director, are still on the property, which is now surrounded by the fire, local media report.
Hundreds of firefighters are on the scene, and they have asked staff to shelter in place.
The extreme weather alert covers Los Angeles, Ventura and San Bernardino counties.
"This Santa Ana wind event will likely be the strongest we have seen so far this season," the weather service said.
"These strong winds... will likely bring very critical fire weather conditions, making this an extreme red-flag warning event."
At least 12 homes have been destroyed so far and five others damaged in the Getty Fire - named for the art collection close by. About 27% of the fire has been contained.
Some 1,100 firefighters are tackling the Getty fire and thousands of structures are at risk, authorities say.
"It does take one ember, just one ember downwind, to start another brush fire," he told reporters - adding that embers have been known to travel several miles in winds.
Los Angeles Mayor Eric Garcetti said that the 7,000-plus residents evacuated so far should not plan on returning home until conditions were safe.
Basketball star LeBron James and actor-turned-politician Arnold Schwarzenegger are among those who have evacuated their homes.
On Tuesday, James sent a taco truck to feed a number of firefighters tackling the Getty Fire.
The Getty Center, which houses a large art collection, is also at risk.
The museum said in a tweet that the art was "protected by a state-of-the-art technology" and that the safest place for it was inside.
Authorities say the Getty Fire was probably caused by a tree branch falling on power lines in the high winds.
The Kincade Fire in northern California has burned through more than 75,000 acres.
Thousands of people have been left without power as companies shut off electricity to prevent a further outbreak of fires.
Currently, only about 30% of the fire is contained. Over 80,000 homes are still threatened by the blaze.
A photograph of a newlywed couple wearing masks in a vineyard as the fire continued to burn behind them has gone viral, with many describing the scene as apocalyptic.
The photographer, Karna Roa, told KNTV: "It was the third year in a row that I had a wedding in the wine country and had smoke."
Are you in the area? If it is safe for you to do so please get in touch by emailing haveyoursay@bbc.co.uk.
Please include a contact number if you are willing to speak to a BBC journalist. You can also contact us in the following ways: