John Bolton summoned to Trump impeachment inquiry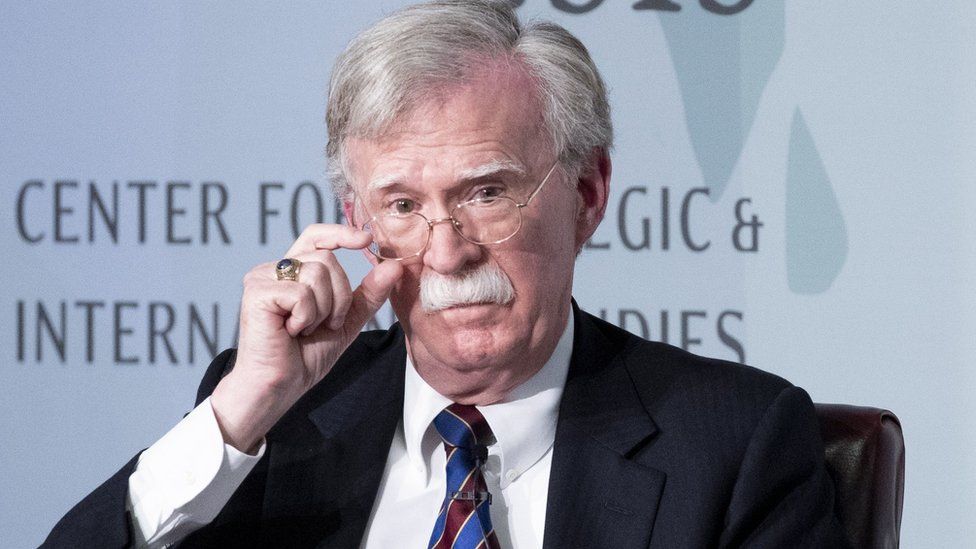 Former US National Security Adviser John Bolton has been summoned to testify in the impeachment inquiry into President Donald Trump.
House of Representatives investigators have invited him to appear next month.
Mr Trump has denied using the power of his office to pressure Ukraine to investigate former US Vice-President Joe Biden and his son.
Mr Bolton likened the alleged proposal to a "drug deal", according to witness testimony.
It is unclear if Mr Bolton, who left his position in September after falling out of favour with the president, will appear as scheduled on 7 November.
His lawyer, Charles Cooper, told US media his client was not willing to appear voluntarily before the House committee members.
But Mr Cooper said he was ready to accept a subpoena - or legal summons to compel testimony - on Mr Bolton's behalf.
At the heart of the impeachment inquiry is a phone call on 25 July between Mr Trump and Ukrainian President Volodymyr Zelensky.
A rough transcript of the call shows Mr Trump asking Mr Zelensky to investigate unsubstantiated corruption claims against Joe Biden and his son, Hunter Biden, who held a lucrative board position with a Ukrainian natural gas firm.
According to US media, Mr Bolton was alarmed about a back-channel operation in Ukraine by President Trump's private lawyer, Rudy Giuliani.
Mr Giuliani acknowledged last month in a TV interview having asked Ukraine to investigate Mr Biden.
The former US vice-president is a leading Democratic candidate to challenge Mr Trump for the White House next year.
Mr Bolton's anger over alleged efforts to pressure Ukraine for political help reportedly triggered heated confrontations at the White House over the summer.
President Trump's former top adviser on Russia, Fiona Hill, testified that Mr Bolton had told her to alert White House lawyers about Mr Giuliani, according to US media.
Mr Bolton reportedly also criticised Gordon Sondland, US ambassador to the EU, and Mick Mulvaney, acting White House chief of staff.
"I am not part of whatever drug deal Sondland and Mulvaney are cooking up," Mr Bolton is said to have told Ms Hill.
Meanwhile, a top adviser to Mr Trump on Russia and Europe, is reportedly stepping down on the eve of his testimony to the congressional impeachment investigators.
Tim Morrison, a National Security Council official, was one of the officials authorised to listen in on Mr Trump's July call with the president of Ukraine.
Mr Morrison is still expected to testify on Thursday, despite the White House urging officials to shun the proceedings.
Also on Thursday, the House is preparing to take its first formal vote on the path ahead for the impeachment process, which has until now been conducted behind closed doors.
Democrats are planning public hearings in a matter of weeks, and considering the possibility of drafting articles of impeachment against the president.
The Trump-Zelensky phone call was the subject of a complaint by a whistleblower, whose identity has been closely protected by lawmakers.
On Wednesday evening, a conservative author named a CIA officer as the whistleblower.
Quick facts on impeachment
Impeachment is the first part - the charges - of a two-stage political process by which Congress can remove a president from office.
If the House of Representatives votes to pass articles of impeachment, the Senate is forced to hold a trial.
A Senate vote requires a two-thirds majority to convict - unlikely in this case, given that Mr Trump's party controls the chamber.
Only two US presidents in history - Bill Clinton and Andrew Johnson - have been impeached, but neither was convicted and removed.
President Richard Nixon resigned before he could be impeached.