US Senate votes to curb Trump's war powers on Iran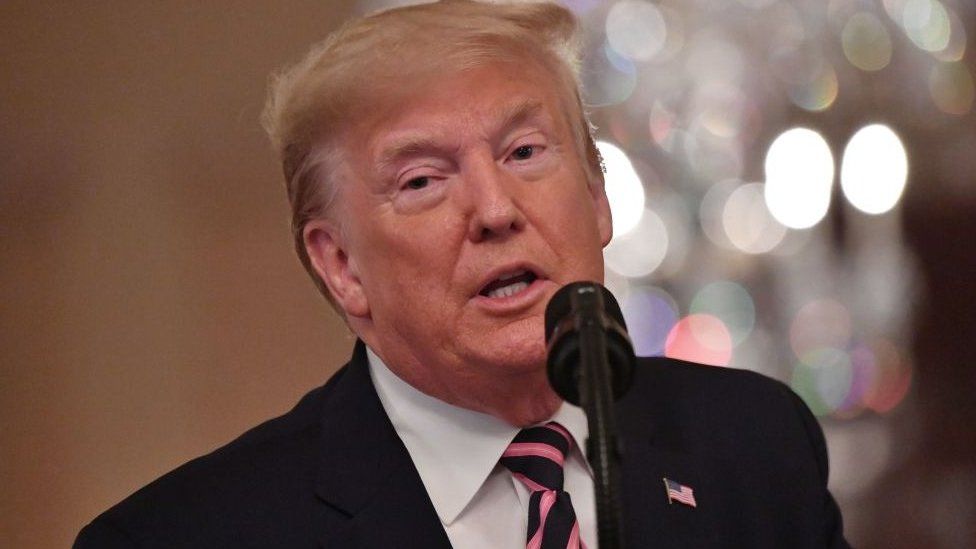 US President Donald Trump's ability to wage war on Iran without congressional approval has been limited in a Senate bill passed by his fellow Republicans.
The Iran war powers resolution was approved by a vote of 55-45 - hours after Mr Trump warned that it would make America less safe from Iran.
The House passed a version of the bill in January, after Mr Trump ordered the killing of a top Iranian general.
Mr Trump is expected to veto the bill once it reaches the White House.
On Thursday eight Republicans bucked the president's party, which has a majority in the Senate, to vote in favour of forcing Mr Trump to consult with Congress before conducting military operations against Iran.
A day before the vote, Mr Trump tweeted: "It is very important for our Country's SECURITY that the United States Senate not vote for the Iran War Powers Resolution."
"We are doing very well with Iran and this is not the time to show weakness... If my hands were tied, Iran would have a field day. Sends a very bad signal. The Democrats are only doing this as an attempt to embarrass the Republican Party."
What does the resolution require?
The resolution requires Mr Trump to remove troops who are engaged in hostilities with Iran unless Congress declares war or passes a resolution allowing the specific use of force.
It adds that no part of the resolution "shall be construed to prevent the United States from defending itself from imminent attack".
The war powers resolution passed the Senate hours after the US Navy announced that it had seized weapons believed to be of Iranian "design and manufacture" from a Iranian dhow in the Arabian Sea.
In a statement, the US military said the USS Normandy seized "150 'Dehlavieh' anti-tank guided missiles" as well as "three Iranian surface-to-air missiles, Iranian thermal imaging weapon scopes, and Iranian components for unmanned aerial and surface vessels".
Virginia Senator Tim Kaine, who co-sponsored the legislation, cheered the resolution's passage.
"If we're to order our young men and women in uniform to risk their lives and health in war, it should be on the basis of careful deliberation," he said.
Mississippi Republican Senator Roger Wicker tweeted his disagreement, writing: "At this pivotal moment, the President needs the ability to act quickly and not to be micromanaged by Congress."
Utah Republican Senator Mike Lee, who co-sponsored said the bill that it is in line with Mr Trump's priorities.
"I support what the President is doing with our foreign policy," Mr Lee said.
"For me, this is about supporting President Trump in his foreign policy, in his effort to make sure that we don't get involved too easily, too quickly, in an unconstitutional way, in any war. This is entirely consistent with his policy."
What about current US-Iran relations?
Last month's US assassination of General Qasem Soleimani, believed to be Iran's second most powerful man, sent tensions between the two countries soaring and raised fears of an all-out war.
Iran retaliated by attacking a US base in Iraq, causing traumatic brain injuries to 109 US service personnel.
Washington and Tehran have long been foes.
Problems can be traced to at least 1979, when Iran's US-backed shah was overthrown and the country became an Islamic republic.
That year, amidst the fallout from the revolution, dozens of Americans were taken hostage inside the US embassy in the capital Tehran. Relations have been frosty ever since.
There were signs of a diplomatic thaw in 2015, when Iran agreed a landmark deal to limit its nuclear programme, allaying international concerns. It did so in return for the lifting of tough economic sanctions.
But Mr Trump abandoned the deal in 2018, reinstating US sanctions against Iran.