Bloomberg to join Democratic debate amid poll surge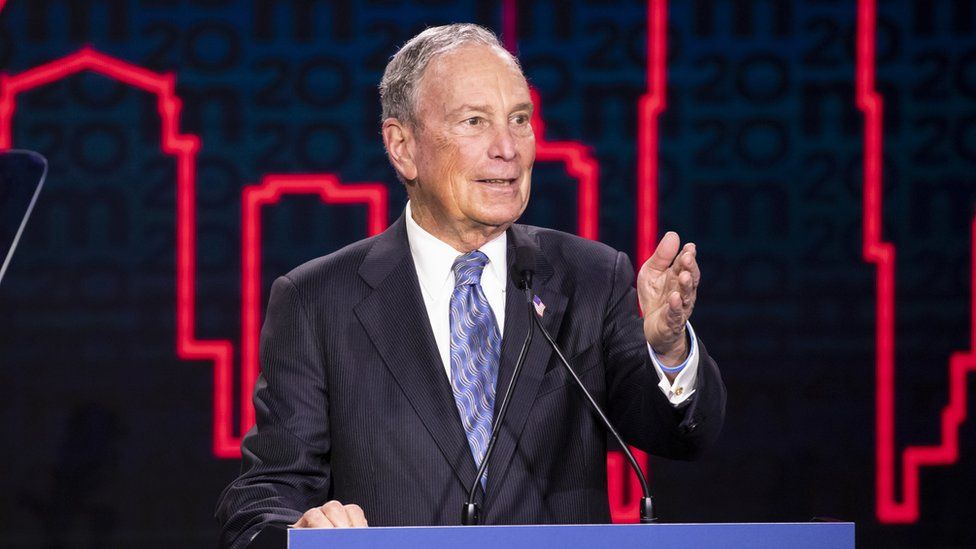 Democratic presidential candidate Michael Bloomberg will take part in a nomination debate for the first time on Wednesday, his campaign confirmed.
In order to take part in the Nevada debate, he had to poll above double digits in four national polls recognised by the Democratic Party.
On Tuesday, a NPR/PBS NewsHour/Marist poll found he had support from 19% of those surveyed.
The ex-New York Mayor is not competing in the first four nomination contests.
Mr Bloomberg, 78, has instead chosen to enter the race on 3 March, known as Super Tuesday, when 14 states will vote.
He came in second place in the NPR/PBS NewsHour/Marist poll. Bernie Sanders came in first with 31% support nationally and Joe Biden was in third place with 15%.
"Mike is looking forward to joining the other Democratic candidates on stage and making the case for why he's the best candidate to defeat Donald Trump and unite the country," Mr Bloomberg's campaign manager Kevin Sheekey said in a statement.
Billionaire businessman Mr Bloomberg has spent hundreds of millions of dollars on television, radio and digital advertising for his campaign.
Bloomberg's past comments under fire
A 1990 booklet of quotes attributed to the billionaire has been released by the Washington Post newspaper. It includes sexist remarks, such as "if women wanted to be appreciated for their brains, they'd go to the library instead of [luxury department store] Bloomingdale's". He also reportedly told a pregnant employee she should "kill it", which he has denied under oath.
In a recently leaked video clip, Mr Bloomberg appears to justify his controversial stop-and-frisk policy when he was New York mayor by saying "you want to put those cops where the crime is, which mean in minority neighbourhoods", before adding that 95% of murderers and murder victims are male minorities. He has apologised.
During a 2016 talk, the former mayor suggested that farming and factory work required less "gray matter" than information technology jobs. "I could teach anybody, even the people in this room, no offence intended, to be a farmer," Mr Bloomberg said. Vice-President Mike Pence appeared to hit back at the Democratic candidate on Sunday, posting a video with the speech "So God Made a Farmer", praising the industry.
Mr Bloomberg has been accused by rival candidates Elizabeth Warren and Bernie Sanders of trying to buy the election. He denies the claims and has offered to fund the Democratic effort to beat Republican President Donald Trump even if he does not win the nomination.
During a Democratic dinner in Nevada on Saturday, Mr Sanders said: "I got news for Mr Bloomberg, and that is the American people are sick and tired of billionaires buying elections."
During the debate Mr Bloomberg is expected to face tough questions over some of his policies as mayor.
He was criticised over his support for the "stop and frisk" policy that saw a disproportionate number of black or Latino people questioned and searched by police officers.
He has issued apologies, however Joe Biden has vowed to challenge him on the policy.
Democratic candidate Amy Klobuchar said she thought Mr Bloomberg should be on the debate stage. She told NBC's Meet the Press: "He can't hide behind the airwaves. He has to answer questions."
Michael Bloomberg's unprecedented advertising blitz has given him an unfiltered platform to advance his presidential candidacy. It's working out for him just fine so far.
On Wednesday in Las Vegas, however, he's going to have to share the stage with his presidential rivals.
He should expect a rough ride.
It's hard to think of a Democratic opponent who wouldn't benefit from attacking the New York billionaire at this point. The moderates will need to take him down a peg if they hope to gain any footing in the more than a dozen states that hold primary contests in the weeks ahead. For Elizabeth Warren and Bernie Sanders, the two left-wing progressives, Bloomberg is the living embodiment of what they view as the corrosive influence big money has on American politics.
Despite a slew of negative stories in the news lately, Mr Bloomberg has been riding a wave of near-nonstop media attention and surging poll numbers. He's about to have a chance to prove that all the hype was worth it.
Who will take on Trump in November?